W TV Club: The 5 Best Thanksgiving Episodes on Television
From classics like "The Fresh Prince of Bel-Air" and "Seinfeld" to newer, of-the-moment shows including "Succession" and "Gossip Girl."
---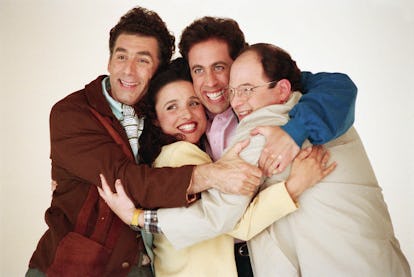 Photo by David Turnley/Corbis/VCG via Getty Images
Welcome to the W TV Club, a spin-off series of W Movie Club, in which W magazine's editors pick a season of a television show they'd recommend you binge-watch while in quarantine. This week, the W editors have put together a special Thanksgiving-themed edition, recalling their favorite episodes from both the classics (like The Fresh Prince of Bel-Air and Seinfeld,) and of-the-moment series (including Succession).
Seinfeld, Season Six, Episode Eight, "The Mom and Pop Store"
"The Mom and Pop Store," Seinfeld's version of a Thanksgiving-themed episode from its sixth season, is brilliant in that it is not about Thanksgiving at all. Instead, the narrative centers the non-sequitur hijinks du jour. Kramer is responsible for the closing of a mom and pop cobbler, Jerry is trying to track down the sneakers Kramer took to said cobbler, George thinks he's bought Jon Voight's car, and Elaine is trying to get a date with a character played by a young Bryan Cranston. The only mention of Thanksgiving is at the very end of the episode, when Jerry inadvertently pops the Woody Woodpecker float in the Macy's Day Parade. —Maxine Wally
The Sopranos, Season Three, Episode Eight, "He Is Risen"
Since I just finished watching The Sopranos for the first time, I thought it was only appropriate to revisit its Thanksgiving episode in season three, "He Is Risen." Honestly, the last thing this episode has to do with is the holiday—but somehow, dinner plans end up pivoting because of Tony Soprano and Ralph Cifaretto's inability to deal with their own emotions. This results in petty behavior from the both of them, eventually getting Ralph uninvited from the Sopranos's Thanksgiving dinner. A dinner at the Soprano household usually means an impressive table spread (which I thoroughly enjoyed throughout the entire series), but this one served two separate awkward family meals in the middle of a drama-packed episode. I highly recommend. —Maridelis Morales Rosado
Gossip Girl, Season One, Episode Nine, "Blair Waldorf Must Pie!"
Gossip Girl's first Thanksgiving episode is nothing short of dramatic, but would you expect anything less from Manhattan's elite? Between Blair being upset about her dad not coming for Thanksgiving, which leads to her fight with Serena, the Humphreys and Lily van der Woodsen's love triangle reveal, and Nate's family ending up in the ER after his dad suffers from an overdose, nothing went as planned. After a resurgence of Blair's struggle with bulimia, she confides in Serena, who rushes back to the Upper East Side, thus ending their feud (for the episode, at least). The duo heads to Brooklyn, where Serena, her brother Eric, and mother Lily end up eating their holiday meal in a diner. Keep the fries coming. –– Jenny Oliver
The Fresh Prince of Bel-Air, Season One, Episode 12, "Talking Turkey"
The Fresh Prince of Bel-Air reunion might be all the hype at the moment, but a classic to revisit before you watch the HBO Max is the Thanksgiving-themed episode from the first season. (Please note: there are a handful of other Thanksgiving-themed episodes on this show in subsequent seasons, but "Talking Turkey" is the best one.) When the kids treat cherished butler Geoffrey poorly, their punishment is to cook a holiday dinner for the family. It does not go well—but Will's mother Viola makes a rare and heartwarming cameo, a rarity in the series. —Maxine Wally
Succession, Season One, Episode Five, "I Went To Market"
You thought the Mountbatten-Windsors playing "Ibble Dibble" with Margaret Thatcher was tense? Try playing "I Went To Market" with the mean, aging patriarch of a media conglomerate like Logan Roy. —Brooke Marine
Related: Where to Stream the 2021 Oscar Films