Between the Grammys and New York Fashion Week, It Was a Non-Stop Weekend
Catch up on Beyoncé's Grammys performance, Jeremy Scott's hidden politics, and look ahead to Philipp Plein and more.
---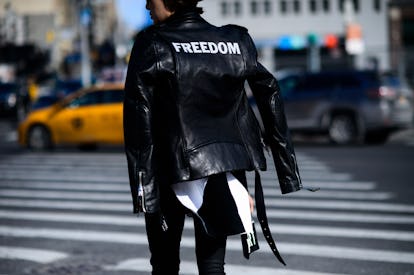 Photo by Adam Katz Sinding.
Beyoncé An actual goddess who turned her Grammys performance into an actual religious experience. Then, she was snubbed in almost every major category, leading Adele to dedicate her Album of the Year award to Beyoncé — "I can't possibly accept this award," the British singer said.
Margiela, Martin The latest designer getting documentary treatment — but We Margiela is an interactive experience, immersing audience members in both the moving image and sound, and accompanying photos and documents.
Murphy, Carolyn At 43, the supermodel is just as relevant as ever, appearing in Miu Miu campaigns and on the runway for Tom Ford, Atelier Versace, and Michael Kors. At Ryan Roche's cocktail party celebrating her first-ever runway show, Murphy opened up about diversity in the industry, keeping up with Instagram, and the role of social media in fashion.
Plein, Philipp With the help of legendary stylist and editor Carine Roitfeld, Philipp Plein is ready for New York Fashion Week. His eccentric lineup of models, including rappers like Fetty Wap and Desiigner, Fall Out Boy's Pete Wentz, and Jeremy Meeks, better known as "the hot felon," will make a statement if nothing else.
Rogers, Maggie First, the Maryland native won over Pharrell. Now, she's enchanting the rest of the world. It might be easy to go viral, as she said in an interview last month, but it's what comes next that proves the greater challenge.
Ruffles Are everywhere this spring. But they weren't always for women. Here, the secret history of the ruffle, now the hallmark of designers like Gucci and Rodarte.
Scott, Jeremy Perhaps American fashion's savviest interpreter of pop culture, Jeremy Scott's eponymous collection had a political message, weaving together celebrity and religious iconography — you just had to be looking for it.
School, Public Is back on the calendar. Designers Dao-Yi Chow and Maxwell Osborne discuss renewing their focus on their brand, breaking with DKNY after its sale to G-III, and what comes next for streetwear ahead of their landmark Fall 2017 show.
See W's most popular videos: