From Miss Juneteenth to Jezebel, Black Female Directors Lead a New Hollywood Vanguard
Familiarize yourself with the works of Channing Godfrey Peoples, Numa Perrier, Janicza Bravo, and more Black female filmmakers making waves in Hollywood.
---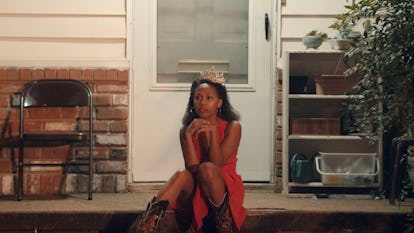 Miss Juneteenth.
For too long, people have gotten away with not being able to list any Black female filmmakers. In recent years, some pointed to Ava DuVernay or Lena Waithe as the sole Black female creators they knew off the top of their heads—but there are more Black female filmmakers putting in the work for years who deserve to be recognized for their contributions to cinema.
We have compiled a list with names and voices whose perspectives are leading the charge to develop a culturally enriched Hollywood, while often simultaneously not receiving the credit they deserve on a large scale. This is not to say that these filmmakers aren't established—many have already released a handful of feature-length films. The women featured below either have films coming out later this year, or they released films a few months ago. Their projects range from documentary to horror to romantic comedy, because all genres should benefit from their perspectives. Familiarize yourself with the works of Channing Godfrey Peoples, Numa Perrier, Janicza Bravo and more Black female filmmakers making waves in Hollywood.
Channing Godfrey Peoples
Peoples is known for writing episodes of Queen Sugar, and directing a few shorts. Her first feature, Miss Juneteenth, is about a beauty pageant that takes place in Texas on the anniversary of Juneteenth—which is when, on June 19, 1865, all enslaved people in the state of Texas learned they had been emancipated two years earlier. In the film, a former pageant winner (Nicole Beharie) enters her daughter into the "Miss Juneteenth" competition; she finds herself grappling with allowing her daughter to grow into her own future and reckoning with her own past. Peoples, who is from Fort Worth, Texas, where annual Miss Juneteenth pageants are held, has stated that the film asks the question, "What happens when good news comes too late?"
Where to start: Start with Miss Juneteenth, which is available as of June 19 on demand.
Numa Perrier
Perrier—who was well known for co-founding Black&Sexy TV, a network that released shows for Black audiences—wrote, directed, and starred in her first feature film, Jezebel, which is based on her real-life experience as a cam girl in Las Vegas. Jezebel premiered last year at SXSW and was made available on Netflix this year. Perrier also landed a directing gig for The Perfect Find, a romantic comedy coming to Netflix and starring Gabrielle Union as a beauty journalist looking to start fresh.
Where to start: Watch Jezebel on Netflix.
Tayarisha Poe
Poe broke onto the scene in 2019 when Selah and The Spades had its world premiere at Sundance. The film takes place at a boarding school in Pennsylvania (where the director also hails) and focuses on the five factions that run it—one of them being the Spades, run by the titular main character played by Lovie Simone. It's a teen boarding school drama that started as a nonlinear, fragmented multimedia project, but developed into a narrative feature film that garnered critical acclaim (and the potential to be spun off into a series created by Poe).
Where to start: Selah and the Spades is available to stream on Amazon Prime.
Janicza Bravo
Bravo has been working for a long time, making short films that employ her singular, uncompromising vision, directing episodes of television (a notable one is Atlanta's "Juneteenth" episode) and acting in various series, too (she appeared in Netflix's Love and HBO's Camping). We're all waiting with bated breath for Zola, the film based on the delightfully deranged 2015 Twitter thread about a couple of exotic dancers on a trip to Florida. It's going to be even more of a treat because Bravo is at the helm, and the screenplay was co-written with Slave Play playwright Jeremy O. Harris.
Where to start: Watch Lemon, her directorial debut starring Brett Gelman and Nia Long, on Hulu.
Nia DaCosta
When it was announced that DaCosta would be directing the sequel to Candyman, she was officially given the Jordan Peele co-sign, and horror fans rejoiced. But the filmmaker has already made her own particular mark on the worlds of cinema and television, having directed episodes of the British crime series Top Boy in 2019 and her first film, Little Woods, in 2018.
Where to start: Watch Little Woods, DaCosta's directorial debut starring Tessa Thompson and Lily James as estranged sisters struggling to come up with a plan to pay the mortgage left behind by their deceased mother. It's on Hulu.
Oge Egbuonu
After producing Loving, the biopic about the civil rights case that ended miscegenation laws in Virginia starring Ruth Negga and Joel Edgerton, Egbuonu makes her directorial debut with (In)Visible Portraits, a documentary about the images that shape the world's understanding (and misunderstanding) of Black women.
Where to start: Watch (In)Visible Portraits on Vimeo On Demand, then go back and re-watch Loving on Hulu.
Stella Meghie
Before tossing her latest entry into the Black rom-com canon with The Photograph (starring Issa Rae and Lakeith Stanfield), Meghie had already positioned herself as a new voice in the genre with The Weekend, a film about a comedian (Sasheer Zamata) who ends up vacationing with her ex-boyfriend and his new girlfriend, and Jean of the Joneses, which premiered at SXSW in 2016.
Where to start: Why not go all the way back to Meghie's directorial debut, Jean of the Joneses, which stars Taylour Paige as a writer in a family of Jamaican matriarchs, and is available on iTunes?
Related: Eve's Bayou, Drylongso, and Other Black Films to Watch Right Now