My Life in Parties: Bob Colacello's Off-Kilter Views of New York Society
The writer, editor, photographer, and all-around gadabout has spent decades documenting the glittering nightlife of New York's café society.
---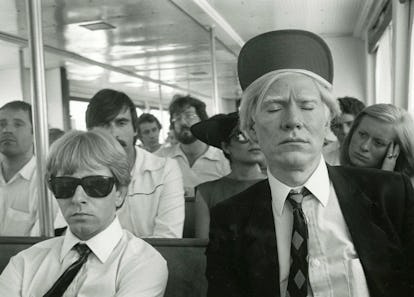 Bob Colacello's world opened up in 1970 when he got a phone call from someone at Andy Warhol's Interview magazine during dinner at his parents' house in Rockville Center, Long Island. Warhol had read one of the movie reviews he had written for The Village Voice and wanted to meet him. The rest is history—literally, the social history of 1970s New York City, when cocaine, disco music, and sex reigned supreme. "The '70s kind of really got started in '74," Colacello said. "Nixon left office and the Vietnam War ended, which meant our generation stopped protesting and started partying." The photos Colacello took during that era and the following decades, during which he became editor of Interview and then a correspondent for Vanity Fair, have been featured in multiple books, and are currently on view in exhibitions at the Newport Art Museum in Rhode Island and Vito Schnabel Gallery in St. Moritz. Soon, a selection will be featured in a solo show (and accompanying monograph) at Ivory Press in Madrid. "I took my pictures in a very random way," Colacello said. "I wanted them to look kind of off-kilter, like parties are."
With Naomi Campbell at the party for his book Holy Terror: Andy Warhol Close Up, at the Factory in 1990. Colacello wrote what would have been the first major profile of Campbell, in 1989 for Vanity Fair, but the story got killed. "I spent, like, three months with Naomi, between Paris and New York," he said. "Naomi was the princess of this interracial scene that really was going on downtown at the time."
Colacello took this photo of André Leon Talley, Steve Rubell, and Warhol at Mortimer's, a restaurant on Lexington Avenue that had the ambience and menu (creamed spinach, meatloaf) of a WASP-y private club. "You could not get a reservation unless Glenn [Bernbaum, the owner] wanted you to be there," Colacello said. "There was a side room that was sort of Siberia, but a lot of times people preferred being there because there wasn't as much table-hopping going on. The best table was the one in the window, so passersby could see you."
Jonathan Becker took this photo of Colacello as they arrived at Buckingham Palace to cover a dinner hosted by Prince Charles. "I'm a royalist at heart, like my Neapolitan grandmother," Colacello said. "I've never really been a groupie for movie or rock stars—well, with the exception of Mick Jagger. But I'm interested in politicians and royals because I'm interested in history. Royals are the living embodiment of their family's history."
With Bobby Marx, Barbara Allen de Kwiatkowski, and Alexandra Theodoracopulos at the Greenwich Annual Polo Club Ball in 1987. "Black-tie benefits used to be a twice-weekly thing in New York in the fall and the spring," Colacello said. "Many of them went back to the beginning of the century, because the American rich, having this puritanical Protestant ethic, always felt guilty about giving big parties. So they invented the charity ball, and then it became okay to be as extravagant as you wanted, because it was for charity."
"Until the late '60s, when John Fairchild really transformed Women's Wear Daily from his father's trade journal into a fashion and society bible, designers were not the ones giving the dinner parties," Colacello said. "But in the '70s they became these big social forces, and suddenly the fashion world was really glamorous." Diane von Furstenberg was part of "the younger, hipper group that went to clubs and did bad things," and had an apartment on Fifth Avenue where she would host dinner parties with Chinese takeout buffets and guest lists that included everyone from Diana Vreeland to Henry Kissinger to a not-quite-yet-famous Richard Gere.
Colacello with his parents, John and Libby, and his sisters, Barbara and Suzanne, in Miami in 1958 (top), and with his mother and father in Brooklyn, where he lived as a child. "Until I was eight, we lived in the Bensonhurst neighborhood, which is half Jewish, half Italian," Colacello said. "Because, as my grandmother said, 'We're all Mediterranean, and we get along—we always have a lot of food on the table.'"
"This is typical of my photos in that the most famous person, Pelé, is cut in half," Colacello said of this image of the soccer star, the actress Odile Rubirosa, and Carmen D'Alessio. The latter was the publicist for Studio 54 and introduced Colacello to owners Steve Rubell and Ian Schrager before the club opened, telling them that Interview was the most important publication for it to be featured in. "I mean, we didn't have much influence in the White House," Colacello said. "But we had a lot of influence in discotheques."
On the ferry to Fire Island with Andy Warhol and Rupert Smith, one of the printers who made Warhol's silk screens. "We had just published a book of photos called Andy Warhol's Exposures, and Steve Rubell was giving a lunch for us at the house in Fire Island Pines that he shared with Halston," Colacello recalled. "Well, there were about a hundred boys in Speedos and Victor Hugo in a jockstrap, and everybody was taking quaaludes—not Andy or me. Our chauffeur disappeared with one of the partygoers."
Colacello snapped this rear view of Fred Hughes, Warhol's business manager for more than 25 years, at the Hotel Excelsior in Naples, Italy, during one of the many trips they took to drum up portrait commissions from wealthy Europeans. "Fred was always elegant, even naked. He just had this fantastic style, which we all attempted to copy, including Andy. And it wasn't just the way he dressed—even his posture in that photo is stylish."
After about six months of writing film reviews for Interview, Colacello was promoted to editor (above, one of his covers featuring Diana Vreeland, from 1980). He took the job for $50 a week (and course credits, since he was still finishing his master's at Columbia), and brought in Glenn O'Brien, a classmate, to be his assistant. His first issue, of which about 5,000 copies were printed at a shop in Chinatown, featured film stills of Rita Hayworth from the 1940s film Gilda on the cover and on every page. The idea came from the film director (and Warhol collaborator) Paul Morrissey, who handed Colacello a manila envelope of the images, saying, "Just put one on every page and it'll be funny."
Bob and a couple of acquaintances at a party in Miami thrown by Paul Wilmot in 2006, during Art Basel. "I don't know who these guys are," Colacello said. "I sure wish I had their phone numbers now."
The model and Yves Saint Laurent muse Tina Chow was married to the restaurateur Michael Chow, whose original Mr Chow's in London was a magnet for rock stars, actors, and young aristos in the '70s. "Tina was always a bit ethereal. Very into style—not only fashion, but design, furniture, art, everything," Colacello said. "She and Michael were a great aesthetic couple."
Colacello and Warhol started the "Out" column in Interview in 1974. "Andy said, just write about everywhere you go, every lunch, every dinner, every art opening, every movie premiere, every person you see there, whether they're famous or not. And then everyone mentioned will have to go out and buy the magazine and tell ten friends—'I'm in Interview, you have to buy it.' That was the idea for my column. It was very tongue-in-cheek." A book of Colacello's photographs by the same name was published in 2007.
"We wanted every issue of Interview to be like a great dinner party, where you have a grande dame, an important political figure, a rock star, an up-and-coming actress, and some model. Steve Rubell used to call it a salad; he said it was like making a salad every night. You didn't want it to be too straight, you didn't want it to be too gay, you didn't want it to be too young or too old. You wanted a little bit of everything, including some surprises. I love that metaphor, you know, some unexpected radishes or something. A few drag queens on roller skates." Here, the musician Nona Hendryx and the drag performer Divine in the late '70s.
Lee Radziwill, pictured here with Colacello at a Vanity Fair party, was a big part of the Factory scene in the '70s. "Lee was a true aesthete and a true connoisseur of culture," Colacello said. "In the style realm, she really was the leader, and Jackie [Kennedy Onassis, her sister] the follower. Truman [Capote] might say, or Lee might say that she had found this new little shop somewhere on the east side that had the greatest cashmere cardigans, and she had bought six. And then Jackie would go and buy all the rest."
The socialites (a word that "wasn't too derogatory" back then) Nan Kempner (left) and Maxime de la Falaise in 1978. "I think that photo was fresh off their facelifts, which they told the whole town about," Colacello recalled. "Nan had the proper Park Avenue apartment, with a full staff and a cook. And so when they got their facelifts, they stayed at Nan's apartment, but after about a week or ten days of not going out, they couldn't stand it anymore. So they had a dinner. And they still literally had the stitches in the sides of their faces, and on their eyelids."
Fran Lebowitz, here with Colacello at a charity event at Mortimer's in the '80s, started out at Interview with a film review column called "The Best of the Worst." "They were so funny and so killing that the movie studios said, 'Forget it. Interview's not allowed to any more screenings,' " Colacello said. "You might as well say, Fran Lebowitz: wardrobe by Brooks Brothers. That was her look."
Colacello first encountered Nancy Reagan (here, at her home in Bel-Air in 2009) at the restaurant Le Cirque, about a month after her husband's presidential inauguration, and they became fast friends. "She started calling me from the White House and asking for advice about how to handle the press, which was being horrible to her," he recalled. But she stopped speaking to him for about six weeks after she received a galley of his book Ronnie & Nancy: Their Path to the White House—1911 to 1980 (he is currently working on a second book about the Reagans), until a friend finally convinced her that the negative things he had written were fair shots. "I don't believe in puff pieces, and I don't believe in hatchet jobs," Colacello said. "I think most people have their good qualities and their not-so-good qualities. Some of the people who have the greatest accomplishments also get themselves mixed up in horrible scandals along the way."