Brendan Fraser: The Comeback Kid
With Darren Aronofsky's The Whale, the first-time Golden Globe nominee reclaims his spot among Hollywood's leading men.
Interview by Lynn Hirschberg
Photographs by Jamie Hawkesworth
---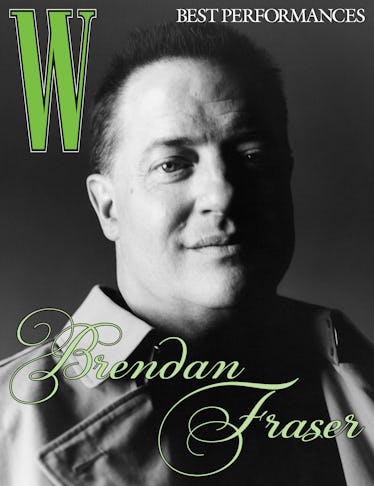 Fraser wears a Burberry trench coat.
A few years ago, a quick Google search of actor Brendan Fraser would lead you to clickbait stories like "What Ever Happened to Brendan Fraser?" or anything relevant to the whispers about his disappearance from Hollywood. Now, search results are paired almost exclusively with praise for his comeback role in Darren Aronofsky's acclaimed film The Whale. The reprise of Fraser's career has been resoundingly positive as a zeitgeist craving nostalgia welcomes their beloved George of the Jungle, Encino Man, and Rick O'Connell back with open arms. His role as the housebound Charlie has earned him a Golden Globe and Critics' Choice Award nomination for Best Actor and the odds are in his favor for an Oscar nod as well. Yes, the return of one of Hollywood's leading men raises questions about what will come next, but the tenured actor's decades of devotion, vulnerability, and pure love of the craft makes one thing certain: The renaissance of Brendan Fraser is here.
How did you get involved in The Whale?
The word on the street was that Darren was going to make a film and he wanted to meet me. I had scant knowledge about what he was going to do. I knew it was the story of a man who'd been living alone in a two-bedroom apartment somewhere in Idaho for a considerable amount of time. He had certain regrets for life choices he had made. His daughter was estranged from him and he had been harming himself by overeating to such an extent that he was very unhealthy. On paper, he had five days to live. So, what's your next move? For him it was to reconnect with his estranged daughter.
How did you prepare for the role?
I met with people who live with eating disorders. They were open-hearted in telling me how they came to the point in their lives where they were so heavy they were bedridden. The common denominator was that someone spoke cruelly to them when they were very young. Years ago, I was in Bangkok visiting a temple, and there was a small sign that said, "Painful Indeed Is Vindictive Speech." I thought of that often. Because there are serious ramifications when our confidence gets challenged by others who speak in a recriminating way. It can reinforce habits that could lead to real consequences. But it gave me a sense of purpose to be the voice for those we so often disregard in our society.
What was your first acting job?
At the Renaissance Faire. I'm pretty sure I played the village idiot. And then I was a victim on America's Most Wanted. I got shot, but I made a phone call that saved my life. Wait—maybe I died! I can't remember. But they did catch the guy who did it.
When you were young, did you always want to be an actor?
I started seeing plays in London as a kid, probably around age 7 or 8. My father's work was with Tourism Canada, so we moved somewhere new like every three, four years. Mom and Dad would give us tickets, and we would go see Jesus Christ Superstar, Oliver!, The Mousetrap. That's where I started to feel like, "I want to do that."
Do you have a karaoke song?
The Clash—"Should I Stay or Should I Go."
Grooming by Sonia Lee for Alba 1913 at Exclusive Artists; grooming assistant: David Song. Senior style editor Allia Alliata di Montereale; senior fashion market editor Jenna Wojciechowski.
Produced by Connect the Dots; executive producer: Wes Olson; producer: Zack Higginbottom; production manager: Nicole Morra; photo assistants: Cecilia Byrne, Jack Buster, David Gurzhiev; retouching: Simon Thistle; fashion assistants: Julia McClatchy, Tori López, Jacqueline Chen, India Reed, Nycole Sariol, Derek Ezra Brown, Karla Garcia, Rosa Schorr; production assistants: Khari Cousins, Tchad Cousins, Kelsey Swope Romero, Mateo Calvo, Juan Calvo, Rayon Pollard, Gina York, Peter Ditzler, Nico Robledo; hair assistants: John Allan, Dylan Michael, Ramdasha Bikceem, Malika Palmer; makeup assistants: Kate O'Reilly, Lilly Pollan, Bailee Wolfson; manicure assistants: Pilar Lafargue and Victoria Valenzuela, Jolene Brodeur; set assistants: Cory Bailey, Dirk Knibbe, Joel Garcia, Matt Day; tailors: Irina Tshartaryan, Ripsime Vartanyan at Susie's Custom Designs, Inc.