Everything to Know About Bridgerton Season 3
Dearest readers, here lies all the pertinent details about the next installment of Regency-era drama in the ton.
---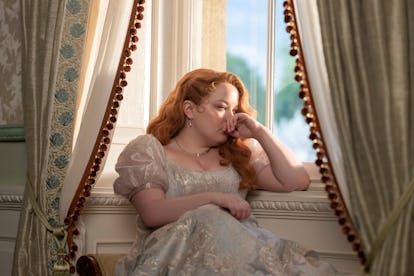 Laurence Cendrowicz/Netflix © 2023
The runaway success of season two of Bridgerton proved that the Emmy-winning Netflix series is not slowing down any time soon. The second installment of the show broke the viewership record set by season one, meaning it was not at all surprising when talk quickly turned to season three (and four!) after the credits rolled on the last episode. Yes, that's right, the series will indeed be back for another two installments thanks to Shondaland and showrunner Jess Brownwell.
Below, you'll find everything you need to know about the upcoming season, including who will be making a return, who won't come back (hint: a major character is definitely out), and when you can expect more gossip from the ton, as reported by the ever-so-snarky Lady Whistledown.
What will the plot of Bridgerton season three be?
There are eight Bridgerton siblings, and ostensibly that could mean there might be eight seasons, that is if the series is to follow the structure of the Bridgerton books on which it is based, which dedicates one book to the romantic foibles of a different Bridgerton child. We've already had our Daphne season, our Anthony season, and now, it's Colin Bridgerton's turn.
Season three will follow the third eldest brother and his relationship with Penelope Featherington (Nicola Coughlan). It has never been a secret that the gossip writer had a crush on her best friend, and now that love story will finally be explored. At the same time, Penelope will be dealing with the fallout of her relationship with her former best friend, Eloise Bridgerton, after their fight in season two when Eloise learned of Penelope's double life as Lady Whistledown. As Coughlan told Tudum last May, "Penelope is going to become a woman in season three."
The first look at the season which Netflix released during its Tudum event on Saturday, June 17th, shows Penelope and Colin's love story unfold (they've already been nicknamed "Polin" by fans). After season two, a heartbroken Penelope has decided to move on and look for a husband after overhearing Colin tell a group of friends he would never court her. Her lack of confidence makes her search challenging, however. Colin, realizing he's getting the cold shoulder from his former friend, tries to boost her confidence and help her. But in classic rom-com style, he realizes his feelings for his friend may be more complicated after all.
See the new photos, below:
How will the season be different from the books?
For those who may want to wag their fingers about the fact that this will take the series out of order from Julia Quinn's books, Shonda Rhimes had previously confirmed that the seasons will dive into the romantic entanglements of each sibling, but they will not be shared in the same order as Quinn's Bridgerton romance novel series. The situation between Colin and Penelope unfolds in the fourth installment, Romancing Mister Bridgerton. The third book, An Offer from a Gentleman, focuses on Benedict Bridgerton. But in all honesty, we are still holding out for season four to give Eloise Bridgerton the breakout moment she so deserves.
In an interview with Insider, Quinn explained why she thought the showrunners decided to change up the order:
"I think they had just felt they had laid down so much groundwork because we already know Penelope," Quinn said. "We haven't met Benedict's love interest. I suppose people are gonna say, 'They could have introduced her.' But the fact of the matter is, we haven't. And what I try to tell people is, look, once a character has their season, we don't see them as much, right? So, if you love Benedict, you want him to wait as long as possible."
Will there be any new cast members?
Now that number one bachelor Anthony Bridgerton is off the market, we need to bring in some new suitors to spice things up. Enter Harry Dankworth, Lord Debling, and Marcus Anderson, played by James Phoon, Sam Phillips, and Daniel Francis, respectively. According to Netflix, what Dankworth "lacks in wit and intelligence, he more than makes up for with serious good looks," while Debling is a "genial lord with unusual interests." Anderson, meanwhile, is "a charismatic presence who lights up any room he enters, attracting the notice of certain matriarchs in the town—and the ire of others."
In addition, Black Sails star Hannah New will join the cast as Lady Tilley Arnold, "a firebrand widow," who "enjoys the privileges and power that come with being at the helm of her former husband's estate, living life on her own terms with financial independence and sexual freedom," according to Deadline. Will Arnold interfere with the possible romance between Colin Bridgerton and Penelope Featherington, the main focuses of the third season? Perhaps. Or, Arnold could find herself interested in one of the other new suitors above.
Does Bridgerton season three have a release date?
Production for the series began in July 2022, but there is still no official release date. Bridgerton prequel Queen Charlotte: A Bridgerton Story premiered on Netflix on May 4, 2023 to tide fans over in the meantime.
This article was originally published on