Everything to Know About Bridgerton Season 3
Dearest readers, below lies everything we know about the next installment of Regency-era drama in the ton.
---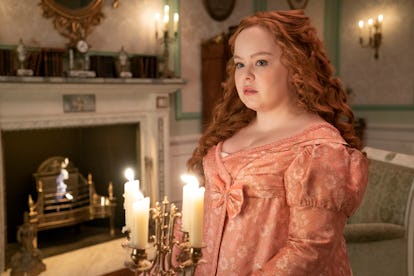 Courtesy of Netflix
Season two of Bridgerton proved the Netflix series is not slowing down any time soon. The second installment of the show broke the viewership record set by season one, meaning it was not at all surprising when talk quickly turned to season three after the credits rolled on the last episode. Yes, that's right, the most-viewed English language series on Netflix will indeed be back for another installment thanks to Shondaland and season three showrunner Jess Brownwell.
Below, you'll find everything you need to know about the upcoming installment, who will be making a return, who won't come back, and when you can expect more gossip from the ton, as reported by the ever-so-snarky Lady Whistledown.
Has Bridgerton begun filming?
The ton is back in London. Netflix announced that the newest season of the Regency-era drama is in production with a video featuring the whole cast, showing them in full hair and makeup while lounging around set. "Bridgerton season three filming has officially begun," season three star, Nicola Coughlan, says at the end of the clip.
What will season three of Bridgerton be about?
There are eight Bridgerton siblings, and ostensibly that could mean there might be eight seasons, that is if the series is to follow the structure of the Bridgerton books on which it is based, which dedicates one book to the romantic foibles of a different Bridgerton child. We've already had our Daphne season, our Anthony season, and now, it's Colin Bridgerton's turn. Season three will follow the third eldest brother and his relationship with Penelope Featherington. It has never been a secret that the gossip writer had a crush on her best friend, and now, it seems like that love story will finally be explored. At the same time, Penelope will be dealing with the fallout of her relationship with her former best friend, Eloise Bridgerton, after their fight in season two when Eloise learned of Penelope's double life as Lady Whistledown.
For those who may want to wag their fingers about the fact that this will take the series out of order from Julia Quinn's books, Shonda Rhimes had previously confirmed that the seasons will dive into the romantic entanglements of each sibling, but they will not be shared in the same order as Quinn's Bridgerton romance novel series. The situation between Colin and Penelope unfolds in the fourth installment, Romancing Mister Bridgerton. The third book, An Offer from a Gentleman, focuses on Benedict Bridgerton. But in all honesty, we are still holding out for season four to give Eloise Bridgerton the breakout moment she so deserves.
Of course, this isn't the last we've seen of Kate and Anthony either. We'll get to see their marriage unfold more in the next installment according to Simone Ashley, who plays Kate in the series. "Kate and Anthony are just getting started," she told Deadline, insisting that the Viscountess won't lose her spunk in season three. "She's in charge of the household now and she's got big boots to put on. I want to keep that softness and vulnerability to Kate, for sure, and she can share that with Anthony. I'm just excited for her to have a home and to have a family."
One thing is for sure, whatever drama unfolds, Lady Whistledown will be there, waiting in the wings to spread the gossip far and wide all over the ton during the next debutante season.
Will there be any newcomers in Bridgerton season 3?
Now that number one bachelor, Anthony Bridgerton, is off the market, we need to bring in some new suitors to spice things up. Enter Harry Dankworth, Lord Debling, and Marcus Anderson, played by James Phoon, Sam Phillips, and Daniel Francis, respectively. According to Netflix, what Dankworth "lacks in wit and intelligence, he more than makes up for with serious good looks," while Debling is a "genial lord with unusual interests." Anderson, meanwhile, is "a charismatic presence who lights up any room he enters, attracting the notice of certain matriarchs in the ton — and the ire of others."
Who is returning for Bridgerton season 3?
Regé-Jean Page, who played the Duke of Hastings in Bridgerton season one, decided not to fulfill his contract for more seasons of the royal drama series. Despite that fact, fans remained hopeful for a chance that he might reappear. So much so that when rumors started swirling that Page would reprise his role, the British star was compelled to address the speculation. In a June 21 Instagram post of him with his former Bridgerton co-star Jonathan Bailey, Page wrote: "The boys are back in town. ❤️ (No, I'm not going back to the show btw - the papers made that one up.) But we had the best, and most stylish, catch up I've had in a while over some truly excellent Italian coffee and sunshine ☕️."
Meanwhile, it appears as if all of the Bridgerton siblings, including Phoebe Dynevor, who plays Daphne Bridgerton, and Jonathan Bailey, who plays her older brother Anthony, will be making their way back to Netflix for another round. Of course, the Featherington family—especially fan favorite Penelope Featherington will also come back for more.
But what we're really excited about is the return of Ashley, who has become something of an It Girl after her turn as Kate Sharma in season two. If this leading lady wasn't already on your radar, she's definitely made it clear that she, and Charithra Chandran, the actress who plays her sister Edwina Sharma, are the main reasons to dive into season two.
Eagle-eyed fans will also note that second-youngest Bridgerton daughter Francesca, the quiet sister who scurried away to Bath during season one, came back for very brief appearances in the first three episodes of season two. Next season, however, the character will take up more real estate in the show—and will be played by a different actress. Ruby Stokes, who played Francesca in seasons one and two, is leaving the show to star in a different Netflix book-to-series adaptation, Lockwood & Co. In season three, Francesca will be played by Hannah Dodd, who recently appeared in—yes, another Netflix show—Anatomy of a Scandal. You can't blame them for keeping it all in the Netflix family.
Series showrunner Chris Van Dusen explained Francesca's season two absence in March. "After exhausting all other options, she unfortunately had to come out due to reasons beyond our control," he told TV Line. If Bridgerton continues with the pattern of covering a new sibling each season, Francesca is expected to be the main character in season six, which would be based on the novel, When He Was Wicked.
When does the new season of Bridgerton come out?
While filming has started, we still don't know exactly when the third season will hit your screens, but going off the schedule of the previous two seasons, we would expect early 2023. That seems like a far way off so, in the meantime, check out more information on the spin-off series in development (and we all know how much Shondaland can't resist a spin-off). The subject? It's going to be a prequel series focused on young Queen Charlotte, who will be played by British actress India Amarteifio.
This article was originally published on