Inside the Mind of Nitram Star Caleb Landry Jones
This year's best actor winner at the Cannes Film Festival discusses portraying Australia's deadliest shooter.
Interview by Lynn Hirschberg
Photographs by Jamie Hawkesworth
---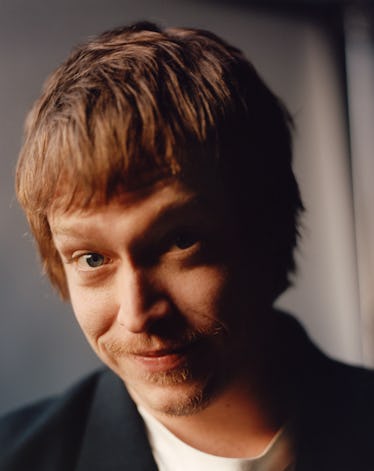 Caleb Landry Jones wears the Row jacket and top.
You may not have heard of Caleb Landry Jones, but you've definitely heard of his filmography. In 2017 alone, the Texas-born actor starred in four of the year's biggest films, showing his range from horror in Get Out to action-comedy alongside Tom Cruise in American Made. In Nitram, though, he takes center stage for a dark character study about the disturbed, isolated man behind the deadliest mass shooting in Australia's history. But Nitram isn't necessarily a violent film that has the viewer peering through their fingers in fear; it's a slow-moving, bleak story, brilliantly driven by Jones, who was more than up for the task.
For Nitram, in which you play a mass murderer, you won best actor at the Cannes Film Festival. What was that like?
Pretty surreal. I thought the film might win, but I didn't think I was going to receive an award. I actually don't know where that award is—it's somewhere in my house.
What did you think when you first read the script for the film?
I thought it was a very delicate script. It was more of a character piece than I expected. More on the shoulders of the character, of the shooter, throughout the film. I was really blown away by how simple and complicated it was. I was allowed to inhabit the character for longer than usual. The director was okay with me sitting in it for the time being, so that allowed for some freedom, and I didn't have to second-guess things as much.
Did you always want to be an actor?
I was very much taken with ballet. Tap and jazz, too. There was also a Bob Dylan phase for a long time. And then acting.
Who was your cinematic crush growing up?
Grace Kelly and Ingrid Bergman. I liked Samantha Morton a lot too. Rear Window was my first Hitchcock movie, and first time seeing Grace Kelly as well. And I thought Samantha Morton was amazing in Minority Report and Morvern Callar.
You're kind of an old-school person. You like music from the '60s and '70s.
I like '40s and '50s music too. I like the Ink Spots. I watched Rush Hour a few nights ago. I thought it still held up. I guess that's not new, though.
2017 was a huge year for you with Three Billboards Outside Ebbing, Missouri, Get Out, American Made, and The Florida Project.
That was the most work I'd ever done in a year, and I thought it was impossible. But it all got done. I do think there's a lot of the same character throughout that year. Sometimes I see the similarities a little more. I see a bunch of the same bag of tricks, so to speak.
Do you have any tattoos?
No. I'm covered in freckles, so there's not much room.
What was your first audition?
For No Country for Old Men. I was Kid on Bike 1, or maybe I was Kid on Bike 2. I got the part. I still remember my line: "You got a bone sticking out of your arm."
Hair for portfolio by Anthony Turner at Streeters; makeup for portfolio by Lucia Pica for Byredo at Art Partner. Senior style editor Allia Alliata di Montereale; senior fashion market editor Jenna Wojciechowski. Manicure for portfolio by Michelle Saunders. Set Design by Gille Mills at 11th House.
Produced by Connect the Dots; executive producer: Wes Olson; producer: Zack Higginbottom; production manager: Nicole Morra; photo assistants: Cecilia Byrne, Jack Buster, David Gurzhiev; retouching: Simon Thistle; fashion assistants: Julia McClatchy, Tori López, Jacqueline Chen, India Reed, Nycole Sariol, Derek Ezra Brown, Karla Garcia, Rosa Schorr; production assistants: Khari Cousins, Tchad Cousins, Kelsey Swope Romero, Mateo Calvo, Juan Calvo, Rayon Pollard, Gina York, Peter Ditzler, Nico Robledo; hair assistants: John Allan, Dylan Michael, Ramdasha Bikceem, Malika Palmer; makeup assistants: Kate O'Reilly, Lilly Pollan, Bailee Wolfson; manicure assistants: Pilar Lafargue and Victoria Valenzuela, Jolene Brodeur; set assistants: Cory Bailey, Dirk Knibbe, Joel Garcia, Matt Day; tailors: Irina Tshartaryan, Ripsime Vartanyan at Susie's Custom Designs, Inc.