Cannes Film Festival 2017: At Meh Festival, It's the Women-Led Films That Are Standing Out
A first-hand account of the first few days of the festival, where the selection is uninspiring but the women, led by Nicole Kidman and Elle Fanning, are on fire.
---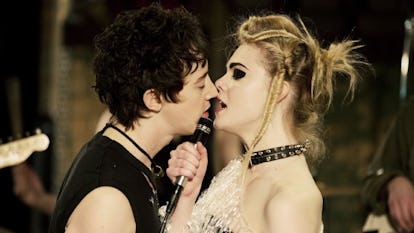 There were no great films in the first few days of the Cannes Film Festival. Instead I saw ambitious, mid-career films that are fascinating to watch and think about, yet never quite managed to soar, like the opening film, Arnaud Desplechin's Ismael's Ghost. The film stars Mathieu Amalric as a mad man of a film director who is haunted by a beautiful wife (Marion Cotillard) who left him twenty years ago. In his current film project, this "ghost" in his life takes form as a fictional spy played by Louis Garrel, someone whose disappearance makes his colleagues question if he ever truly existed in the first place.
When Cotillard suddenly reappears, surprising Ismael's new nerdy girlfriend (a moving Charlotte Gainsbourg), the characters and the audience wonder if she, too, is real. The film goes back and forth between the fictional spy movie and the messy world of its director in a crisis. References from psychoanalysis to James Joyce are liberally thrown around, and these four actors are riveting to watch (especially the oddness & glamour in Garrel's and Cotillard's performances, essentially playing the same role). Yet the film never quite comes together. At 110 minutes, it's one of Desplechin's shortest, yet drags and felt longer than any of his previous movies. This may be because the "commercial" cut screened was twenty minutes shorter than his original version. Sometimes a film has to be a little longer for it to have a seamless quality that was otherwise elusive here.
Todd Haynes' Wonderstruck is based on a Brian Selznick illustrated novel about a deaf girl's first trip to New York in 1927 and the parallel (or overlapping?) story of runaway boy in 1977 who comes to New York to try to find his absent father. Bold if not always cohesive, the theme of Wonderstruck is urban time travel, about the way a glance at an old sign can transport you decades into the past, connecting you to all the people who have stood in the same place, in the same way. Haynes will zoom in on details of current Crown Heights to represent 1970s Upper West Side in an almost magical act of camera-as-time machine. Yet the film's viewpoint zeroes in on these details of place and time to the detriment of their emotional impact. Though it's hard to criticize a film that I never stopped thinking about, Wonderstruck is in some ways a culmination and examination of the director's past work, from Velvet Goldmine to Carol—all, in their own ways, unconventional period pieces.
What's particularly striking about the film is Haynes' effort to combine a kaleidoscope of ideas with a traditional, heartwarming kids' movie. And that's, unfortunately, where it fails, or feels forced. He tries to hit the notes of this genre as if it were something formulaic, as if Steven Spielberg's E.T. were a roadmap of all the emotional beats. But the best children's movies are strange, not conventional. Where the film does work, though, is in exploring specific aspects of genre, such as the role of the film score in conveying emotion, and the difference between music in silent films and later during the New Hollywood era. (The 1920s section is in black and white and silent.)
In a director's long career, sometimes it's the failures that can be most interesting and both Haynes and Desplechin are in a stretch where they can experiment and fail fabulously. It's not a phase many women directors even have the privilege of reaching but Claire Denis clearly has with her film Bright Sunshine, starring Juliette Binoche, which opened the "La Quinzaine" section of the festival.
Denis is known for making serious, beautiful art films with an emphasis on the body. Here, though, her work is all words, more like a Nicole Holofcener or Nancy Meyers romantic comedy about a middle-aged woman wondering what to do with her life when she's not in love. Of course, the Denis version could never play in a multiplex; it's one of her strangest films yet. She brilliantly captures key moments of transition in romance (will he come upstairs or no?). But when she finds those moments, the film holds there, building tension until the only thing to do is laugh.
Another director playing with a conventional genre and making it totally bizarre is John Cameron Mitchell with his punk rock musical set in 1977 London, How to Talk to Girls at Parties, based on a short story by Neil Gaiman. These particular girls just happen to be aliens, including Zan (Elle Fanning, never better) who falls in love with sensitive punk Enn (Broadway star Alex Sharp, wonderful in this role). Fanning and Mitchell perfectly capture how literally alien the adolescent body can feel in this wacky coming-of-age romance. After Fanning has her first beer at a party, she says to Enn, "I think this body is dying." Then, after she hurls during their first kiss, she suddenly feels better. "It just may live!" she declares.
Nicole Kidman plays a perfect punk rock matriarch who helps indoctrinate Zan into the world of punk. After How to Talk to Girls at Parties premiered to raging applause and huge grins from both stars and a gorgeous Kidman in silver sequins, I felt I'd finally seen a great movie, or at least a future cult classic.
Related: The 25 Best Cannes Beauty Moments of All Time, from Grace Kelly to Kristen Stewart
Bella Hadid, Jessica Chastain, and Elle Fanning Lead the Charge at the 2017 Cannes Film Festival
Bella Hadid in Alexandre Vauthier and Bulgari at the premiere of Ismael's Ghosts opening the Cannes Film Festival in Cannes, France, May 2017.

George Pimentel/Getty Images
Jessica Chastain in Alexander McQueen at the premiere of Ismael's Ghosts opening the Cannes Film Festival in Cannes, France, May 2017.

George Pimentel/Getty Images
Marion Cotillard at the premiere of Ismael's Ghosts opening the Cannes Film Festival in Cannes, France, May 2017.

Anthony Harvey/Getty Images
Robin Wright in Saint Laurent by Anthony Vaccarello at the premiere of Ismael's Ghosts opening the Cannes Film Festival in Cannes, France, May 2017.

Anthony Harvey/Getty Images
Julianne Moore in Givenchy couture at the premiere of Ismael's Ghosts opening the Cannes Film Festival in Cannes, France, May 2017.

George Pimentel/Getty Images
Lily-Rose Depp in Chanel at the premiere of Ismael's Ghosts opening the Cannes Film Festival in Cannes, France, May 2017.

George Pimentel/Getty Images
Uma Thurman in Atelier Versace and Bulgari at the premiere of Ismael's Ghosts opening the Cannes Film Festival in Cannes, France, May 2017.

Ki Price/Getty Images
Marion Cotillard in Y/Project at the photocall for Ismael's Ghost at the Cannes Film Festival in Cannes, France, May 2017.

Anthony Harvey/Getty Images
Elle Fanning in custom Vivienne Westwood at the premiere of Ismael's Ghosts opening the Cannes Film Festival in Cannes, France, May 2017.

George Pimentel/Getty Images
Aymeline Valade in Pallas at the premiere of Ismael's Ghosts opening the Cannes Film Festival in Cannes, France, May 2017.

ALBERTO PIZZOLI/Getty Images
Susan Sarandon in Alberta Ferretti at the premiere of Ismael's Ghosts opening the Cannes Film Festival in Cannes, France, May 2017.

Gisela Schober/Getty Images
Naomie Harris in Gucci at the premiere of Ismael's Ghosts opening the Cannes Film Festival in Cannes, France, May 2017.

George Pimentel/Getty Images
Jessica Chastain in Roksanda at the jury photocall at the Cannes Film Festival in Cannes, France, May 2017.

Anthony Harvey/Getty Images
Fan Bingbing in Elie Saab couture at the premiere of Ismael's Ghosts opening the Cannes Film Festival in Cannes, France, May 2017.

Pascal Le Segretain/Getty Images
Director Maren Ade at the premiere of Ismael's Ghosts opening the Cannes Film Festival in Cannes, France, May 2017.

Pascal Le Segretain/Getty Images
Charlotte Gainsbourg, center, in Saint Laurent at the premiere of Ismael's Ghosts opening the Cannes Film Festival in Cannes, France, May 2017.

Andreas Rentz/Getty Images
Hailey Baldwin in custom Twinset at the premiere of Ismael's Ghosts opening the Cannes Film Festival in Cannes, France, May 2017.

Venturelli/Getty Images
Daria Strokous in Dior at the premiere of Ismael's Ghosts opening the Cannes Film Festival in Cannes, France, May 2017.

Gisela Schober/Getty Images
Emily Ratajkowski in custom Twinset and Bulgari at the premiere of Ismael's Ghosts opening the Cannes Film Festival in Cannes, France, May 2017.

Ki Price/Getty Images
Sara Sampaio in Zuhair Murad couture at the premiere of Ismael's Ghosts opening the Cannes Film Festival in Cannes, France, May 2017.

Ki Price/Getty Images
Eva Herzigova in custom Roberto Cavalli at the premiere of Ismael's Ghosts opening the Cannes Film Festival in Cannes, France, May 2017.

Epsilon/Getty Images
Uma Thurman in Giuseppe Zanotti ready-to-wear and Tod's at the premiere of Loveless at the Cannes Film Festival in Cannes, France, May 2017.

Venturelli/Getty Images
Julianne Moore in Chanel couture at the premiere of Wonderstruck at the Cannes Film Festival in Cannes, France, May 2017.

Antonio de Moraes Barros Filho/Getty Images
Amber Valletta in Mulberry at the premiere of Wonderstruck at the Cannes Film Festival in Cannes, France, May 2017.

Pascal Le Segretain/Getty Images
Elle Fanning in Temperley London at the Cannes Film Festival in Cannes, France, May 2017.

Jacopo Raule/Getty Images
Adriana Lima in Naeem Khan bridal at the premiere of Loveless at the Cannes Film Festival in Cannes, France, May 2017.

George Pimentel/Getty Images
Emily Ratajkowski in Brock Collection at the Cannes Film Festival in Cannes, France, May 2017.

Jacopo Raule/Getty Images
Michelle Williams in Louis Vuitton at the premiere of Wonderstruck at the Cannes Film Festival in Cannes, France, May 2017.

Epsilon/Getty Images
Thylane Blondeau in Michael Kors Collection at the Cannes Film Festival in Cannes, France, May 2017.

Marc Piasecki/Getty Images
Sara Sampaio at the Cannes Film Festival in Cannes, France, May 2017.

Marc Piasecki/Getty Images
Watch: Chameleons of the Art World: The Humans of Frieze New York