Cate Blanchett Can't Imagine Her Life Without Lydia Tár
Interview by Lynn Hirschberg
Photographs by Jamie Hawkesworth
---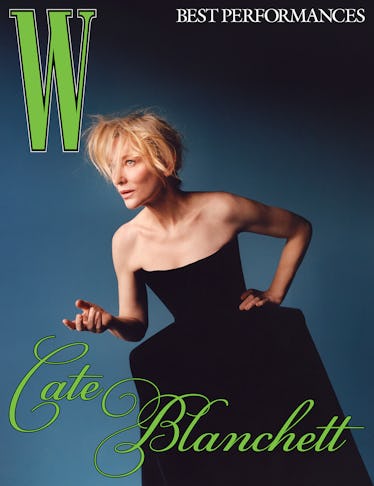 Blanchett wears a Loewe dress.
Cate Blanchett's performance in the film Tár as Lydia Tár, the world-renowned composer-conductor, is so convincing and utterly poetic that she had many audiences fooled into thinking Tár was a real person. In fact, the EGOT-winning (Emmy, Grammy, Oscar, and Tony Award), very first conductor of the Berlin Philharmonic in Todd Field's drama is a fictional character. But Blanchett breathes so much fresh life into her that she feels all too real. And critics have taken notice—the Australia native received a Golden Globe and Critics Choice Award nomination and is now a serious contender for this year's Best Actress Oscar (it would be her third Academy Award). Lydia Tár is painted as a cruel conductor, whose selfish behavior ultimately leads to her downfall. But her deeply human complexities and nuances have been carefully considered by Blanchett who was so engrossed by the character she says she's now unable to envision her life without Lydia: "I can't imagine a time before, actually."
Lydia Tár is brilliant but remarkably careless about human emotion.
And she has misophonia. That is an acute sensitivity to sound, and it can send people into a deep rage. The sound of air-conditioning would have driven her to distraction.
She also has perfect pitch.
A lot of conductors do. I was speaking to a conductor who I really admire, Simone Young, and she has perfect pitch but with that gift comes the downside that she hears the dog whistle noises that most humans don't.
Todd Field wrote Tár specifically with you in mind, and he has said that if you had said no to the part he would not have made the film.
Todd sent me this script, and I inhaled it. He wrote it at the beginning of the pandemic. Todd was a musician first, so there was a musical quality to the script, and not just because it's set in the classical music world. It could just as easily have been about an architect or a painter or a writer—anyone in a position of top institutional power, and the way that being in that position gets in the way of their sense of self and ability to relate to people.
Greatness is often indulged, until it's not.
In a creative job, you have to be quite brutal with yourself and disciplined. And when, like a conductor, your instrument is a human instrument, how do you maintain that sense of rigor and brutality? It's a complicated thing.
What sign are you?
It's tragic—I am Taurus, Taurus, Taurus. I don't even know what star signs mean, except that I'm a bull times three.
Hair by Robert Vetica for Oribe at the Wall Group; makeup by Mary Greenwell for Armani Beauty at Premier Hair and Makeup London. Senior style editor Allia Alliata di Montereale; senior fashion market editor Jenna Wojciechowski.
Produced by Connect the Dots; executive producer: Wes Olson; producer: Zack Higginbottom; production manager: Nicole Morra; photo assistants: Cecilia Byrne, Jack Buster, David Gurzhiev; retouching: Simon Thistle; fashion assistants: Julia McClatchy, Tori López, Jacqueline Chen, India Reed, Nycole Sariol, Derek Ezra Brown, Karla Garcia, Rosa Schorr; production assistants: Khari Cousins, Tchad Cousins, Kelsey Swope Romero, Mateo Calvo, Juan Calvo, Rayon Pollard, Gina York, Peter Ditzler, Nico Robledo; hair assistants: John Allan, Dylan Michael, Ramdasha Bikceem, Malika Palmer; makeup assistants: Kate O'Reilly, Lilly Pollan, Bailee Wolfson; manicure assistants: Pilar Lafargue and Victoria Valenzuela, Jolene Brodeur; set assistants: Cory Bailey, Dirk Knibbe, Joel Garcia, Matt Day; tailors: Irina Tshartaryan, Ripsime Vartanyan at Susie's Custom Designs, Inc.