Cate Blanchett Has Been Quietly Recycling Looks at the Venice Film Festival
From her hypebeast jumpsuit to the Esteban Cortázar gown she wore to promote Carol.
---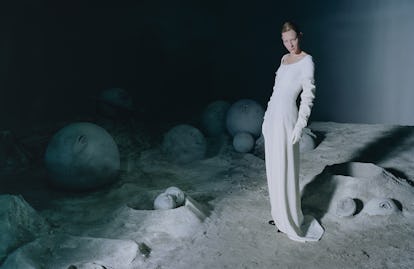 Cate Blanchett photographed by Tim Walker for W Magazine, December 2015.
It takes a brave soul to wear white pants when traveling—especially when the voyage involves both an international flight and a water taxi ride. And yet, that's exactly how Cate Blanchett chose to arrive to the Venice Film Festival last week, remarkably stain-free. Her trousers remained in pristine enough condition that just a few days later, she repurposed them for the red carpet.
Both on and off the red carpet, the actor has stuck to recycling ever since. Whereas many have opted out of the festival altogether, Blanchett—who's also this year's jury president—has seized the opportunity to send a message, resurrecting some of her greatest, "most cherished" hits. "IT'S CHIC TO REPEAT!," her stylist, Elizabeth Stewart, wrote on Instagram after Blanchett attended the opening ceremony in the same Esteban Cortázar gown she wore to a premiere of Carol in 2015. And it will continue to take on new life: Blanchett has donated the gown to an upcoming auction benefiting two charities, Facing History and Ourselves and UN Women.
The actor has also reprised some of her more casual looks. This weekend, she stuck to menswear, reprising the red Dries van Noten suit she wore to an event in Shanghai in 2018 and the drop-crotch, tie-dye Triple RRR jumpsuit that led to her hypebeast moment last year.
Blanchett has had some pieces altered in the years since. On the festival's second day, she wore the same asymmetrical, intricately embroidered Alexander McQueen top as she did to the 2016 BAFTAs, swapping out the feathered skirt for a simple pair of black pants. She took a similarly simplified approach to the beaded Acne Studios blazer she wore on Sunday, which was last seen at the Rome Film Festival in 2018.
There is, however, one thing Blanchett has yet to recycle. While many have attempted to dress up their face masks, and she initially arrived in a chic bandanna, the actor has since casually stuck to disposables.
Related: Cate Blanchett, In Her Own Words, On Guest Editing a Special Issue of W Magazine