Barack Obama, Kim Kardashian, Chrissy Teigen and More Celebrities Celebrate Valentine's Day 2018
Barack and Michelle, though.
---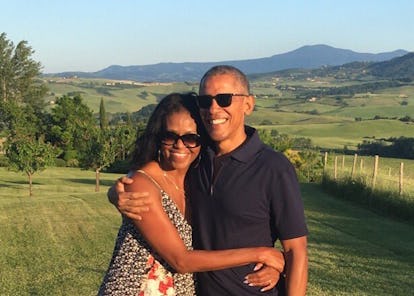 twitter.com/barackobama
Is it even Valentine's Day if you don't post about it on social media? This year, the holiday was even more impossible to miss as everyone from Michelle and Barack Obama to the Kardashians took to social media to document their love. Naturally, there were plenty of aww-inducing moments.
The Obamas continued to raise the bar for social media shoutouts as both Barack and Michelle sent each other thoughtful messages. "Happy Valentine's Day, @MichelleObama. You make every day and every place better," the former president wrote, posting a photo of the pair with smiles from ear to ear. Michelle, however, may have one-upped her husband as she not only wished Barack a happy Valentine's Day, she went as far as to make a special mixtape for him. "Happy #ValentinesDay to my one and only, @BarackObama. To celebrate the occasion, I'm dedicating a little Valentine's Day playlist to you! ?," she tweeted. On the playlist? Love-steeped classics like Barry White's "Can't Get Enough of Your Love, Babe", Diana Ross' "Endless Love," and Etta James' "At Last." Michelle Obama also showed that she still has her ear to the ground as she mixed up those tried and true love songs with newer cuts from artists like Alabama Shakes, Leon Bridges, and Kendrick Lamar.
Meanwhile, Kim Kardashian took to Instagram to celebrate her love for Kanye West. "I love you to infinity! Happy Valentine's Day!!!," she captioned a photo of the rapper hugging her from behind.
Kanye West also returned to Instagram (!!!) to share the love:
Kardashian's youngest sister Kylie Jenner also popped up in her followers' feeds on Valentine's Day, where the new mom posted a selfie with the caption, "vday ?♥️."
Valentine's Day also brought out love notes from the usually private Victoria Beckham, who posted a rare photo of her cuddled up alongside David Beckham with the caption, "Happy Valentine's Day x Love u so much @davidbeckham @brooklynbeckham @romeobeckham @cruzbeckham #harper ????." Her husband reciprocated with a selfie of the pair and the caption, "Happy Valentines Day ❤️ May today be filled with love and happiness around the world ❤️ @victoriabeckham @brooklynbeckham @romeobeckham @cruzbeckham #HarperSeven."
Some celebrities, on the other hand, celebrated Valentine's Day without drawing attention to their partners. Such was the case with Channing Tatum's wife Jenna Dewan, who honored her galentine.
Take a look at how other celebrities celebrated Valentine's Day below.
Related: Meghan Markle Wrote a Valentine's Day Letter To Herself Two Years Ago When She Was Single and Non-Royal