Chemical X Is Creating the Next Generation of NYC Dance Music
As an artist collective, Eartheater, Lourdes Leon, Ish Couture, Sammy, and Kiri are paving their own way in the music industry.
Photographs by Nick Sethi
---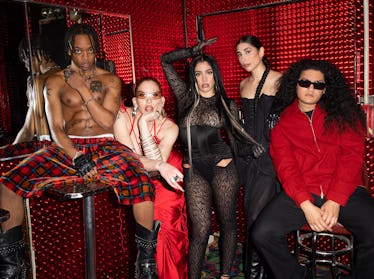 From left: Ish Couture wears Acne Studios shorts; Jennifer Fisher earring; Marc Jacobs necklace; Tiffany & Co. bracelets; stylist's own ring; his own gloves and boots. Eartheater wears a Balenciaga dress; Patricia von Musulin earrings and bracelets; her own sunglasses and rings. Lolahol wears a Puppets and Puppets bodysuit and leggings; Patricia von Musulin ring; stylist's own corset, earrings, and gloves. Kiri wears an Elena Velez dress; Vex Latex gloves; Falke tights; Versace boots. Sammy wears an Undercover jacket and pants; Sunspel T-shirt; his own sunglasses.
On a recent evening in Brooklyn, the future of club music crowded around a billiards table to take a photograph together. Chemical X, a New York–based record label and artist collective founded by the musician Eartheater, includes the singer and performer Lourdes Leon (also known as Lolahol), the DJ and producer Sammy, the engineer/producer Kiri, and the rapper Ish Couture. The group's musical styles run the gamut, from trap-inflected gangster rap made for the dance floor to 808-heavy electro beats in the vein of drum and bass; their aesthetic combines latex, shaved eyebrows, and barely there looks from avant-garde designers. But according to Eartheater, what unites them is the "fire under our asses."
"The music speaks for itself, and it touches people," Eartheater said. "Chemical X just provided a space and an environment that was cozy and cute for beautiful things to happen. There's so much fragmentation in the industry, and the sauce can get diluted. I want the punchy flavor: sugar, spice, everything nice."
After being signed to the Berlin-based label PAN in 2019, Eartheater felt the urge to create "something grounding here in New York." The collective grew organically: She met Sammy at Sustain-Release, a techno festival in upstate New York, where they played a show together. Leon met Eartheater at a friend's variety show before she reached out about licensing Eartheater's song "Preservation" in a dance project she created for Stella McCartney's Adidas line. "And then I played her a little poopy demo, and she was excited about it," Leon said. "And she got my ass in the studio, and here the fuck we are." Kiri, the lone music school alumnus in the group, was brought into the fold after a friend tagged her in an Eartheater Facebook post calling for "all the female engineers." For Ish Couture, a young artist from Houston, all it took was an impromptu FaceTime with Eartheater to persuade him to move to New York City. "One of my songs that I dropped was blowing up from all the DJs out here," he explained. "She called me and she was like, 'You're fire, I want to sign you.' "
Unlike a typical record label, Chemical X has no Slack channel to keep track of, no conference calls to join. Most of the group's conversations—whether they're about music they're creating together or sharing with one another—happen in person. "It's a lot of hanging out, ranting about our personal lives, and that feeds into the creation," Leon said.
Partiers in Bushwick and beyond can expect a steady flow of new music from the group this summer. Kiri is mixing Eartheater's upcoming LP and a few singles for Leon while working on some dance tracks of her own. Couture is finishing up an EP, and Sammy is developing beats for all of the above. Meanwhile, Eartheater is scouting for new additions to the roster. She's looking at "some older artists that I think got snubbed by the industry in the '90s, like Vanessa Daou and the musical duo Dark Sister," she said.
"There's a lot of talk and a lot of criticism in this city," Leon said. "It's really easy to get down on yourself and feel uninspired or shitty because everyone else is an artist, everyone is doing everything. It can feel like, Why am I here? Why is this important? Why is this relevant?" The goal for Chemical X is to provide a respite, Eartheater said. "I want this to be a trampoline for people to find themselves, develop their art, and then bounce to whatever is best for them."
Hair by Evanie Frausto for Bumble and Bumble at Streeters; makeup by Yumi Lee for Chanel Beauty at Streeters; talent: Ish Couture, Eartheater, Lolahol, Kiri, Sammy; photo assistant: Nathaniel Jerome; fashion assistants: Tori López, Karla Lopez, India Reed; production assistant: Izel Villarba; hair assistants: Marin Mullen, Jaz Shepard, Jordyn Gallagher; makeup assistants: Morgan Matous, Shoko Sawatari; tailor: Lindsay Wright.