Claire Foy Wants to Break Some Rules
In Sarah Polley's Women Talking, Foy plays a woman set on revenge.
Interview by Lynn Hirschberg
Photographs by Jamie Hawkesworth
---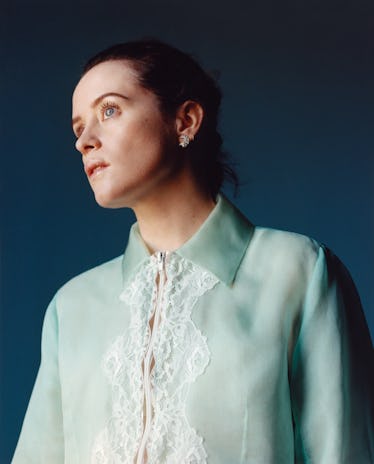 Claire Foy wears a Christopher Kane jacket; Cartier earrings.
Women Talking is one of those pared back films that gets right to the point. There are no bells and whistles, just a group of women, trying to decide how to react in the face of violence. It's a story that relies on the actors' strengths to transport the viewer into the world of a conservative Mennonite community, and it's performances like Claire Foy's that make Sarah Polley's film a successful one. No one has ever doubted Foy's prowess as an actress—her portrayal of the young Queen Elizabeth II in The Crown earned her three Emmy nominations and two wins—but in Women Talking, she proves her ability to embody a character with nothing more than a polyester dress, some socks, and a powerful story.
Women Talking is based on a true story about multiple rapes that occurred in a Mennonite community in Bolivia. The women banded together in an attempt to control their fates. It's a serious topic, and this may sound superficial, but I was struck by the Mennonite uniform: white socks, sandals, and a simple black dress.
Yes, we mocked the socks in the beginning, but by the end we were thinking, This is going to be a fashion moment: really ugly sandals with socks and dresses made out of 100 percent polyester. The dresses were absolutely boiling, but they didn't crease. And it's what the real Mennonite women wear. All that will be left at the end of the world is polyester Mennonite dresses and cockroaches. Both are indestructible.
Did you film in sequence, like a play?
We filmed in sequence as much as possible. It was really helpful, and actually quite surprising. I think that it really informed our performances, and also our knowledge of what was coming up and what had been. A lot of the time when you're shooting, you have to imagine how you will feel in a scene having not shot anything previously, or after, which can be a bit disappointing. Because you think, Oh, I actually didn't feel like that when I shot it. But this time, we knew exactly where we'd come from and where we were going.
Since you are British, did you know about Mennonites?
No, we don't really have devoutly religious communities in England. We don't have the space. In Canada, there's a huge Mennonite population, but it's a closed community. It's not like you can go and try and live and breathe amongst them to see how they exist. They wouldn't let me in.
What is your pet peeve?
People who stick to the rules to the point where the rules no longer make any sense. I wonder if that's why I got this part!
Would you ever consider directing?
I don't know whether I would be very good at it. I'm fascinated by acting. Not by my own acting, but by other people's acting. The whole film would just be an extreme close-up the entire time.
Hair for portfolio by Anthony Turner at Streeters; makeup for portfolio by Lucia Pica for Byredo at Art Partner. Senior style editor Allia Alliata di Montereale; senior fashion market editor Jenna Wojciechowski. Manicure for portfolio by Michelle Saunders. Set Design by Gille Mills at 11th House.
Produced by Connect the Dots; executive producer: Wes Olson; producer: Zack Higginbottom; production manager: Nicole Morra; photo assistants: Cecilia Byrne, Jack Buster, David Gurzhiev; retouching: Simon Thistle; fashion assistants: Julia McClatchy, Tori López, Jacqueline Chen, India Reed, Nycole Sariol, Derek Ezra Brown, Karla Garcia, Rosa Schorr; production assistants: Khari Cousins, Tchad Cousins, Kelsey Swope Romero, Mateo Calvo, Juan Calvo, Rayon Pollard, Gina York, Peter Ditzler, Nico Robledo; hair assistants: John Allan, Dylan Michael, Ramdasha Bikceem, Malika Palmer; makeup assistants: Kate O'Reilly, Lilly Pollan, Bailee Wolfson; manicure assistants: Pilar Lafargue and Victoria Valenzuela, Jolene Brodeur; set assistants: Cory Bailey, Dirk Knibbe, Joel Garcia, Matt Day; tailors: Irina Tshartaryan, Ripsime Vartanyan at Susie's Custom Designs, Inc.