On Clubhouse, the Invite-Only Chatroom App, "A Beautiful Mess" Awaits
Ava DuVernay, Oprah, and a range of other creative industry heavyweights are members of the platform, which has been inspiring both ire and FOMO.
---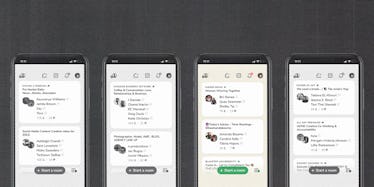 Collage by Tilden Bissell for W Magazine.
In early December, Tom Hanks's son Chet Hanks addressed critics who took up issue with his use of Jamaican Patois and a racial slur during his phase as the rapper Chet Haze. When Kid Cudi released his latest album Man on the Moon III: The Chosen on December 11, Scott Mescudi himself dropped in on a listening party celebrating the record, much to the delight of hundreds of fans who had assembled there. A few weeks before, Kevin Hart publicly discussed whether or not he was funny with a group of almost one thousand people.
These appearances weren't made at panel discussions, brand-sponsored events, or even on Instagram Live. They took place on Clubhouse, an invite-only, audio-based app that allows users to enter themed chatrooms that can be populated by any number of members at any given time. The topics of discussion range from "Is NYFW Over?" and "Let's Discuss Real Housewives of Potomac" to "Your Lover Hit the Lotto, You Get Told It's Over. Now What?" Oprah, Tiffany Haddish, and Ava DuVernay are regular users of the app—with the latter hanging out in multiple "rooms." DuVernay invited people to discuss James Baldwin one day, then participated in a conversation about working in the independent film industry with Tim Story and Will Packer the next.
Here's how it works: people choose a room to enter, and immediately are brought into a conversation that's happening between a chosen number of people who are "on stage," while members of the "audience" listen. Moderators, who attempt to keep the conversations in line, can both punt rabble rousers offstage and also invite others to join the talk. Think of it as a large-format conference call, where folks take turns speaking on the topic at hand.
Clubhouse is currently in beta testing, but recently received a $100 million valuation that has turned it into a Silicon Valley darling. Outside of the tech bubble, the app has grown to be the topic of much conversation, especially on other social media platforms like Twitter. And while criticism has risen over the "chaotic lows" of an app where members can air out their opinions and grievances unfettered, there are also plenty of would-be users clamoring for access.
Founders Rohan Seth and Paul Davison began building Clubhouse in California's Bay Area last fall, after the two realized they were both looking at audio use in a new light. Davison, with whom I spoke over Zoom from his home in San Rafael, noted that Twitter thrives on text-based conversation, Instagram was made for image sharing, and YouTube and TikTok dominate the video space. But for spoken content, the only option was a podcast—a medium that could prove too in-depth and clunky for the average, casual user.
In its first version, Clubhouse began as an app with one single room—there were no stages, audience, or moderators. "During the earliest days of Clubhouse, I was in rooms probably 14 hours a day," Davison said, speaking with the gusto of a particularly energetic professor. "I would jump in and say, 'Hey, I'm Paul! How's it going! I was like Microsoft Clippy."
Davison and Rohan's overarching goal for the app is to make the audio format more nimble and accessible. "For decades, audio meant having a terrestrial radio with a few dozen channels," Davison explained. "Then we got podcasts which are, in theory, unlimited. But because distribution is difficult for many, you tend to have the top 10 podcasts in every category getting a lot of the distribution, and it's hard to discover the others. If you can make audio easier, you get an explosion in formats and creativity."
And Clubhouse has, indeed, exploded—people use the app not only to participate in discussions, but also listen to music, role play (a weekly room called "The Cotton Club," evokes the atmosphere of a speakeasy club; users change their avatars to images of their favorite jazz artists and talk about whatever cocktails they're "drinking" while music plays in the background) and promote work. Over the summer, the comedian Hannibal Buress created a room to chat with fans and promote his YouTube special, "Miami Nights."
Jelani Day, who works as his father Dapper Dan's brand manager, uses Clubhouse as a networking app. He was initially invited by his friend, the activist and philanthropist Felicia Horowitz, an early adopter and investor. (She took interest in Clubhouse, Day said, once she realized she could use the platform as a place to hold digital dinner parties during the pandemic.) To Day, Clubhouse offers an added bonus of giving burgeoning businesspeople a place to swap ideas, discuss what they're working on, and troubleshoot.
"I look at it as a 24-hour symposium," Day said on a recent phone call from New York City. "I've been primarily involved in discussions around my industry—fashion and talent representation—using my experiences as a way to help enlighten the community and also share insights. The cool thing is that it's become an opportunity to share perspectives for consideration. You can hear about different people's pathways, their challenges, successes, and shortcomings, and understand how to take their experience and apply it to your own business."
Where smaller-scale entrepreneurs might have scoured the Internet for insider knowledge on tricks of the trade, Day added, they can now chat directly to someone in the industry.
"It's a good place to understand the challenges of creatives and entrepreneurs who are trying to do this with a small team, if not independently," he said. "They might be working out of their bedroom, and they don't have access to other people outside of, perhaps, YouTube, Instagram, and Twitter. You can go down a rabbit hole watching YouTube videos all day long about insights in terms of best practices for your business. But instead of getting that rehearsed and edited content, you can have unfiltered conversations in real time with people, and also ask them questions. I think that's going to be pivotal to the future of entrepreneurship and people with creative businesses."
Complex Style deputy editor Aria Hughes said she is merely a listener on Clubhouse. She often frequents music-centric rooms, including the "Jay Z Appreciation Room," which was started by the rapper 21 Savage's manager, Justin Meezy, on December 4th—Jay Z's 51st birthday. The likes of Fat Joe, the A&R Kyambo "Hip Hop" Joshua, and Juan "OG" Perez stopped into the room, trading anecdotes about the "Dirt Off Your Shoulder" musician.
"It was just really great storytelling about people and their experiences," Hughes added. "Say Hip Hop didn't remember something. He could say to OG Juan, 'Is that how it happened?' and then OG Juan would refresh his memory. It was like a real time story, listening to friends talk."
Hughes first heard of Clubhouse on Twitter, where she saw people discussing conversations they'd had in quarantine that felt like they were on a phone call with a family member. "A lot of people were going to Twitter and talking about how they've had these really enriching conversations," she said. "They were saying, 'I've had some of the best conversations I've had all pandemic on here.'" But Hughes also referred to Clubhouse as "a beautiful mess," noting that it's still in its nascent phase. "It's a new platform, and I don't think people completely understand what it is, what it should be," she noted. And clashes that might take place in the real world don't stop when a Clubhouse user enters a room.
"A lot of times, it's men's natural inclination to cut off women when they're speaking," she said. "I will say that I have heard a lot of men come to the defense of women; there have been men who have said, 'Hey, let her speak.'"
Although Clubhouse is used by all kinds of people—celebrities and non-celebrities alike—artists, writers, photographers, agents, and tech executives make up most of the Clubhouse usership. It's also a distinctly diverse population, with a large number of creatives of color, specifically Black creatives, on the app. Clubhouse users describe the platform as a safe and comfortable space for Black people to share their lived experiences, a sentiment echoed by Day and Hughes. But there is also frequent conversation concerning whether Black users are "giving away our ideas to a white-owned app," Hughes said. (Davison, who is white, noted that Seth is of Indian descent.)
"I will say it's amazing to me actually how Black creators have gotten on there and have already created a new lexicon for the app," Hughes added, noting that this new language includes "PTR," or "Pull to Refresh," (a way to share images by changing one's profile avatar,) and "flashing" the mute icon to simulate clapping. "When it comes to social, a lot of times, it is Black creators who are being innovative and pushing it forward, using certain tools and utilities for certain purposes that they weren't initially meant for."
Davison said that the push for a diverse usership was intentional, and "baked into the DNA of the company."
"This is a really unfortunate thing to say, but oftentimes people find that because of where they live or where they work, they're often surrounded by people that look a lot like them. And I think a lot of good comes from creating meaningful dialogue between people that have different experiences in life," he said. "So it's something that we've really tried to make part of our mission, to embrace and to build for."
For Day, who was initially approached to join Clubhouse by Horowitz, a push for diversity was apparent at the onset.
"Certain products that come out of Silicon Valley, there's not a lot of diversity in the room where they're created," Day said. "And subsequently, the user base lacks diversity as well. Something that was important to Felicia was having that carve-out for diversity."
It's also a way, he noted, to use Clubhouse in his and other users' favors—and can result in the app taking all kinds of shapes and sizes, as varied as humanity.
"Something that's very important for us is to be able to share experiences so that we can learn at a quicker pace," he said. "One way to learn something is to do it in real time and get the real time results. If you have a conversation with somebody, and hear about their experiences, you can gain anecdotal expertise, and then you can log it in your own mental library. There's a real opportunity to create fellowship and empower."
Related: The Graphic Designers Defining the Aesthetics of Black Lives Matter