Cole Escola's Comedy Defies Categorization
Get to know the comedian behind TV's best deranged, irreverent characters.
---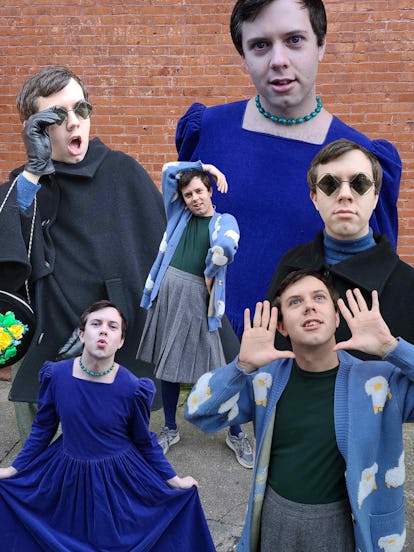 Cole Escola photographed by Joseph Signa. Collage by Maridelis Morales Rosado for W Magazine.
Absurdist, surrealist, camp—it's hard to nail down a definition for the genre of comedy performed by Cole Escola, but you could say that the performer's humor laid the groundwork for today's "alt Brooklyn comedy" 15 years ago, when they first arrived in New York.
In 2005, Escola moved from Oregon to New York for college and after a year of school, they could no longer afford it, so they dropped out. At that point they had two options: stick it out in New York and try to make things work, or move back to Oregon for community college. They chose the former. "I floundered," Escola said over the phone. "I worked a lot of odd jobs. I worked at the Scholastic bookstore, a vegan bakery. I did sex work while working at the bakery," they explained before clarifying, "Not at the bakery. Although, certainly would have made the commute a lot easier."
Everything started to change, though, when Escola met Jeffery Self, a fellow dropout who had no idea what he was doing—and who is now Escola's castmate on the HBO Max Millennial satire series, Search Party. "He believed in himself, and he wanted to work in entertainment," Escola said. "Seeing him go for it sort of rubbed off on me."
The two made videos together, with Escola often doing an impression of Bernadette Peters (who the comedian would eventually go on to appear alongside in Mozart in the Jungle), and put them on YouTube, which turned into a sketch show for Logo called Jeffery and Cole Casserole. Escola also brought some of those characters to a live cabaret show at Joe's Pub, and continued to develop them on their on YouTube account. The performer spun their career into a string of eccentric supporting parts on television over the last decade.
As a child, Escola spent time watching old movies and faking sick so that they could skip school every Monday to have lunch with their grandmother and her friends, who would, in turn, go on to serve as inspiration for some of the characters in Escola's videos. At first, their understanding of comedy was limited to the sketches acted out on Saturday Night Live—until they found the irreverent, off-beat humor of Strangers with Candy starring Amy Sedaris and the plays and performances by Charles Busch.
It is fitting, then, that Escola would go on to become a close friend and collaborator of Sedaris's, after appearing with her on Difficult People and recording a live podcast episode together in Brooklyn. "We were doing a podcast called Crybabies at The Bell House, and my dad was dying," they explained. "She was making jokes about it, and it was so shocking and so funny that this person that is a hero and that I've met twice is making jokes about me talking about my dying dad. I just fell in love in that moment."
Shortly thereafter, Sedaris and Paul Dinello were developing their surrealist homemaking satire At Home with Amy Sedaris when they wrote a character just for Escola into the show. The pair had seen Escola's chilling "Mom Commercial," in which a mother recounts an unsettling story while shilling orange juice. "It was one of those things where it felt like both an unbelievable dream come true and also like, yeah, this is exactly what I thought I should and would be doing," Escola said of playing Chassie Tucker, Amy's sassy neighbor on the show.
At Home with Amy Sedaris is also where Escola first worked with Ann Dowd, with whom they act opposite once more in this season of Search Party. The third season of Sedaris's show and the fourth season of Search Party were filmed simultaneously, and Escola found themselves going back and forth between sets every other day.
In Search Party's third season, Escola is introduced to audiences as "The Twink," a cater waiter who ruins Elliott's (John Early) wedding and stalks Dory (Alia Shawkat). The fourth season reveals the deranged character's identity to be a wealthy scion named Chip, and he has kidnapped Dory à la Kathy Bates "rescuing" James Caan in Stephen King's Misery. Dory remains confined to the basement of a Massachusetts home owned by Chip's aunt Lylah (Susan Sarandon) while Chip throws his psychobabble at her and tries to convince her to be his friend.
"Chip is so wealthy and so spoiled, I wasn't worried about making him seem sympathetic," Escola said. "But I sort of feel like the inverse of Chip, this white trash creature that belongs in high society," they laughed. "Like, I always felt that when I was a child. I was like, I'm on the wrong side of the tracks! I identify with Chip's rage at his lot in life, and outsized and misplaced rage at his circumstances."
Rather than be constricted by identity, genre, or otherwise, Escola plays with those boundaries by embodying avant-garde, dysfunctional characters. There's no formula to Escola's creative process, but it often involves some classic Hollywood vocal intonations, and a lot of wigs. And their particular brand of comedy can really shine on Instagram, where they introduced their hundreds of thousands of followers to the character of Toby, a straight bro auditioning for what the viewer thinks is going to be a "gay for pay" porn video (only to find a shocking and delightful twist by the end), or a 24-hour news cycle television commentator informing you of the breaking news that "poop has tested positive for pee."
As far as Escola's next endeavors go, they are developing an animated series with Nick Kroll and the Big Mouth team, writing for Ziwe Fumudoh's new show, working with their friend John Early on a film, and shopping around a pilot presentation with Self. "I would love to play a straight, backwoods gas station attendant," they said. "I feel like my teeth are right for that kind of part."
And when asked about plans to depart the East Coast for greener, easier pastures, Escola shrugged: "I sort of feel the way Fran Lebowitz does. I mean, where would I go?" they laughed.
Related: Ayo Edebiri, Big Mouth's New Missy, Is Just Getting Started