Cruel Intentions the TV Show Is Coming to Mess With Your Mind Soon
The step-siblings story has us all in a chokehold.
---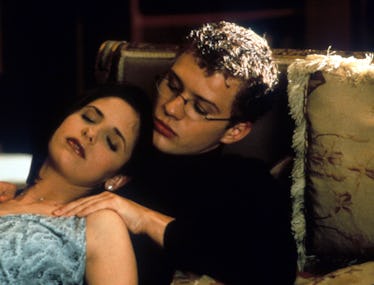 Archive Photos/Moviepix/Getty Images
One of the biggest remaning 90s reboots in the sea has finally been landed: Cruel Intentions the film will soon be Cruel Intentions the eight-part TV series on Amazon Prime.
After a number of years wrestling over contracts and differing creative direction, TVLine reports that filming for the series begins in Toronto next May. The show is set in Washington, D.C., not NYC, but there are still two maniacal step-siblings at the center of the drama. The pair attend an elite college, and are at the top of the Greek Life hierarchy. After a hazing incident threatens their power and reputations, they naturally decide the only thing to do is to seduce the daughter of the vice president of the United States.
An actual production timeline is key, because TV execs have been trying to get something in the Cruel Intentions universe off of the ground for years.
In 1999, Fox tried a prequel for the film as a series called Manchester Prep, which never aired as a show, but three episodes were turned into direct-to-video film Cruel Intentions 2. In 2016, NBC ordered a pilot for a show that would be a sequel to the movie, with Sarah Michelle Gellar returning as Kathryn, but it didn't get a series order. Last year, Gellar admitted that was the right call.
"Nothing against NBC, but Cruel Intentions is straight streaming," she said in an interview with the New York Times. "On the first day, I was like, 'This isn't working.' It's just not a network show. And if it is a network show, it's not my Cruel Intentions. So, I was actually grateful."
And the series now set for Amazon was originally being developed for Freevee, Amazon's free streaming service, though it seems likely to premiere on Prime. When it first went into development in 2021, the pilot was set to be written by Euphoria's Phoebe Fisher and Gossip Girl's Sara Goodman.
In a way, the return of Cruel Intentions simply had to happen at some point. The movie was based on the 1782 novel by Pierre Choderlos de Laclos, Les Liaisons Dangereuses. The story of two incestuous step-siblings has had readers and viewers enthralled for literal centuries.
It has not been confirmed is Gellar or anyone else from the OG cast will return, but Fisher and Goodman also worked on a TV series reboot for I Know What You Did Last Summer, another iconic Gellar piece. Maybe we can at least get a kissing cameo?