How Daisy Jones and the Six's Costume Designer Captured Laurel Canyon Fashion
Denise Wingate spent two and a half years meticulously sourcing vintage clothing for the '70s-set series.
---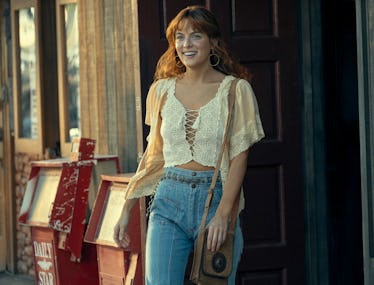 Lacey Terrell/Prime Video
When it comes to Daisy Jones & The Six, there are actually two books. There's the beloved 2019 bestseller Taylor Jenkins Reid penned about the fictional rise and fall of a '70s rock band that's impossible not to compare to Fleetwood Mac, which was transformed into a hit miniseries starring Riley Keough, Sam Claflin, Camila Morrone, Suki Waterhouse, Josh Whitehouse, Nabiyah Be, Sebastian Chacon, and Will Harrison on Amazon Prime. And then there's the visual compendium put together by Denise Wingate, the show's costume designer. Long before the miniseries adaptation even had a director, Wingate had painstakingly made a chapter-by-chapter blueprint of all the '70s-era clothes on Daisy Jones & The Six. "I spent months making my own book with images," she tells W over Zoom. And there were a lot of familiar faces inside of it.
Anyone who's watched the series, which just concluded with its 10th episode on Friday, March 25th, likely picked up on some of them. Waterhouse's Karen Sirko is a throwback to Joan Jett: "There was an outfit of Joan Jett wearing this tiny vest with these velvet hip-huggers and I showed that to Suki and was like, 'We're doing that! That's a great look'," Wingate recalls. Marc Bolan's glam rock velvet and glitter was also a touchpoint. Claflin's Billy Dunne was an homage to early Bruce Springsteen: "I was obsessed with this jacket he wore all the time so I made that," Wingate explains.
Whitehouse's Eddie Roundtree was inspired by The Band's Robbie Robertson in Martin Scorsese's documentary The Last Waltz. Be's Simone Jackson was a sartorial love letter to Merry Clayton and "Chaka Khan, Gloria Gaynor, and Donna Summer, when Simone goes to NYC." (That white leather, fringe, and beaded feather outfit Simone wears while performing in the club was a copy of a look Wingate saw Chaka Khan wearing.) And Morrone's Camila starts with an "Ali MacGraw from Love Story look" with A-line corduroy skirts and "morphs into a free-spirited boho look when she gets to Laurel Canyon," where she channels Bianca Jagger.
Blink and you might have missed the tribute to Bianca's wedding outfit, which was Wingate's favorite of all of Camila's looks. In a flash, Camila walks out of an airport wearing an oversized white hat and white suit like Jagger's. "It just looked so chic," says Wingate. "It was a rip-off. You only see it for a second but it was such a killer look." It wasn't accidental that Camila is always in neutrals. "It was a nice contrast to Daisy and all the craziness she had going on," Wingate says.
Lacey Terrell/Prime Video
Lacey Terrell/Prime Video
As for Keough's Daisy, there's a lot to unpack there. But the outfit the rock icon wears in the finale is no doubt Wingate's favorite. While performing at their final show at Chicago's Soldier Field, Daisy entrances the crowd in a vintage Halston caftan with a gold metallic dress beneath—a look that's the perfect intersection of rock and disco, the two worlds documented in Daisy Jones. "It was one of those nights," remembers Wingate. "A storm was coming and it was really hot, and you could feel the electricity in the air. When she lifted up her arms, everyone—the producers, everyone at the monitors—gasped. It was so magical."
It was also a winking nod to Stevie Nicks, whose name inevitably comes up when discussing Daisy Jones. Keough was actually responsible for the concept behind Daisy's sendoff look. "It was 100 percent a collaboration," Wingate says. "She called me up and said, 'I'm listening to 'Gold Dust Woman' on the radio. I think 'Gold Dust Woman' should be our final outfit.'"
Stevie Nicks's iconic style is peppered throughout the miniseries and more directly referenced in the album art for Aurora. For the photoshoot, "We made this amazing chiffon dress after I had seen Stevie Nicks wearing something similar," Wingate remembers. Sadly, it never had its moment in the sun, in the final cut. "We were going to be in the desert and we got there and it was freezing. There was snow on the ground. So Riley ended up having to wear a fur coat over it. That poor dress didn't get the visibility it deserved."
A number of pieces Wingate accumulated for the show didn't make the cut—which isn't surprising, considering the costume designer estimates she spent about two and a half years working on the series, visiting flea markets weekly, sifting through thousands of items on vintage Etsy shops ("for every 100 items I found online, I would get one"), and traipsing across Los Angeles, Paris, and Berlin thrift stores. She estimates she used "75 percent proper vintage" and the rest was a mix between pieces she made custom and contemporary pieces that fit the time. "I used Levi's, Free People," she says. "If I saw something at a flea market and I wasn't sure if it was from the '70s but it looked like it was from the '70s that was good enough for me." She even used some items from her own closet, including her grandparents' jewelry. "There's a scene where Daisy and Billy are fighting over what they want on tour, and she's wearing this red suede coat with paint splatters and these red coral necklaces that were my grandmother's," Wingate says.
Lacey Terrell/Prime Video
Lacey Terrell/Prime Video
Lacey Terrell/Prime Video
Creating the costumes the band wears in "the present day" as their older selves was an entirely different project. "For Daisy, we didn't want the audience to be sure of what she's doing in her life," Wingate says, explaining why she put the character in a Champagne tone—a noticeable shift from the fiery and, later, darker colors she wears throughout the series—for the interview, and white for the last scene of finale. (No spoilers here.) "We talked a lot about her look and decided she should be a bit of a blank canvas," she adds. "I didn't want the costumes to be distracting. You just want to watch their face and listen to the words."
The only exception? Chacon's Warren Rojas. "We figured he's on a yacht somewhere like Jimmy Buffett; rich, and drinking beer." Meanwhile, Karen's later look was inspired equally by a photo Wingate saw of Patti Smith and one of The Pretenders' Chrissie Hynde in leather jackets and a white shirt. "That's a '90s Gucci leather blazer," Wingate says. "You knew she was going to keep performing—that's what she wanted to do." (Since working on the show, Wingate has become an expert on jackets and coats.)
The one piece Keough ended up keeping from Daisy's wardrobe was "a coat [Wingate] made for Daisy after seeing Cher wearing something similar." "Daisy wears it in Pittsburgh when she sneaks out to a coffee shop with Billy," Wingate recalls. As for the tapestry coat with fur that Daisy wears in the finale before heading to Soldier Field, Wingate says, "That was one of the first pieces I bought, at a shop in Paris."
The most talked-about coats in Daisy Jones & The Six, though, also happen to be a slight Easter egg. While reaching out to Levi's to source vintage pieces, someone at the brand told Wingate to call Love Melody (the designer born Melody Sabatasso) who made denim patchwork pieces in the '70s for rock stars. "She asked who was in the show," Wingate recalls. "I said, 'Riley Keough' and she said, 'Oh, I made two jumpsuits for Elvis.' I was like, 'Are you kidding?' So after that I was like, 'This is kismet. You have to make me two long coats.'"
Keough was aware of the connection, too. "When she tried on the coats she said, 'This is really nice.' And I said, 'You know this woman made jumpsuits for Elvis.' She was really touched by it."
Wingate also had a personal connection to Daisy Jones's world. "I was born in L.A. I was sneaking out to clubs when I was really young," she recalls. "I had toured as a stylist for the Bangles, so I knew what it was like to be on the road with a band. I know this world really well and I thought I could do a good job of having the costume design look realistic and not like a '70s costume party. Because it's a documentary and it's supposed to be believable, I wanted it to look very authentic."
Daisy Jones & The Six is streaming now on Amazon Prime.