W TV Club: Damages Is Workplace Drama at Its Most Extreme
For this week's W TV Club, staff writer Stephanie Eckardt shares her go-to season of TV to watch when out of office.
---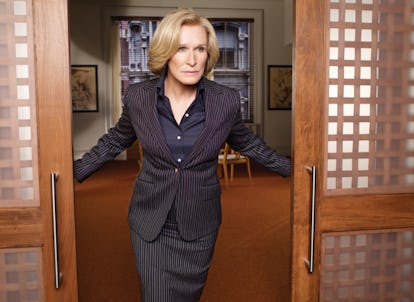 Courtesy of IMDb
Welcome to the W TV Club, a spin-off series of W Movie Club, in which W magazine's editors pick a season of a television show they'd recommend you binge-watch while in quarantine. This week, staff writer Stephanie Eckardt shares her go-to season of television to watch when out of office.
As much as I loathe when women are described as crazy, it's hard to deny that ambition drives the two lead characters of Damages to act, well, crazy. The legal thriller debuted in 2007, when the Peak TV era was churning out male antihero after male antihero, from Don Draper to Walter White. It's hard to understate how refreshing it was—and still is—to watch women break bad on screen.
Patty Hewes, the powerhouse lawyer played by Glenn Close, will do whatever it takes to get what she wants—which, above all, is to win. It's surprising, then, when she takes a potentially promising law school grad under her wing. Of course, the moment Ellen Parsons, an ingénue played by Rose Byrne, starts to live up to that potential, you know things are not going to end well for her.
That may seem like a spoiler, but Damages takes place more in the past than it does in the present. (A word of advice: don't even bother keeping track of when events are actually taking place. Eventually, you'll come to regard the time jumps as charming, rather than maddening.)
The pilot's very first scene—a flash forward of a bloody, half-naked, clearly shaken Ellen stepping out of an elevator—is certainly dramatic, and feels something out of a 90's thriller. But Damages is really just an extreme, near-absurdist version of a classic genre: the workplace drama.
Each season, Patty's firm Hewes & Associates takes on a major case. And part of why Damages is at its best in season one is that the first target is Arthur Frobisher, an egomaniacal billionaire played by Ted Danson who is nevertheless so thoroughly and comically outmaneuvered by Patty you almost feel bad for him.
Unlike most legal thrillers, Damages doesn't dwell on the courtroom. The bulk of the drama takes place in the office—and, as the work-obsessed among us know too well, in the personal spaces where the office spills into. The good thing is you can't commit murder over Zoom—although if anyone could figure out how, it's Patty.
Related: W TV Club: Watching The West Wing to Escape From 2020 Politics