Daniel Arnold's New York Life Show Captures the Joy and Chaos of City Living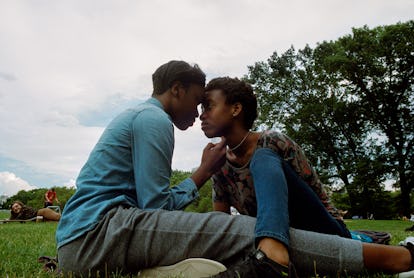 Daniel Arnold, "Central Park (Sheep Meadow)," 2017. Courtesy of the artist.
On any given day in New York City, the photographer Daniel Arnold can be found walking the streets, his camera poised to snap a picture that epitomizes the singular, distinct lifestyle associated with the city that never sleeps. Of course, this is not the only métier Arnold, a Wisconsin native now based in NYC, takes on; he often shoots fashion editorials in the very pages of this magazine, along with features for The New York Times, The New Yorker, and many more. But it is his unique and heartfelt approach to street photography that has gained him the moniker "the William Eggleston of Instagram" and led Josh Safdie to write an afterword for Arnold's 2022 photo book Pickpocket. Now, the artist's oeuvre of contemplative subway riders, kids digging in bodega freezers, and the diverse cast of characters that hits Coney Island in summertime is on display at New York Life Gallery, a space founded by fellow photographer (and frequent W contributor) Ethan James Green. Titled Daniel Arnold: New York Life, the show features 30 of Arnold's photographic works—which capture the joy, chaos, and unrelenting dark humor that comes along with living in the big city. The exhibition runs through December 22, but you can get a sneak peek of the works here.