For DeSe Escobar, Nightlife Is an Art Form
The multihyphenate behind the party series Club Glam is expanding her purview into fashion and beyond.
Written by Alex Hawgood
Photographs by Daniel Arnold
---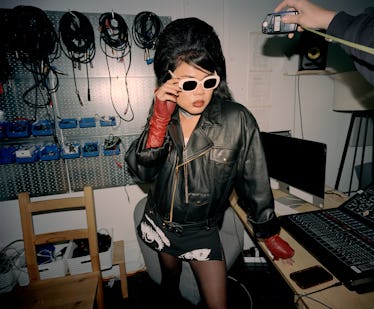 DeSe Escobar wears a Celine by Hedi Slimane jacket, tank top, sunglasses, and necklace; Ratio x Club Glam skirt and necklace; Wolford tights; her own gloves.
Few are as tuned in to the sound of now as DeSe Escobar, the downtown New York polymath who bridges nightlife and art, music, and fashion. Club Glam, her anything-goes party, frequented by the likes of designer Telfar Clemens and artist and performer Juliana Huxtable—both of whom also served as guest DJs—defined New York's club culture in the years before the pandemic.
After China Chalet, Club Glam's original venue, shuttered in 2020, Escobar started taking her fabulous show on the road, popping up in locales as disparate as David Lynch's Silencio nightclub in Paris and an Irish pub on Wall Street, where the Venezuelan electronic music wunderkind Arca performed a surprise DJ set with Ashland Mines, the musician better known as Total Freedom, for a Wolfgang Tillmans afterparty. "Club Glam is a space where these personalities can express themselves and create a presence," Escobar says. "In a way, the party is its own performance."
Nights out are just one part of Escobar's larger mission to "encourage eccentricity and experimentation in New York through music and fashion," she says. She recently styled music videos for the hyperpop duo Frost Children and the New York–based musician and producer Quiet Luke, and has a Club Glam fashion line in the works with the leather goods label Ratio, set to launch this spring. Last year, a series of multimedia pieces documenting her nightlife escapades, and what she describes as "the experiences of a trans person existing in New York," was exhibited at Cherish, a gallery in Geneva. In February, Hedi Slimane invited her to spin at Celine's postshow bash at Le Palace in Paris.
Like Slimane, Escobar is a cross-disciplinary champion of young musical talent. "I love that Hedi is so active in his exploration of different scenes," she says. "He is so open-minded about doing the fieldwork necessary to understand how different subcultures build their audiences. That is something I always want to keep doing too."
Escobar's voice grows wistful when she speaks about the next wave of DJs, promoters, bands, and club kids on the horizon. "The younger generation, from what I've observed, is looking for something unique and very underground. That's why I like working with these new musicians," she says, referring to artists like the pop upstart Avalon Lurks and the experimental Lebanese singer-songwriter Thoom. "I love to invest in their vision and hope to see them become stars as popular as Ariana Grande."
Today's nightlife nostalgia for mid-aughts hedonism, embodied by Cobrasnake snapshots and pop antiheroes like Sky Ferreira, has made Escobar ponder her own creative journey. "It's sort of like me as a teenager, sometime around 2004 or 2006, looking back at the '80s," she says. She paused a beat, as if to process the passing of time. "That actually freaks me out a bit."
Hair by Junya for Oribe at Streeters; makeup by Kuma for Bobbi Brown at Streeters; hair assistant: Mai Kimura; fashion assistant: Noelia Rojas.