Devil Wears Prada Screenwriter Offers Up One Major Plot Point in a Hypothetical Sequel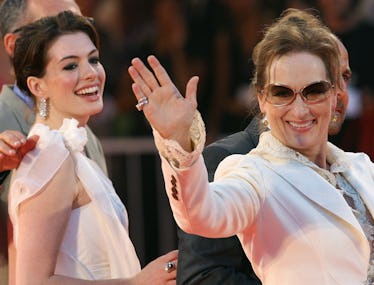 ALBERTO PIZZOLI/AFP via Getty Images
We're not going to tease you. At the current time, there are no publicly known plans for a film sequel to The Devil Wears Prada, whatsoever. However, if there were ever to be one, the original film's screenwriter, Aline Brosh McKenna, imagines it would include one major plot update: Anne Hathaway's Andy Sachs and her chef boyfriend, Nate (Adrian Grenier), would have split.
"Andy and Nate are definitely not together. That much I can tell you," McKenna said in a Variety piece (as pointed out by IndieWire) while promoting her latest romantic comedy, the Reese Witherspoon and Ashton Kutcher-starring Your Place or Mine.
Perhaps it's not the most surprising plot update, but it is one that should be welcomed by many of the film's rabid fans. In the years since the movie premiere in 2006, numerous corners of the internet have embraced the theory that Meryl Streep's icy editrix Miranda Priestly was not the actual "villain" in the film. Instead it was Nate, who was callously unsupportive of Andy's career ambitions. (For what it's worth, Hathaway herself doesn't buy into the theory, though Grenier does).
This actually shouldn't be all that much of a surprise. The characters actually break up in the film, and while they apologize and end on good terms, Nate takes a job in Boston while Andy lands on the masthead of a non-fashion publication in New York.
Although the film remains sequel-less, author Lauren Weisberger did publish a follow-up to her novel with Revenge Wears Prada: The Devil Returns. In that version of events, Andy has decidedly moved on. She's (spoiler alert?) married to a media nepo baby named Max and has to deal with her stuck-up mother-in-law.
It is, however, interesting that McKenna's hypothetical version of events would be Nate-less as well. She has previously logged on as a bold Nate defender.
"She's being a hypocrite, and he's right at the end," she said of Andy in a 2019 interview with Teen Vogue. "She goes to apologize to him because he was right. She was selling herself out and going down the wrong path. I think it's interesting now that we're so encouraging people to like, 'Get what's yours,' that we don't see that she's Charlie Sheen in Wall Street."
Alas, it's all hypothetical anyway. No one involved in the film feels it really needs a sequel. Hathaway has denied it multiple times. Besides, the film's central dynamic involves not Andy and Nate, but Andy and Miranda, and there are few reasons for the pair to cross paths again.
Yet, we guess we can say in every conceivable Prada sequel in every conceivable universe produced in every conceivable medium, Andy and Nate are definitely no longer together. It's a sort of anti love story for the ages.