In Babylon, Diego Calva Gets His Big Break
Interview by Lynn Hirschberg
Photographs by Jamie Hawkesworth
---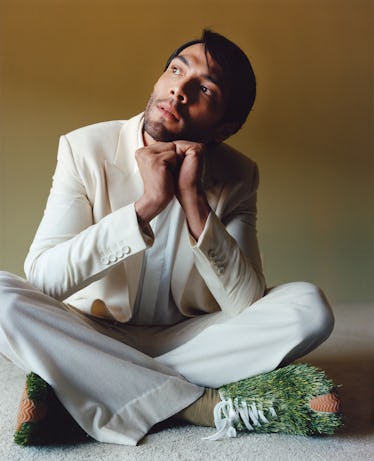 Calva wears a Dior Men jacket, shirt, and pants; Charvet tie; Falke socks; Loewe sneakers.
Among the starry cast of Damien Chazelle's new epic, Babylon, sits Hollywood newcomer Diego Calva, whose performance as Manny Torres—a man breaking into the glitz and glamour of 1920s Hollywood—has garnered him a Golden Globe nomination. After Chazelle discovered the 30-year-old actor online, Calva's dive into his first-ever major motion picture was a domino effect of departures from the norm, from living with Chazelle to memorizing his co-star Brad Pitt's lines in addition to his own. The commitment, married with Calva's background in film direction and scriptwriting, paid off, as Calva effortlessly volleys with Pitt and Margot Robbie. As it stands, he might never be fully relaxed in rooms filled with his biggest idols, but with a potential Oscar nomination on the way, he's definitely going to have to get used to it.
Babylon is your Hollywood debut film.
I'm Mexican, and Damien Chazelle, the director of Babylon, saw a picture of me somewhere on the Internet. It was one of my first headshots. He sent me a message, and that was it. Damien worked with me a lot on the part. I lived in his house for 10 days! We—Damien; his wife, Olivia Hamilton; and I—rehearsed the whole movie in his backyard. On the day that we started shooting, I told Brad Pitt, "Hey, I even know your lines."
The film is set during a wild time in Hollywood in the 1920s. Were you were familiar with that era?
Yes. I was familiar with the silent era because I studied film direction. What I love about that period is the idea that all those people—the directors and actors—they were like pioneers. Nobody really knew what they were doing. Everything was like an adventure, like the first time for everyone.
Growing up, who was your cinematic crush?
I was so in love with Halle Berry in The Flintstones. I was like, This is a beautiful woman. I want to meet her.
Do you have a secret skill?
I can juggle. Sometimes, on set, it's good to do something with your hands. When you juggle, you stop being in the mood you were in and—poof!—you reset yourself.
Have you ever been starstruck?
I went to this gala, and I met Sandra Bullock. That was so cool.
Hair for portfolio by Anthony Turner at Streeters; makeup for portfolio by Lucia Pica for Byredo at Art Partner. Senior style editor Allia Alliata di Montereale; senior fashion market editor Jenna Wojciechowski. Manicure for portfolio by Michelle Saunders. Set Design by Gille Mills at 11th House.
Produced by Connect the Dots; executive producer: Wes Olson; producer: Zack Higginbottom; production manager: Nicole Morra; photo assistants: Cecilia Byrne, Jack Buster, David Gurzhiev; retouching: Simon Thistle; fashion assistants: Julia McClatchy, Tori López, Jacqueline Chen, India Reed, Nycole Sariol, Derek Ezra Brown, Karla Garcia, Rosa Schorr; production assistants: Khari Cousins, Tchad Cousins, Kelsey Swope Romero, Mateo Calvo, Juan Calvo, Rayon Pollard, Gina York, Peter Ditzler, Nico Robledo; hair assistants: John Allan, Dylan Michael, Ramdasha Bikceem, Malika Palmer; makeup assistants: Kate O'Reilly, Lilly Pollan, Bailee Wolfson; manicure assistants: Pilar Lafargue and Victoria Valenzuela, Jolene Brodeur; set assistants: Cory Bailey, Dirk Knibbe, Joel Garcia, Matt Day; tailors: Irina Tshartaryan, Ripsime Vartanyan at Susie's Custom Designs, Inc.