Photographer Ellen Warner Captures an Overlooked Side of Femininity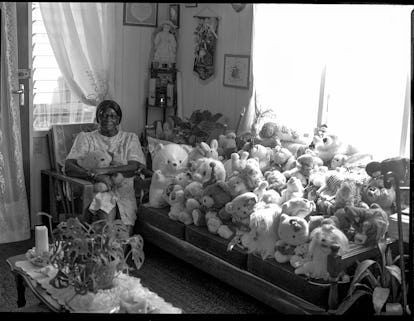 Modestine Brown with her collection of stuffed animals photographed by Ellen Warner.
The photojournalist Ellen Warner has spent her life traveling the world, taking pictures of people whose ways of life and personal stories are relatively unknown to the general public. She's photographed indigenous cultures from China, Iran, East Africa, India, and Europe—and in the process has explored the visual relationship between customs and styles of dress and the history of the culture itself. But Warner's work also reveals a more delicate and personal side of her many subjects. With her portrait work, she's been able to tap into this core ethos—telling the little-known and often marginalized stories of folks she's met through her travels—while leaving behind the objective eye of a journalist. Her latest project, a book titled The Second Half: 40 Women Reveal Life After 50, speaks deeply to this emotional side of her work.
Over the span of 15 years, Warner photographed and conducted interviews with 40 women from all walks of life, from all over the globe, all of whom were between the ages of 50 and 107. Some names were recognizable—including 92-year-old Academy Award-winning actress Olivia de Havilland and cellist Yo-Yo-Ma's 85-year-old mother Marina Ma—while others were simply fascinating women she met along the way. "With other projects that I've worked on, if I'm photographing tribal groups in North Vietnam, I go to North Vietnam to complete the project," Warner told me from her home in New York City. "But if you happen to be somewhere on holiday, there are going to be women there—they are 52% of the population. There are women everywhere. And it's incredible, the things that happen when you search for women whose stories are not often told." Below, Warner shares with W the backstories to a selection of works from her book, which is available now via Brandeis University Press.