Everything to Know About Saltburn, Emerald Fennell's Posh Mystery Film
Jacob Elordi and Barry Keoghan star in the Promising Young Woman director's "British tale of excess."
---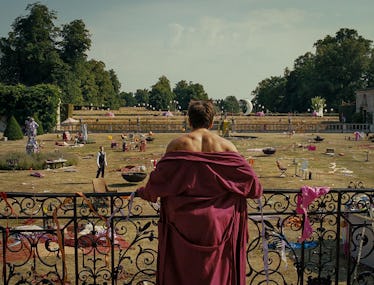 MGM
Emerald Fennell's feature directorial debut, the four-time Oscar-nominated revenge thriller Promising Young Woman, was a breakout success when it first landed with audiences in 2020 (it also won Fennell an Academy Award for Best Original Screenplay). Now, Fennell's sophomore follow-up is already getting awards buzz.
Saltburn, which will be released in theaters this fall, is both the name of Fennell's next film and the posh British estate where it's set. The mystery tells a tale of excess and intrigue among the upper echelons of English society, a world that Fennell is well-versed in having played Camilla Parker Bowles in The Crown. Margot Robbie is producing the film, marking her third collaboration with Fennell—Robbie's company also produced Promising Young Woman, and Fennell made a cameo as pregnant Midge in Robbie's mega blockbuster hit Barbie.
It's also a reunion for Fennell and Carey Mulligan, who starred as the titular Promising Young Woman in what has been hailed as her career highlight. Read on for everything we know about Saltburn so far:
What is Saltburn about?
The 2000s-set film is billed as a mystery, so naturally there's only been so much revealed about the plot. Per a press release, the film is a "beautifully wicked tale of privilege and desire," and stars Academy Award-nominated Irish actor Barry Keoghan (The Banshees of Inisherin) as Oliver Quick, a student struggling to find his place at Oxford University when he's drawn into the world of the charming and aristocratic Felix Catton (Euphoria's Jacob Elordi). Felix invites Oliver to his eccentric family's sprawling estate, Saltburn, for "a summer never to be forgotten."
"If it feels real, if it feels like something you really might do alone in the grips of desire, then it doesn't feel too much for me," Fennell told Vanity Fair of the plot. "For that completely overwhelming carnal desire to take hold, there has to be an element of revulsion, there has to be an element of transgression."
She added: "My favorite thing in general is sympathy for the devil. The sorts of people that we can't stand, the sorts of people who are abhorrent—if we can love them, if we can fall in love with these people, if we can understand why this is so alluring, in spite of its palpable cruelty and unfairness and sort of strangeness, if we all want to be there too, I think that's just such an interesting dynamic."
Setting the gothic-style tale of debauchery and glamour in 2006 was also a very specific choice that Fennell says "really knocks the fucking glamour off things. There's nothing like a Livestrong bracelet and a 'carpe diem' tattoo and an eyebrow star and a boot-cut jean that deglamorizes things."
Who is in the Saltburn cast?
In addition to Keoghan and Elordi, Saltburn will also star Rosamund Pike (Gone Girl), Richard E. Grant (Loki), Irish actress Alison Oliver (from Hulu's 2022 Sally Rooney adaptation of Conversations with Friends), Archie Madekwe (Midsommar), and Carey Mulligan.
Fennell first noticed Keoghan in 2017's creepy thriller The Killing of a Sacred Deer. "I just thought, That's a once-in-a-lifetime performer. There's no equivalent," she says.
Of Elordi's character, an alluring, wealthy young men who is nonetheless directionless, Fennell says: "You can understand completely that no person would be capable of resisting this person. But at the same time, you can also understand that it is also sort of an illusion, an illusion other people are projecting onto him—and he's actually not necessarily particularly special or interesting. He just happens to seem like he is."
Does Saltburn have a trailer?
On Wednesday, August 30, the first trailer for Saltburn dropped, and it shows Keoghan's Oliver quickly falling into the seductive world of wealth and debauchery. The clip opens with Oliver and Elordi's Felix at an elite prep school. When Oliver tells Felix he doesn't really have a home to go to for the school break, Felix invites him to his family's estate, Saltburn. There, Oliver descends into what seems to be a glamorously dysfunctional world, at one point saying it's been the "happiest time" of his life.
Watch the trailer below:
When will Saltburn be released?
Saltburn will hit theaters with a limited run starting November 24, 2023 (in time for Thanksgiving weekend), with a wide release following the next week. Being that it's distributed by Amazon and MGM, it'll also likely end up streaming on Prime Video at some point—just in time to pick up even more steam before awards season.
On October 4, it will open the 67th British Film Institute's London Film Festival—a prestigious spot in the festival circuit. "I'm honored that our film is able to open this year's BFI London Film Festival," Fennell told Empire Online. "It is a festival that inspired me so much growing up, one that I followed excitedly from my bedroom on the other side of London. It feels extra-special that Saltburn, this very British tale of excess, is able to make its international debut at the wonderful BFI."
This article was originally published on