Ever Anderson Flies Into the Spotlight With Peter Pan and Wendy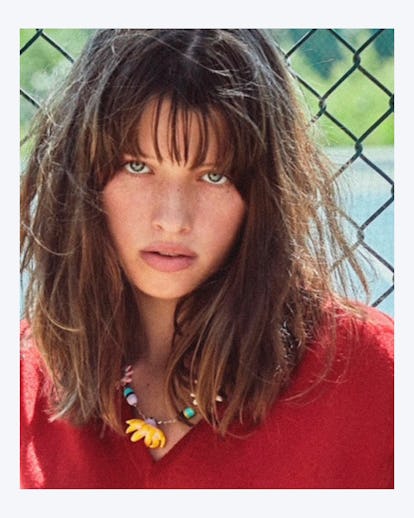 Photograph by Chris Brenner
Ever Anderson first realized her mother, Milla Jovovich, was a renowned actress around five years old. Now 15, Anderson—whose father is the filmmaker Paul W. S. Anderson—spent her earliest years bouncing around movie sets with her parents. Sometime in 2013, a friend of Anderson's said, "Your mom's famous," to which she scrunched up her nose and responded, "What's famous?" Watching Jovovich in The Fifth Element, hanging out on set while mom and dad filmed The Three Musketeers—it was all normal, until she realized it wasn't.
"I got an incredible film education from a young age," Anderson tells me over Zoom from London after a flight from her home base in Los Angeles. "But I found out that playing with dolls and role playing with my friends was actually a job while watching my mom on set. She was doing this job that I also wanted to do—she was doing the dream, in my eyes."
Now, Anderson no longer has to dream. After playing younger versions of her mom in 2016's Resident Evil: The Final Chapter and Scarlett Johansson's Natasha in Black Widow, the budding actress is breaking out with a lead role as Wendy in the new Disney+ fantasy adventure film Peter Pan and Wendy. Directed by David Lowery and starring 16-year-old Alexander Molony as Peter Pan with Yara Shahidi in the role of Tinker Bell, the movie will hit the streamer on April 28—but Anderson has been hard at work on the project since the early days of 2020.
"It came into my life at a time when I was actually struggling with not wanting to grow up, wanting to stay a kid forever," Anderson says from her hotel room in the U.K. She's wearing a white terry cloth robe and wet hair, preparing for a reunion dinner with Molony and the rest of the cast before the Peter Pan and Wendy London premiere. She was only 12 years old when she read for the role, but by the time Wendy and Peter Pan was set to start filming, Covid hit. "When we actually started filming, we were already 14 years old," Anderson says, adding that she experienced a growth spurt during that time. "I was scared they were going to fire me because I got taller than all the boys!"
Needless to say, her height didn't present a problem. And for eight months, Anderson and her costars lived in Vancouver and Newfoundland, where all of the exterior of Neverland was shot ("It's actually real life," she specifies, rather than CGI). She and Molony spent a couple months on set preparing for the physical aspects of their roles: taking fencing lessons and participating in wire work training for the flying scenes. "That gave us a chance to bond and work off of each other," she recalls. "I also got to bond with my character at that time—finding out who this girl is and how I want to infuse myself into her."
Anderson likens molding her character to "building Wendy, like Legos." To prep, the actress watched the animated classic and read the book. But when it came time to get creative, she says Lowery encouraged all the kids to "just be ourselves," allowing Anderson to add "little things, like hand gestures" and Wendy's style of flying.
It's pretty impressive that Anderson has been involved in films put on by two of the largest production companies on the planet at such a young age. Working on a Marvel movie vs. a Disney film is a totally different experience, she says. But in terms of similarities between the two conglomerates, they're both "very top secret—there's a cover name and you can't post anything," she says. "I got to work more with Disney this time around, because of how long Peter Pan shot. The big difference was that I actually got to read the entirety of the script; when I was filming Black Widow, they only gave me the roles that I was in to read, and everything else was off limits."
Anderson has no qualms about discussing her famous family—a refreshing change from the guarded children of Hollywood hoping to distance themselves from their kin's careers. In fact, she's open about the fact that her parents helped her get into character for Wendy. "I come to my mom for advice on everything; she helped me dig deep and find the essence of Wendy when I was first going to auditions," she says. "And both my mom and my dad introduced me to Monty Python and Absolutely Fabulous—so they both contributed in helping me with my [British] accent."
Acting is just the tip of the iceberg for Anderson's career. She's also a face for Miu Miu; the brand reached out while she was filming Peter Pan to initiate a "relationship," she says. She hopes she'll be able to walk shows in the future, to get the opportunity to wear the label's "unique and so punk rock" designs. "But I have to get better at walking in heels, because unfortunately, I'm dreadful." She's also an avid reader and TikTok poster (she says her For You Page is populated mostly by BookTok users, but she's considering making a video inspired by the Wes Anderson trend), and is currently trying her hand at learning Japanese (she's already fluent in Russian and French).
Up next, Anderon's "potentially developing some projects"—one of which will see her getting her first producer credit. She hopes to get involved with a rom-com at some point. Meanwhile, she keeps the advice from her family top of mind as she navigates the beginning of her career. "My mom told me to always be inquisitive, always care about everything you do—and everyone," she says. "And to never be afraid to look stupid, because sometimes that's just the way it is. You can't be scared to put yourself out there."
This article was originally published on