Filmmaker Stephen Isaac-Wilson Takes a Chance on Himself
The director, who got his start in documentary filmmaking in his native England, has gone on to make videos for Kaytranada, Kali Uchis, and more.
---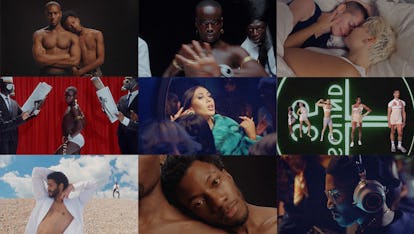 Works by filmmaker Stephen Isaac-Wilson. Collage by W magazine.
Twenty-twenty was a big year for you, because you signed with Pulse films.
I used to work at i-D magazine. I left three years ago and started to do my own thing from there. Pulse Films were the first production company I reached out to after I left to see if they'd be interested in letting me pitch new projects. They were so supportive. Last year it made natural sense to sign with them. We kept producing things together, but we kept forgetting to announce it officially.
Bring us back to the start. You started off working at i-D, and then went into filmmaking?
After graduating from Goldsmiths, University of London, where I studied politics, I knew I wanted to work in film. I did a bunch of work placements which allowed me to land onto the BBC's graduate program. While I was on that program, I worked within BBC radio 4, BBC current affairs, and documentaries. My primary interest was documentary storytelling, which matched the degree I had studied, and my interest in film. From there, I moved to Vice and worked on Elliot Page's Gaycation, which was this show where he travelled and learnt from different queer people around the world. I stayed at Vice for a while. I was having so much fun being amongst people my age who were so self-assured, driven, and confident in their abilities. Then I went to i-D, which was in the same building. The idea was to help expand their video production, which didn't have a lot of documentary work at the time. They were looking to expand their team with people who had a more journalistic background—who could tell stories that were more narratively driven. So I ended up working on a lot of projects there, and while I was there, I started to explore doing my own films which meant a lot of music videos with friends.
When I finally left i-D in September of 2017, I realized I was able to channel all the skills, and the ideas I had for and about myself into what I wanted to do next, which was making my own films. It's exciting to keep going at the pace that's been set, and I can get excited about whatever is coming next for me, as opposed to having a more mapped-out career.
When you're approaching your work as a director, like your latest music video for Griff's Say it Again, do you find yourself approaching the work in the same way a producer might?
It's interesting because I think within documentaries, producers do very similar jobs to the directors. When I was at Vice, the producer is the person who is coming up with the story or the idea—very similar to what a director does. The background I have in documentary, in particular, helps a lot because I'd have to come up with a lot of things on the spot. I'm lucky that my background is in researching for television, actually, because my whole job was looking into what things could be or look like and coming up with the concept that way. That process is always enjoyable for me, because there are no limitations on what you can do. I'm lucky that every single part of filmmaking excites me: the researching, the writing, the visual storytelling.
How do you go about building your teams that you work with?
I like working with kind people. I love to foster an openness on the shoots that I work on; it's something that you can just feel. You know when someone will add to what we're doing because of who they innately are. It's about building that environment as often as you can.
Do you have a pre-shoot ritual? What if you have a 4 AM call time—how do you get into the right headspace?
It's really about taking joy from the process. The planning and preparation allow you to leave space to experiment and exercise your intuition onset. I hate to think that we only get pleasure from something upon its release. For me, it's about remembering the whole process is fun. I did a shoot recently, and it was a slightly bigger shoot for me, and I did feel somewhat nervous, and I couldn't sleep a bit. But really, it was rooted in excitement.
SINE'GAL, directed by Stephen Isaac-Wilson, styled by IB Kamara
A film of yours that I always go back to is Sine'gal. I've watched it many times because it's so mesmerizing. It's almost genre-less. From the thumbnails, you might be tempted to say it's a fashion film, but I think it exists in its own arena. How did you go about making it?
My friend IB Kamara is a stylist, and we wanted to work with one another for a while. It needed to feel like the right thing and be intentional. The film is an amalgamation of the places and stories which excite and inspire us. We were looking at cinema's Black sex sirens through the ages, and we wondered what that might look like through the prism of a boy. The best way to describe this film is that it was an expression of freedom, and if your mind can take you there, then you are there. It was about putting all these references into one world and creating something you can live in, and realizing you could live in that world 24/7 if you allow yourself to. There was really no brief for the film—I mean, nobody asked for it, we just made it (laughs).
What are some other films that have created worlds you'd want to live in?
Looking for Langston by Isaac Julien is one of the films that has inspired my work. I love work that makes us interrogate and question the prism we view the world through; work that takes a niche subject and brings it to a broader audience, celebrating the uniqueness and also the parallels in our human existence. I think that's something I learned from documentary filmmaking.
When you're working on a music video versus a documentary project, I imagine the headspace you're in is a bit different. In a music video you're creating a space with an artist to be seen in a specific way, but with a documentary you're creating space for your subject to perform in total reality, which is unpredictable.
I try to approach everything with the same energy. The process is always the same for me, regardless of the medium or genre. These projects are also so collaborative—it's impossible to make a film by yourself. When you're working with musicians, you have to think about how vulnerable of a thing that is—they're putting so much of themselves out there, and they'll be potentially viewed by millions of people, and it's really a vulnerable thing. It's important to know that collaborating doesn't mean you don't have a vision or something specific to say. When you're confident enough in your vision and what you want to say, you're not intimidated by what other people have to contribute. It adds to the thing that you're making, hearing from opposing perspectives.
How do you compile research for a project, like your video with Kaytranada and Kali Uchis, or Neneh Cherry's "Buffalo Stance"?
In the case of Neneh Cherry, there was no brief, and she allowed and trusted us to do as we wished. It was a chance to think about what "Buffalo Stance" meant back then, and what it could mean now. That project took me back to my days as a researcher as it was heavily archive led. We got a lot of help from Dick Jewels, a British artist who's extensively documented nightlife culture in the UK and is also a dear friend of Neneh's.
I like there being room for change. I prefer making treatments that are a bit looser, so there's room for manoeuvre. For me, it's difficult if a treatment is created six months, let's say, before something is actually shot, because by the time you're shooting your ideas have expanded so much. The video for Kaytranada and Kali Uchis is a great example of something that was continually changing and moving. It was something where we had an idea, and then they had an idea, and it really just evolved.
Take us back to when you first graduated from college. Where were you in your life and what advice would you give to someone who's just graduating and wants to accomplish similar things to you?
It almost sounds counterintuitive, but I would have saved more time if I had just stopped worrying about the outcome. Don't worry about what the next job might do for you. Think about whether or not you're enjoying the job you've got right now. I think the pandemic has taught us that things we hold near and dear can be taken away from us. I don't regret any choice I've made, but there are those parallel, sliding door moments where you think "What if I had initially been like, this is the sort of liberation and freedom I want in the work I'm trying to make?" You wonder if you'd be in the same place or not.
A more useful piece of advice might be evaluating what inspires you and seeing if it pushes you forward.
My brother always tells me that becoming jaded is what will hold you back the most in life.
Exactly. Because we die in our minds. I'm so lucky that I naturally never get bored.
Accolades aside, what are you most proud of so far in your career?
I'm proud that I took a chance on myself and left my full-time job. There are so many possibilities of what our lives can look like, and it really comes down to some very small choices.
Related: Photographer John Edmonds Began 2020 With a Spiritual Bath