FKA Twigs Redefines Both Chanel and the Relationship Hard Launch in One Day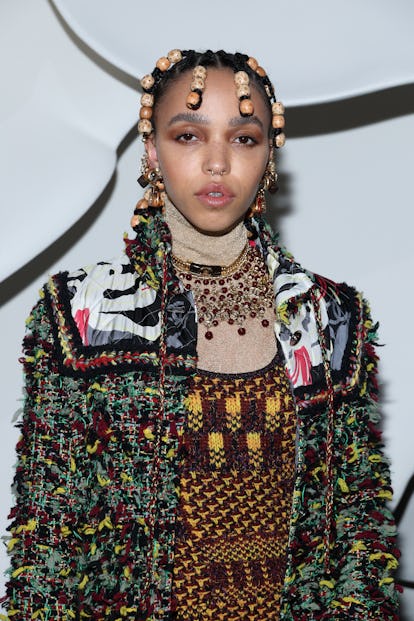 Pascal Le Segretain/Getty Images Entertainment/Getty Images
What can't FKA Twigs do? In the span of a single day she managed to put her own spin on modern Chanel, while also taking control of her own narrative by making a tactical hard launch of her new relationship.
The afternoon began at the Chanel fall/winter 2023 show. While Twigs unique style allows her to stand out just about anywhere, the variance was all the more obvious amid the black and white tweed and velvet bows of the show's front row. By contrast, Twigs arrived in a colorful, textured look featuring a brown and yellow knit mini dress layered over a shimmering, champagne-colored turtleneck. On top, the singer wore an ankle-skimming coat featuring colorful tweed with a frayed trim and quilted shoulders. Brown patent leather peep-toe mules and a brown padded bag trimmed with green and orange completed the look, which was decorated with a brown beaded necklace and wooden beads in her hair.
But the appearance was just the beginning of Twigs' busy day, and when the singer got home, she set her sights on a task: revealing her boyfriend to the world. But she didn't simply post a cute pic with her new man like many celebrities would do. Instead, she took the opportunity to speak directly to the Daily Mail, who previously published a story about the singer's new relationship after they were spotted out at the Louis Vuitton after party together. In the article, the site asked for help identifying Twigs' new boyfriend, writing, "Do you know FKA Twigs' mystery man? Email: tips@dailymail.com."
Well, Twigs, of course, knew the identity in question, but instead of sending an email to the Daily Mail, she took to her Instagram. "The whole of my career I've been hunted for who I am dating," she wrote. "So this time I'm pipping you to the post and taking control of the situation. His name is @jordan_hemingway, a beautiful artist whose heart has restored my faith in love. Pap pics will always be rough so swipe for the hot pics. And now i'd like to go back to my nice private life with the dogs." The post included Daily Mail's call to action, as well as a shot of Twigs and Hemingway, and even a shirtless mirror selfie of Hemingway alone.
Hemingway, by the way, is a photographer, who has worked for everyone from Valentino to Post Malone (and yes, even W). Of course, revealing his identity only answers one of the big questions surrounding Twigs' new relationship. For instance, when did it begin? Hemingway and Twigs were spotted together back in December 2022 at The Fashion Awards, so it seems like they've been together for at least a few months. Prior to her current relationship, Twigs was linked to The 1975's Matt Healy, though the two broke up around June of last year.
Likely, now that Twigs has indulged the tabloids and revealed Hemingway's identity, she will go back to keeping her private life private, so don't expect much more information regarding this relationship from her end.