The Architect Inviting You Into Lydia Tár's Apartment
Boryana Ilieva, better known as @floorplancroissant, makes scaled watercolor paintings of her favorite movie characters' apartments and houses.
---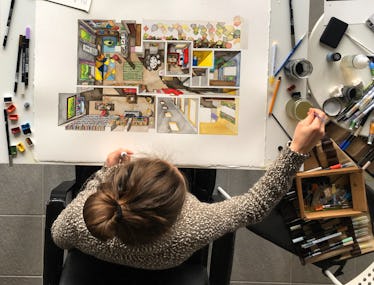 Courtesy of Boryana Ilieva
Have you ever wondered about the floor plan of Lydia Tár's apartment? Or perhaps how Neo from The Matrix might furnish his basement-like hacker's hovel? Maybe not—after all, it's a niche curiosity. But for architect and interior designer Boryana Ilieva, the floor plans of homes from famous films and TV series are the ideal muses. In muted, artful watercolor paintings, Ilieva has crafted bird's-eye view layouts of everywhere from Villanelle's (Jodie Comer) Paris hideout from Killing Eve and the home of Will Byers (Noah Schnapp) in Stranger Things—complete with Christmas lights on the walls—to Alice and Jack's (Florence Pugh and Harry Styles) mod dwelling from Don't Worry Darling. Each piece, which Ilieva publishes on her @floorplancroissant Instagram and Twitter accounts, bears her signature flair, and uses hues that mirror those of the films.
Ilieva, who launched an architectural firm called 11AM in 2008 which shuttered in 2015, says she's always been an avid movie fan. Although Ilieva was "a very hardworking architect," she tells me from her home-slash-design-studio in Bulgaria's capital city Sofia, "during my free time, I was always, always watching movies." Her first painting, portraying the home depicted in director Michael Haneke's Palme d'Or Award-winning film Amour, is one that she keeps close to her heart.
"In the film, everything happens inside an apartment," she explains. "I couldn't take my eyes off it—I was sure it was a real Paris apartment [and not a set.]" It'll be very easy to draw, she thought to herself at the time, resolving to test out a sketch the next morning with her breakfast and coffee. The result wasn't exactly how she'd hoped: "You would not believe how ugly my sketch was: [covered in] pencil, eraser marks, and sweat," she recalls with a laugh. "I thought drawing the floor plan would be easy!"
To cover her chicken scratch, the designer painted over the piece with watercolors. Whether she knew it or not at the time, she'd solidified a signature look for her artworks, which have led her to meet with directors, production designers, and other film industry types the world over—including Silicon Valley co-creator Charlie McDowell (aka Lily Collins's husband) and Her Smell director Alex Ross Perry, both of whom became Ilieva's good friends after discovering her Floor Plan Croissant project. In 2022, Ilieva was invited to the Production Designers Gathering, an event held on the Grecian island Spetses where she spoke on the discoveries she's made after watching films over and over again, trying to capture an accurate picture of their houses. (She sat on a panel with K.K. Barrett, the production designer behind films like Her, Being John Malkovich, and Marie Antoinette; as well as Grant Major, Lord of the Rings and Power of the Dog's PD.) One such revelation, which she shared with the audience at the time: Neo's house is missing a bathroom.
Rewinding, pausing, playing, rewinding, pausing, and playing—Ilieva performs what she calls "detective work" by simply viewing the films many times, putting her face right up to the television screen to get a sense of what the homes really look like. "It's my favorite part—I like it better than the painting itself," she says. If she can't pin down a 100 percent accurate rendering of a home, she'll fill in the gaps using clues from other parts of the scenery, along with a dose of her own imagination. To capture Lydia Tár's work studio, for instance, Ilieva had to get a bit wily with her research. "It was very difficult for me to figure out where one mirror was," she says. "But I had a screenshot from the film of the mirror, and in the background, I could see a detail on the wall that I'd seen in another shot. That showed me where the mirror was, exactly where it needs to be: opposite the entrance door."
Ilieva's work has been purchased by a handful of Hollywood's biggest creators (including the production designer Eugenio Caballero, who hung her painting of the Roma home's floor plan in his own house), but many of her fans are simply art or movie lovers who subscribe to her Patreon. Each month, they receive a stack of card-stock paintings depicting new floor plans. As for what's next, Ilieva is working on a number of hush-hush projects for museums and galleries that she can't discuss just yet—but she has her eye on some films she'd like to get to work on. First and foremost, she can't wait for Greta Gerwig's Barbie. "Greta and Noah Baumbach are one of my favorite film couples," she says. "I saw in the trailer that Barbie exits the imaginary world, leaving her world of plastic. But I'm very interested in the world of plastic." Will Ilieva paint the Barbie Dream House? "I'm not sure I even have the colors!" she says. "I have to go buy them. But I will, as soon as I see the movie in July."