What Does the 4th of July Look Like in 2020?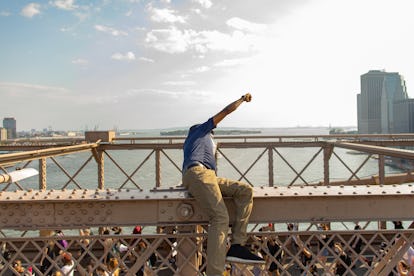 Photo courtesy of Serichai Traipoom
This year's Fourth of July marked a reclamation of the holiday. Thousands of New Yorkers took to the streets in lieu of gathering for the traditional festivities of barbecues, picnics, and fireworks for a series of protests that, like so many which have proliferated over the past month, served as an educational opportunity to hear the voices and stories of emerging leaders and communities pushing for social change. Organizers across the city arranged demonstrations to echo the growing calls for an end to racial inequality, police violence, and the systemic oppression of Black people. One such protest was the Unite NY Rally and March, organized by the youth organization Unite New York, and Freedom March NYC, a protest group led by two Black Columbia University alumnae, Chelsea Miller and Nialah Edari. Attendees gathered on Saturday in Madison Square Park before marching downtown; upon entering Washington Square Park, the group joined with another rally organized by youth-led collective Warriors in the Garden and Strategy for Black Lives. The mass moved to Foley Square and eventually over the Brooklyn Bridge. Along the way, speakers discussed Black people and other marginalized groups' plights and contributions being suppressed in the larger American narrative, noting that the very ground they walked on was land taken from Indigenous peoples. Photographer Serichai Traipoom marched with the groups, documenting the day and interviewing organizers and attendees, and ultimately ending up at Washington Square Park, where the Interdependence Day celebration took place. See their journey across the boroughs, below.