Francesca Mollett Brings Abstract Art Back to Life
The artist is part of a new guard of experimental abstractionists who draw inspiration from unexpected places.
Photographs by Will Grundy
---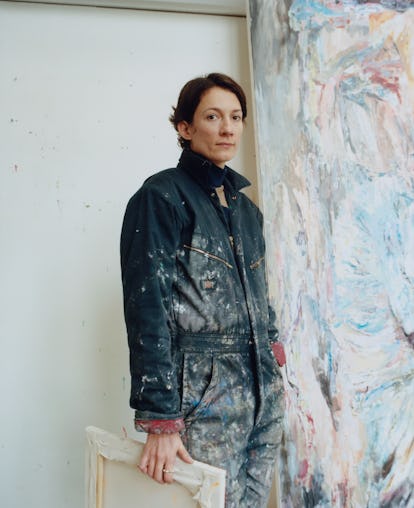 Photo by Will Grundy
The British painter Francesca Mollett has two studios in the same south London complex. Upstairs is a cozy space with an armchair, a chest of drawers, postcards on the walls, and a view of the River Thames; downstairs is a more heavy-duty room where there are no windows and no distractions from the task of getting her paintings finished. She likes to work from about lunchtime until around 8 PM because, she muses, "there's a kind of freedom you get in the evening."
One of the results of this feeling of freedom leans against the wall in the upstairs studio. It's called Spun Step, a looming picture about eight feet tall and five feet wide, which she's been working on for the past four months. Though it isn't quite finished, its intense swirls of blues, pinks, greens, and whites are immersive in their effect, the hues almost iridescent. The starting point for the painting was a tunnel by Mollett's new house, in which fossils are embedded in the walls—some genuinely prehistoric, others made by local artists and children. But the pulsating picture is also an exploration of the operation of light on paint. "I wanted your eyes to get wrapped around the different colors and patterns," the artist explains. "But then I also wanted it to be this big, bold form that is shifting in and out of this unknown space."
Spun Step is destined for a show she's doing at Micki Meng Gallery in San Francisco in February; she also recently became represented by Grimm Gallery, part of a stable of rising stars. At the end of 2022, Mollett participated in a group show in London called Sabrina, curated by the actor and art podcaster Russell Tovey, which brought together 10 women and non-binary artists who make—or made—abstract paintings.
Abstract art by women is having a moment. Next month, London's Whitechapel Gallery opens "Action, Gesture, Paint," a show featuring 81 formerly overlooked female abstract artists. Meanwhile, a new generation of women, including Jadé Fadojutimi, Rachel Jones, and Iris Garagnoux, has brought abstraction jolting back to life with a crackling new energy and spirit of experimentation. Mollett used to make figurative drawings but decided to take the leap into abstraction when she was studying at the Royal College of Art in London because "there was more freedom to transform things rather than thrusting them into the recognizable. I could play around more with the qualities of paint. You can go into more unexpected territory when it's abstract."
Mollett was born in Bristol and is 31. Since she graduated from the RCA in 2020, she has earned growing renown for the way her paintings seem to express the elusive and impalpable—the translation of language into images, or the way light dissolves in water and air. One show, she says, "was based around a particular light I saw on this moss that grows in a dark space. The cells in it move around to find light and this produces a florescent glow that just seems unearthly."
Nature—she cites the way the light catches on a moth's wings—is a perennial inspiration, but Mollett reads "quite a lot of novels," and sometimes images from one of them will spark the idea for a painting too. When I meet her, she has just finished Alan Hollinghurst's "The Folding Star," from 1994, and notes its descriptions of fog, mirrors, and rooms within rooms—plus the title itself, which is taken from Milton. "I think he describes it as an embrace and an implosion, so you've got this doubleness." Mollett was also impressed by Elena Ferrante's quartet of Neapolitan novels, particularly a passage in which Lila, the protagonist, has a "dissolving experience when she looks at certain objects and they reveal themselves—the moon and things like that." She also loved the furious, all-encompassing language of "Hurricane Season," the celebrated novel by Mexican novelist Fernanda Melchor. "You enter into it," she says.
Mollett gets artistic sustenance from great figurative work, too. "I do feel like I'm in a tradition, you can't avoid it when you're painting," she says. She enjoys going to the National Gallery in London and looking at work by the 15th-century Italian artists Giovanni di Paolo and Piero della Francesca, "and I love a painting Manet did of his wife with his cat. It was like: how does it work or how did he think to do that? Her body has very gestural flowing brush marks and everything around it is quite solid."
She always starts her paintings with a charcoal drawing—she studied at the Royal Drawing School before going to Wimbledon College of Art followed by the RCA—and then adds a couple of layers of acrylic paint. "That provides a fluid, shifting base, and surprising things happen in that time because of how paint dries," she explains. "It's really watery."
She takes me through gray, industrial corridors to her studio downstairs, and opens the door on a roomful of dazzling new paintings. On the far wall is one she's particularly proud of, called Arrows, which she began to conceive after looking at a dried-up river, but which is now a dewy-fresh investigation into the ways thought, light, and organic matter operate on one another. It has more space and air in the mix than previous works.
"I saw this show by Susan Rothenberg, who I really love. She creates this really alive space with color that's also muted, so in this picture I was trying to play with that," Mollett says. "When you've done something you didn't think you could do, that's one of the thrills of painting."