The Best of Frieze London 2014
Everything to know about the most talked about art, people, and parties from the annual art fair.
---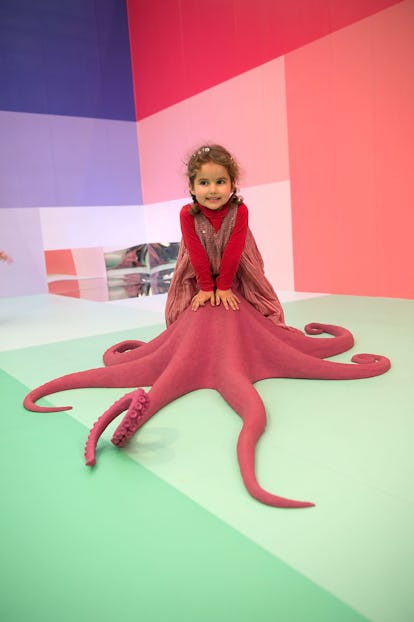 Frieze Special Projects and beyond: You Can Dance Fleet-footed, catch-it-if-you-can kind of work isn't what you expect from an art fair. At this year's Frieze Art Fair in London however, dance was dominant. The fair's Special Projects fully embraced their not-for-profit status with a slate of live commissions that won't be hugging the walls of collectors' homes.
Nick Maus for instance, had the Northern Ballet's unitard-clad performers strutting in loose formations to a moody, improv soundtrack composed by Kim Gordon and Juliana Huxtable, from an unembellished rehearsal space to the fair's crowded corridors.
The show-stopper though came from Adam Linder, exhibiting with Berlin's Silberkuppe, as part of Frieze Live, six galleries focusing on performance art. A former member of Michael Clark's company and the Royal Ballet, Linder glide danced around the confines of the gallery booth. For anyone not familiar with hip-hop choreography, it's like Michael Jackson's moonwalk, but more ethereal and graceful, as if he were literally dancing on air. Linder was working more than mesmerizing moves however. His choreographies were an embodiment of art writer, Jonathan P Watts's observations of the crowds and art at the fair.
At the Fair: Smile Please Solo presentations are the obvious way for galleries to stand out within an art fair's visual clamor. While you can always trust the Megatron of blue chip operations, Gagosian, to stay ahead of the pack, this year Carsten Holler's Gartenkinder provided an unexpected moment of reprieve from the seemingly endless rounds of air kisses and deal brokering. The delights of his play area included a giant dice that concealed a climbing frame accessible only to the very small, a vast mushroom that emitted tinkly music when rocked and a scarlet rubber octopus. It was as big a hit with grown-ups as the kids, whose pure enjoyment of this wonderland was a neat reminder of the pleasures of imaginative play.
Salon 94 went for a similarly feel-good vibe with its Smile Face Museum. Acid yellow dominated curator Mark Sachs's ever-expanding collection of smiley face ephemera, from furry slippers to key rings, which offset work by a wide array of artists playing with the superficial cartoon cuteness of the universally recognized symbol for happiness. Works that mined its double-edge veered from faces created with cigarette burns to bright, flat paintings of squiggly lines and dots that reveled in surface.
Beyond the fair: The Kids Are Alright A Frieze week, "one to watch," Ed Fornieles's first big show, "Modern Family," in a UK public gallery, left you in no doubt that the young British artist's heart now belongs to L.A. Two of the presiding gods of the West Coast art scene, Mike Kelley and Paul McCarthy, had evidently left their mark on a deliriously messy installation that invoked the city of dreams with film set lighting, jiggling pornstars on flat screens and a bubbling Jacuzzi, as well as gross food and an obscene mash-up of cuddly toys.
This was very much an orgy of pop culture for the Internet age however. Loosely themed around a family picnic and home, works unfolded with the surreal logic and speed of an internet search from giant headstones embossed with flowers, fruit, and apple pie coated in a gelatinous resin goo, to sturdy translucent legs filled with Cheerios and a fountain where the statue of a mother and child playing are rudely punctured by grey pipes. Throughout a day of special performances, a family of young actors struck tableaux vivants, bringing the collision between online unreality and lived experience home.
Best Bash Marvin Gaye Chetwynd's biggest film project yet, Hermitos Children 2, at the not-for-profit stalwart Studio Voltaire in South London, was one of the week's highpoints. Renowned for her carnival-esque performances that rethink high art and pop culture with a troupe of delightfully disheveled performers and homemade props, Chetwynd's work is always about doing things your own way. In a gallery decked with loose, giant paper prints that featured clowns, leopards and bikers, her sex crime detective show unfolded on a stack of boxy old TVs, with plenty of cross dressing, crazy dancing and a sinister dildo seesaw.
Guests at the gallery's celebratory dinner at patron Valeria Napoleone's regal home on Kensington's Palace Green were treated to a night of Italian home cooking surrounded by her collection of all-woman art, including Helen Marten's voracious assemblage sculpture, Ida Ekblad's urban expressionism and Julia Wachtel's cartoon characters. In the crowd were designer and artist Julie Verhoeven, who created a number of Chetwynd's costumes, Chloé director Clare Wright Keller and the artist and her face-painted collaborators.
The New Art Hangout: The Rosewood London's Mirror Room Since it opened last fall, in a 1914 Belle Epoque building boasting a grand, seven-story marble staircase, Rosewood London fast gained a reputation for timeless glam. Owned by the brand behind New York's Carlyle, its décor, from the colored glass and polished red leather that dominates the dining room to the wood paneled bar full of Gerard Scarfe cartoons, is aimed at discerning tastes of all ages. It has also become the theatre crowd hang-out thanks to the likes of Kevin Spacey and The Old Vic hosting the 10th anniversary party for its 24 Hour Plays Celebrity Gala there.
The close of Frieze week bucked this trend, with Art Review magazine's party in the Mirror Room, cohosted by the young Hong Kong billionaire collector Adrien Cheng. The throng, including artist Michael Elmgreen, Art Basel director Marc Spiegler and artist-filmmaker duo Forsyth and Pollard, fresh from the success of their recently released Nick Cave film, 20,000 Days On Earth, knocked back Absolute vodka cocktails while sizing up their post-fair state in the mirrored ceiling and walls.
Photos: The Best of Frieze London 2014
Nick Mauss at Frieze. Courtesy of Linda Nylind/Frieze.
Carsten Holler's Gartenkinder. Photo Matthew Lloyd/Getty Images for Gagosian Gallery.
Courtesy of Andy Keate and Salon 94.
Ed Fornieles at Chisenhale Gallery. Courtesy of gallery.
Marvin Gaye Chetwynd's "Hermitos Children 2". Courtesy of Studio Voltaire.
Valeria Napoleone. Courtesy of Studio Voltaire.
Rosewood London Mirror Room. Courtesy of space.