W, Maison Margiela and Various Small Fires Celebrate Frieze Los Angeles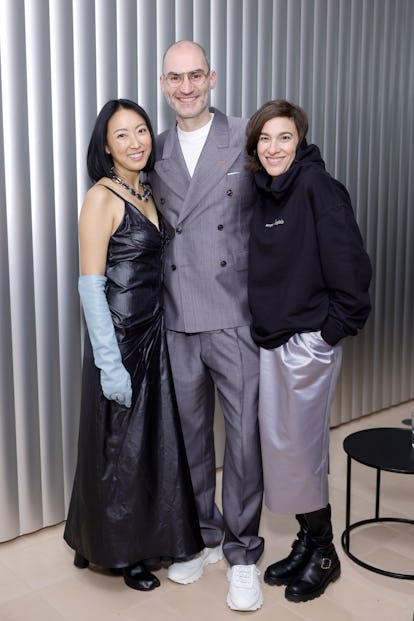 Esther Kim Varet, Gianfranco Gianangeli and Christine Messineo. Stefanie Keenan/Getty Images
On February 15th, as the international art world prepared to descend on the Santa Monica airport for the fourth edition of Frieze Los Angeles, a crowd of artists, gallerists, curators, musicians and creatives gathered at a private home in the serene enclave of Hancock Park.
Hosted by Armand Limnander, Executive Editor of W Magazine; Esther Kim Varet, the founder of contemporary art gallery Various Small Fires; and Christine Messineo, Director of Frieze Americas, the intimate dinner held in partnership with Maison Margiela was a celebration of the creative energy taking over the city this week.
Artists Dyani White Hawk and Diedrick Brackens, whose work will be displayed at the Various Small Fire booth at Frieze, mingled with fellow artists Genevieve Gaignard, Alex Anderson, Christina Quarles, and Jammie Holmes—also a VSF artist, with a solo show up at the gallery's North Highland Avenue location, and whose video work, Zebra, was on view in the home's screening room.
Many guests took the time to compliment architects Chris and Dominic Leong, who designed the spare, elegant space—which had only recently been completed. In the silver-walled living room, musicians SAINt JHN and Orville Peck chatted with football player Victor Cruz, Maison Margiela Global CEO Gianfranco Gianangeli, and CEO of OTB North America Laura Dubin-Wander over paloma cocktails and plates of lamb bao buns and rock lobster by chef Yann Nury.
DJ Mia Moretti and actor Rich Ting were spotted by the bar, and in the rock garden, where fire pits and Maison Margiela candles warmed and perfumed the chilly night air, Art Basel CEO Noah Horowitz, gallerist Nicola Vassell and Casey Fremont, Executive Director of Art Production Fund, made the rounds before the K-pop musician Eric Nam took the stage. Nam performed three original songs, as well as a cheeky cover of The Backstreet Boys' I Want it That Way—a surefire way to get the crowd going.