Frieze New York 2017: Artistic Director Abby Bangser's 9 Can't-Miss Booths
An insider's guide to the fair.
---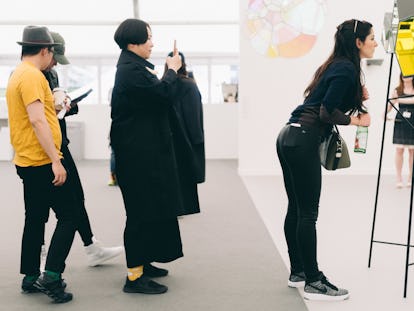 This year at Frieze New York, the frenzy under that big white tent on Randall's Island will be a little more streamlined. There will be more recognizable names with a new focus on 20-century masters like Robert Rauschenberg, and the fair will run only four days rather than the five of years past. Still, with some 200 booths—not to mention the Frieze Projects artist commissions—there is more than enough to see. Which is why Abby Bangser, Frieze's Artistic Director for the Americas and Asia, is offering a highly curated preview of the booths she has deemed can't-miss. After all, who would know better than her?
Kevin Beasley at Casey Kaplan
With a solo presentation at Frieze New York, a gallery exhibition at Casey Kaplan opening this week, and large-scale sculptures on view in Morningside Park as part of The Studio Museum's "inHarlem" public art series, there are three not-to-be-missed chances to see Kevin Beasley's work in New York right now. The Hammer Museum in L.A. also just featured his work, which often consists of sculptures that come out of a performance-based process, and bringing together found materials along with foams and resins.
Tala Madani at David Kordansky
David Kordansky Gallery will be featuring a solo presentation of new paintings by the Iranian-born artist Tala Madani, whose work is currently featured in the 2017 Whitney Biennial. Madani's works fuse a wide range of sources from religious iconography to comic book imagery to action painting.
Milano Chow at Chapter NY
Chapter NY joins the specially curated gallery section Frame, designated for programs eight years old and under, with a solo presentation of the L.A.-based artist, Milano Chow. Chow's intricately rendered graphite drawing and collages provide a voyeuristic glimpse through windows, doors, and other architectural elements as though one were looking onto a film set or store window display.
Kiki Kogelnik at Simone Subal
The Austrian proto-feminist painter, who worked in New York and was friendly with Claes Oldenburg and Roy Lichtenstein, is having a career resurgence right now with a solo exhibition currently at the Kunsthall Stavanger, and her work recently included in the Tate's "The World Goes Pop" exhibition. Simone Subal will be presenting important examples of her paintings and drawings.
Susan Cianciolo at Bridget Donahue
An artist who emerged as a fashion designer in the mid-1990s, is receiving renewed attention this year having just reprised her Run Restaurant from 2001 as part of the current Whitney Biennial. Making its debut at Frieze New York this year in the fair's Frame section, Bridget Donahue Gallery will present a salon-style hanging of Cianciolo's collages.
Carol Bove and William Eggleston at David Zwirner
Continuing its concept of curating a special two-artist presentation at Frieze New York (last year featured Lisa Yuskavage and Isa Genzken), this year David Zwirner is presenting works by Carol Bove, who's co-representing Switzerland at the upcoming Venice Biennale, alongside works by the iconic American photographer William Eggleston, whose photographs have documented scenes of his native South as well as subjects from all walks of life with equal reverence.
Michael Dean and Adriano Costa at Mendes Wood DM
The dynamic São Paulo-based gallery Mendes Wood is bringing new works by the Brazilian artist Adriano Costa and sculptures by the British artist Michael Dean, who had a recent solo exhibition at the Nasher Sculpture Center and was a participant in this year's Sculpture Projects Münster, not to mention a Turner Prize finalist in 2016.
Barbara Chase-Riboud at Michael Rosenfeld
For over four decades, the Philadelphia-born artist Barbara Chase-Riboud has worked in sculpture and drawings that take inspiration from her sense of history and identity. Her sculptures most often bring together metal and fiber—which could often be considered as materials in opposition, similar to the way she explores the divide between the Western and non-Western, the male and female, and the figurative and abstract. She is also a poet and a writer, a sensibility very visible in her work.
Mira Schendel at Galeria Luisa Strina
Galeria Luisa Strina will show a spectrum of major Latin American artists, including Mira Schendel. One of the most significant artists of the 20th century, Schendel is known for her exquisite drawings on rice paper, but also worked as a painter, poet, and sculptor.