Frieze New York 2017 Preview: The Mystery Movie Star Whose Doppelgängers Will Roam the Fair
Could it be Leo? It's probably Leo.
---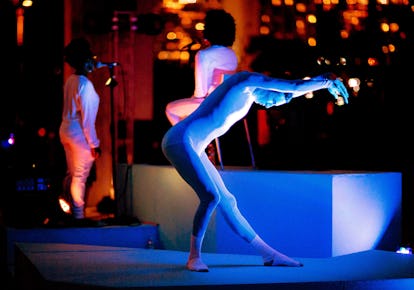 Courtesy of the Perez Art Museum
When it comes to art fairs, looking isn't confined to the works for sale. Sure, there are plenty to titillate the eye, but there's also ample opportunity to play voyeur or exhibitionist. For this year's ­edition of Frieze New York, opening May 5 (through May 7), at Randall's Island Park, the Frieze Projects curator (and High Line Art director) Cecilia Alemani has invited seven artists to toy with the visitor experience via interactive installations. In a booth he's transformed into a secret movie theater, Jon Rafman will screen a video series fusing 3-D animation and computer-generated porn, enticing fairgoers to either watch or be observed watching.
Attention will also be paid to the movie-star-collector doppelgänger wandering around the fair, a project by Dora Budor sure to induce gaping of another sort. Beyond the big tent, Elaine Cameron-Weir is filling a military-style bunker with natural materials and parts of her own sculptures, suggesting "an archaeological relic," says Alemani, "or something newly made," whose contents can be glimpsed only through a discreet door.
This year's homage to a pioneering oddball arts space is focused on the Galleria La Tartaruga, an experimental gallery in Rome, and its influential 1968 exhibition "Il Teatro delle Mostre" (Theater of Exhibitions). The tribute space will change daily, with new commissions by Ryan McNamara and Adam Pendleton, as well as restagings of two of the original projects from that historic show by Fabio Mauri and Giosetta Fioroni. To see Fioroni's The Optical Spy, visitors will squint through a peephole to find an actress performing Fioroni's daily toilette in a reconstruction of the artist's own bedroom.
Watch W's most popular videos here: