The Women Artists Stealing the Spotlight at Frieze New York 2017
There will even be an all-pink booth featuring Louise Bourgeois and Lynda Benglis in honor of the Women's March.
---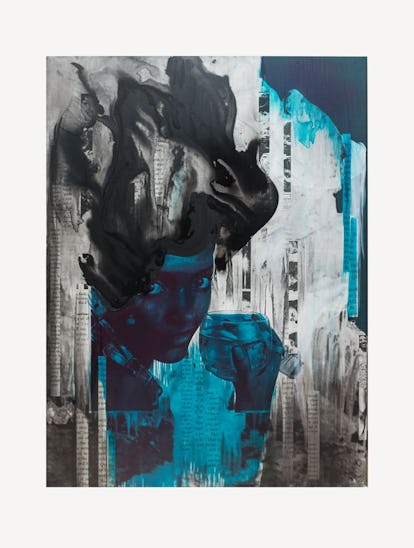 © Lorna Simpson. Courtesy of the artist and Hauser & Wirth. Photo by James Wang
Frieze New York 2017 kicks off later this week, meaning swarms of artists, dealers, collectors, street style stars, and the generally curious will soon be descending on Randall's Island (and among them, an alleged smattering of Leonardo DiCaprios). There, they will find a series of significant showings of women artists well worth the trek, from new works by Lorna Simpson to an all-pink booth featuring Jenny Holzer and Louise Bourgeois in honor of the Women's March. Preview the best of the lot before the fair opens May 5, here.
Lorna Simpson at Hauser & Wirth
Made specifically for her showing at Frieze New York, Lorna Simpson's works on display at Hauser & Wirth's booth were all created this year—including the Brooklyn-born artist's first sculptures in 20 years. There's also no shortage of Simpson's usual paintings, which this time around stick to a blue palette, as well as her favorite themes like gender, race, and identity through images lifted from vintage Jet and Ebony magazines.
Kiki Kogelnik at Simone Subal Gallery
An Austrian-American painter, printmaker, and sculptor that infused Pop art with feminism circa the Women's Liberation Movement, the late artist Kiki Kogelnik continues to make her mark with a solo presentation at Simone Subal Gallery of her paintings and sculptures from the '60s and '70s.
Cheim & Read's All-Pink Booth
In honor of the Women's March—and those omnipresent so-called "pussy hats"—Cheim & Read's booth will be a sea of pink, thanks to a range of bubblegum, pastel, and blush contributions from fan favorites like Lynda Benglis, Louise Bourgeois, and Jenny Holzer, along with a few male stalwarts like Andy Warhol.
Susan Cianciolo at Bridget Donahue
Fresh off her contribution to the 2017 Whitney Biennial—a hippieish takeover of the museum's modernist restaurant—Susan Cianciolo is presenting an "immersive" spread of her works since the early '90s, when she was still mostly in her fashion designer days, to the present. Look for a mix of drawings, paintings, garment designs, watercolors, and collages, along with a tapestry floor installation.
Teresa Burga at Galerie Barbara Thumm
The Peruvian artist Teresa Burga, now in her eighties, made a name for herself in the '60s and '70s with conceptualist works that tackled state violence and focused on the female body. Her solo presentation at Galerie Barbara Thumm takes a close look at those beginnings with a showing of Burga's Pop art from 1965 to '68, the years leading up to Peru's military coup.
Mary Corse, Liza Lou, and Catherine Opie at Lehmann Maupin
Lehmann Maupin has gathered primarily new works by three Californian women spanning two generations, making for a booth featuring monochromatic paintings by the Light & Space Movement artist Mary Corse, labor- and identity-focused sculptures from Liza Lou, and a spread of photographs examining American life and landscape by Catherine Opie.
Related: Preview Frieze New York 2017, Including the Mystery Movie Star Whose Doppelgängers Will Roam the Fair
See Kendall Jenner, Performance Artist, Channel Icons Like Marina Abramovic and Yoko Ono: