Biennial Artists Are Running Amok at Frieze New York 2017
All the artists in current biennials, from Susan Cianciolo, whose career has seen a second life after the Whitney Biennial, to Geta Brătescu, a Romanian artist who is being celebrated at 91 years old after her return to the Venice Biennale.
---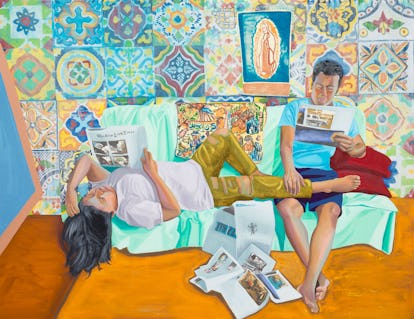 Collection of the artist; courtesy T293 Gallery, Rome and Mary Mary, Glasgow
When the Whitney Biennial fell on an odd year after the museum's move to its new downtown New York home pushed the exhibition back to this March, it happened to open at the point of peak biennial. This spring, the Whitney Museum's riskiest, most political survey in decades overlaps with the Venice Biennale, as well as Documenta 14 in Kassel, Germany. It follows, then, that gallerists would bring their artists in these destination biennials straight to this week's Frieze New York art fair. After all, what better opening pitch is there than: "Hi, the entire world is going to want this work soon."
Tala Madani (Whitney Biennial) at David Kordansky
The Tehran-born artist Tala Madani definitely made her mark at the Whitney Biennial with a series of paintings featuring nude men beaming brightly covered lights out of their behinds. Madani's latest paintings are getting even more shine at Frieze with a solo presentation at David Kordansky.
Susan Cianciolo (Whitney Biennial) at Bridget Donahue
Fresh off her hippieish takeover of the Whitney Museum's modernist restaurant, Susan Cianciolo is presenting an "immersive" spread of her works since the early '90s, when she was still mostly in her fashion designer days. Look for a mix of drawings, paintings, garment designs, watercolors, and collages, along with a tapestry floor installation.
Geta Brătescu (Venice Biennale and Documenta) at Ivan Gallery
Despite getting expelled from art school and essentially blacklisted by the Communist party in Bucharest, the Romanian artist Geta Brătescu, who is representing her country's pavilion in Venice as well as taking part in the Athens section of Documenta, has churned out a steady stream of film, photography, drawings, and even books for decades. And as of last week, at 91 years old, she was picked up by the powerhouse international gallery Hauser & Wirth. Her stateside reputation will only be burnished at Ivan Gallery's booth at Frieze, where Brătescu's work since the '70s will be shown along with the work of another Romanian artist, Lia Perjovschi.
Dawn Kasper (Venice Biennale) at David Lewis
The Virginia-born, New York-based performance artist Dawn Kasper is getting the solo treatment at David Lewis's booth, where she's turned her musical chair sculptures into a "participatory environment" called "The Cause of Craving"—an examination of desire in the vein of her upcoming companion installation in the Venice Biennale's main exhibition, "Viva Arte Viva."
Samara Golden (Whitney Biennial) at Night Gallery
With her never-ending, semi-apocalyptic miniature apartment complex safely installed downtown at the Whitney Museum, Samara Golden will share a booth with Awol Erizku, the L.A.-based artist who might be be best known as Beyoncé's pregnancy photographer. Together, the pair have created a dinner party of sorts for Night Gallery starring Golden's sculpture of a table covered in the remains of a meal, which hangs on the wall alongside Erizku's prints of everything from fruit to sports gear.
Aliza Nisenbaum (Whitney Biennial) at Mary Mary
The Mexico City-born artist Aliza Nisenbaum has been painting portraits of undocumented immigrants for years now, some of which have recently ended up at the Whitney Biennial, and others now getting a solo showing at the Glasgow-based Mary Mary's booth, with a focus on Nisenbaum's native Mexico.
Cauleen Smith (Whitney Biennial) at Kate Werble
Like the slogans with phrases like "We were never meant to survive" and "I cannot be fixed" currently hanging from the ceiling of the Whitney, Cauleen Smith's banners soon adorning Kate Werble's booth atop a wooden basketball court by the artist Brock Enright will continue the part-time filmmaker's fascination with processions and ceremonies.
Henry Taylor (Whitney Biennial) at Blum & Poe
Now being showcased at the Whitney Museum alongside photographs by Deana Lawson, Henry Taylor's large-scale paintings will be featured among works by artists like Julian Schnabel and Yoshitomo Nara in Blum & Poe's group showing. It's titled "Portraiture and the Human Form," but knowing the gallery, things just might end up getting political: their booth at last year's Art Basel Miami Beach, which also featured Taylor, greeted visitors with a giant sign by Sam Durant reading "End White Supremacy."
Carol Bove (Venice Biennale) at David Zwirner
After switching gears earlier this year to curate a booth at another fair, Spring/Break, not to mention taking over the Swiss pavilion at the Biennale, the Geneva-born, California-raised, and Brooklyn-based artist Carol Bove is back to her usual practice with a showing of her latest sculptures, which also happen to be by far her largest yet.
Anri Sala (Venice Biennale) at Marian Goodman
After a solo survey show at the New Museum last year, the Albanian artist Anri Sala is spreading his sound and video art from the Venice Biennale's main exhibition to a solo presentation at Marian Goodman, where he's installing a seven-channel sound work.
Related: The Women Artists Stealing the Spotlight at Frieze New York 2017
See Kendall Jenner, Performance Artist, Channels Icon Like Marina Abramovic and Yoko Ono: