Everything to See and Do During Frieze Los Angeles 2023
Your guide to the can't-miss booths, gallery openings and museum shows at this year's art festival.
---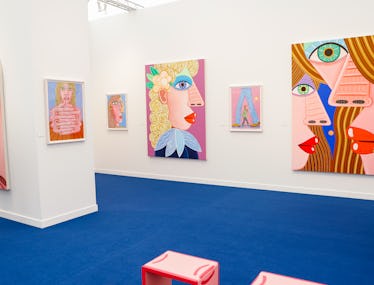 Photo by River Callaway/WWD via Getty Images
There's a lot happening in the Los Angeles art world this week, from Frieze itself to an array of gallery openings, museum shows, store openings, and plenty of parties. Here's what not to miss if you're in town for the weekend—and don't forget to plan for traffic.
Dedicate a Few Hours to Frieze Itself
This year, the fair is spread out between a massive tent (where most of the heavy hitting galleries are) and an airplane hangar (home to the Focus section, which houses some of the more up-and-coming spaces) at the Santa Monica airport. A quick flyby is impossible—even if you're only trying to see a handful of booths, expect to spend 2-3 hours here. Highlights include work by Diedrick Brackens and Dyani White Hawk at Various Small Fires, fabulously mottled ceramics by Sophie Wahlquist at Baert Gallery, and an eclectic mix at Regen Projects. Don't skip the Breuget booth tucked into the back of the main tent, where wallpaper by Pablo Bronstein steals the show.
Stop by Sotheby's for a Basquiat Moment
In Beverly Hills, Sotheby's has a tightly curated selection of Basquiat works on view through March 17th, titled Young King. It's a gorgeous mix of familiar chaotic canvases and sparer, wordier work—worth a moment of quiet contemplation.
Check Out the New Hauser and Wirth
Hauser and Wirth's second Los Angeles location, in West Hollywood, was inaugurated earlier this week with an exhibition of paintings and sculpture by George Condo. Mostly portraits, the paintings are uncanny and energetic, filling the Spanish Colonial Revival building with a sense of both doom and excitement.
Swing By The Satellite Fairs
First, there's the Felix Art Fair: Staged the Hollywood Roosevelt Hotel, 60 exhibitors from around the world set up shop in this unconventional conversation starter of an event. Then, there's Spring/Break—which is themed "Naked Lunch" this year, with installation works taking whatever that means and running with it.
A major retrospective of the Los Angeles-based photographer's work explores forty years of imagery—quiet, contemplative and gorgeous. It closes on February 19th—now is your last chance to stop by.
The South African artist's monumental works on paper and arresting films are a must-see. Spread across the museum's entire first floor, this show encompasses 35 years of Kentridge's practice.
Pick Up Some Art Gear at the Margiela Store
Maison Margiela, the French house known for its art world chic attire, just opened a boutique on Melrose—just in time to outfit visiting curators in the creative's shoe of choice, the Tabi. (They celebrated with a celebrity-filled bash on Thursday night, with a performance by SAINt JHN, but even if you missed that, the crowd at all times is sure to be fabulous.)
The artist's first exhibition since being picked up by the mega gallery is wonderful—bizarre, beautiful, perfectly attuned to the warehouse-like space. Open through the 25th, so you have a bit of time.
Immerse Yourself in Immersed
Curator Jack Siebert brings together more than a dozen artists for Immersed, a group show centered around the occasional conflicts between our physical and imagined worlds. Held at 526 N Western Avenue, it features work by established names like Nicole Wittenberg as well as up-and-comers like Alfie Caine.