What to See at Frieze New York and Beyond
All of the highlights from the city's spring art fair bonanza.
---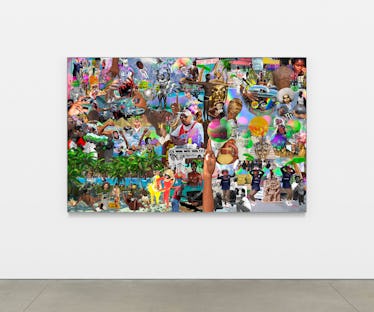 Lauren Halsey 'Untitled,' 2023 inkjet print 158.8 x 243.8 cm Photo: Courtesy of the artist and David Kordansky Gallery.
Just as nature has exploded with vibrancy and color this spring, so too has the New York art world. There are auctions, new gallery shows and of course the art fairs, which kicked off last week and continue through this weekend. This time of year is often dubbed "Frieze Week," but with nearly a dozen fairs happening this month perhaps The New York Times isn't wrong in suggesting "Mad May" as a new moniker. Here, some highlights of what we've seen so far and things to keep an eye out for.
The Future Fair
Opening the spring fair season in New York was the Future Fair, where early birds in line for the preview peacocked their spring duds in the line that snaked along West 28th Street outside the Chelsea Industrial event space. Standouts from non-New York galleries included Nashville's Red Arrow Gallery, which went all in on dreamily theatrical paintings by Brooklyn-born Emily Weiner; a series of dazzling geometric works from by Canadian artist Pierre Julien at Montreal's Nicolas Robert Gallery; and an especially cohesive salon-style group presentation from Laney Contemporary of Savannah, GA.
The Independent Art Fair
Independent Art Fair's 14th edition once again took over Spring Studios, with its fantastic rooftop plaza, where the art fair's fair-haired founder, Elizabeth Dee, celebrated her 50th on Saturday with a handful of friends. The first thing you saw upon entry was a knock-out solo presentation of self-trained Danish artist Cecilia Fiona's highly patterned paintings and a stunning stand-up screen that evoked surrealism and Art Nouveau, at Vitrine (which also hosted a related live performance). Other highlights among roughly 70 presentations were the Chicago-born, California-based artist Edie Fake's impeccable pastel on black paintings that merge the geometric and the metaphysical while referencing the artist's explorations of identity and sexuality, at New York's Broadway gallery, and Dutch artist Kinke Kooi's intricate acrylic, colored pencil, and gouache works at the gallery Adams & Ollman of Portland, Oregon.
All those colorful artworks were in contrast to New Yorker Judith Bernstein's large scale, powerfully graphic-yet-gestural works in black charcoal on white paper from the series "Word Paintings" ( "Justice," "Female," "Fear", "Equality," "Freedom," etc.) she created over 20 years beginning in 1989. A related piece was recently acquired by the Met as an exemplar of feminist critique, despite having been famously censored from a 1974 exhibition amid protests from top artists, curators, and critics including Louise Bourgeois, Alice Neel and Clement Greenberg. Given the current erosion of reproductive rights in the U.S., the Met's acquisition and this solo presentation by New York's Kasmin gallery — titled "Angry Bitches"— add up to a kind of comeuppance, a true I-told-you-so, for Bernstein, now 80, and her unchanging but sadly ever-relevant activist-artist preoccupations. It felt important to see such political work amidst so much prettiness.
TEFAF
The Maastricht-based European Fine Art Foundation (known as TEFAF) returned once again to its Upper East Side home at the Park Avenue Armory, with some 100 presentations of not just fine art but also design objects, furniture and jewelry from around the world and from centuries that predate ours. (Only in a season like this can antiquities feel so refreshing!) Simply put, this is the fanciest of fairs, for its wares and, let's be honest, its culinary fare. No one who talks about TEFAF fails to mention "the shucker," namely a man sporting a metal mesh glove on one hand and two buckets around his waist: one to schlep fresh oysters, the other to catch their shells as he shucks on the go to please a surrounding crush of crustacean loving art-collectors.
I saw a lot of beautiful things, but I can't stop dreaming about ditching the heavy security to abscond with works by Giorgio Morandi from Tornabuoni or by Surrealist Meret Oppenheim (including several that were part of her recent retrospective at MoMA) from Di Donna Galleries's focused presentation; the Josef Albers paintings at David Zwirner; and, as always, the cabinets of jewelry from the self-taught German goldsmith Otto Jacob, whose one-of-a-kind pieces have reportedly been collected by artists including Georg Baselitz and Sigmar Polke. The booth everyone was talking about? That'd be the cocktail-bar-as-art installation from compliments of Jorge Pardo at Petzel Gallery.
Spring/Break Art Show
Spring/Break Art Show, which opened last week, is on view daily through May 20, an unusually extended period. Perhaps the co-founding directors Ambre Kelly, an artist, and her husband Andrew Gori decided to make up for the impromptu nature of this year's fair with a long run. After some hedging, the couple rallied last minute to produce and install work by a whopping 124 artists. In a shift, they've staged this as a salon-style group show in the four classically proportioned rooms of what was 11 years ago the fair's first venue: the former school linked to Old St. Patrick's Cathedral in Soho. All told, Spring/Break is a welcome, practically serene experience compared to other fairs so far this season.
The pair collaborated only with curators and/or artists who've participated in past editions of the fair. This includes Chris Bors, Anne Spalter, Janet Loren Hill and the terrific textile artist Liz Collins, showing her two bright paintings with ponytails of shiny fibers threaded through.
Spring/Break is loosely curated thematically, with one room devoted to the natural world, one to domestic architecture, and one to what Kelly calls "the vice room," with examinations of fast food, booze, and the like.
As it has been in the past, a highlight is Vermont artist Megan Bogonovich's tabletop ceramics that read like floral arrangements on acid. All but three of the nearly 100 on view sold out last year and this year, colorful stickers marking "sold" already dotted the checklist like a winning Bingo card just two days into the fair. In the same room are Kirchner-colored abstracted landscapes from Peter Gynd.
Another highlight is Steve Paddack's tragicomic collection of "personal islands," with each small square painting portraying an imaginary house isolated atop its own tiny island with titles like "Island of Personal Failure" and "Personal Island of Lost Vocabulary."
Frieze
And of course, there's Frieze, on view through May 21, which has, in just a decade's worth of presentations in New York, become the top contemporary art fair alongside the Armory Show (which shifted from Spring to September since the pandemic).
More than 60 top galleries are showing their wares at The Shed, with several presentations connected in some way to cultural events further afield. Los Angeles-based artist Lauren Halsey, whose special commission for the Met's rooftop remains on view all summer, is on offer here from David Kordansky. Work by photographer and activist Nan Goldin, the subject of the Oscar-nominated documentary All the Beauty and the Bloodshed on HBO, is being shown by Gagosian for the first time since she joined the gallery's roster. Don't miss the stellar Proyectos Ultravioleta, which has long been punching above its weight on behalf of its artists from its perch in Guatemala City and is collaborating this week with Cape Town's Blank Projects to present work by South African artist Kemang Wa Lehulere.
Among more affordable wares will be 40 new limited-edition plates by the Artist Plate Project based on work by Virgil Abloh, Ed Ruscha, Lorna Simpson and Hank Willis Thomas to benefit the Coalition for the Homeless.
There are Frieze-related events throughout the city as well, including earlier this week at Prada's SoHo outpost with the artists Dara Birnbaum and Tony Cokes and MoMA curators Stuart Comer and Michelle Kuo. The conversation's leaping off points are MoMA's current exhibition "Signals: How Video Transformed the World," co-curated by Comer and Kuo, and Fondazione Prada's survey of Birnbaum's work at Osservatorio in Milan.
NADA
Though its 20 years old — a full adult in art fair years — the New Art Dealers Alliance (NADA) hosts in New York this week what is roundly agreed upon as the most fun and coolest of the art fairs.
NADA now has 88 galleries, art spaces, and nonprofit organizations — 53 member galleries and 31 first time exhibitors — from more than nearly 40 cities in 37 countries. That scale alone will help draw crowds this year, as will its new location, smack in the middle of Chelsea's gallery district on West 22nd Street.
Keep an eye out for some strong solo presentations, both in the main section and in the special Focus section for younger galleries. One is from Hannah Traore's eponymous New York gallery, with work by Anya Paintsil, who weaves together her Ghanian and Welsh heritage to create "textiles that intertwine the passed-down practices of hair braiding and rug hooking." Another is Aaron Meier-Carretero's work at Luis de Jesus Los Angeles that continues the artist's exploration of the domestic spaces of his Bolivian and American-Jewish family.
This year, on the rooftop, the fair hosts "The Lemonade Stand," with housemade lemonade and artworks for sale by New York children artists to support an Emergency Arts Education Fund, by the Children's Museum of the Arts to provide arts education in communities hurt by recent budget cuts.
The vital role the NADA as a nonprofit plays for young and small galleries is now represented physically with a year-round ever-changing exhibition space on the Lower East Side that was quietly christened last fall. On view through June 17 is a group show called "Hot Glue" from Night Gallery with a baker's dozen of artists of divergent practices pulled together to explore "the artist as a kind of binding agent who possesses an alchemical capacity to forge something unprecedented" from what may seem disparate.
1:54
1:54 Contemporary Art Fair was founded 10 years ago to showcase art from Africa and its diaspora and has presented in London, Marrakech and Paris, as well as New York, where it is now hosting 26 galleries from among the 54 nations in Africa (hence the fair's name), Europe and the United States.
The fair, which was sited for years at Pioneer Works in Red Hook, Brooklyn, has a new home this season, in Harlem's Manhattanville Factory District. Look for Moroccan-Belgian photographer Mous Lamrabat, especially his work where a clown figure wears what appear to be Louis Vuitton boxing gloves, at Loft Art Gallery; the first solo presentation of LA-based Chinaedu Nwadibia's photos of herself for which she colors and sculpts her own hair and then uses it as a form of disguise, from Superposition Gallery (which also exhibited at Future Fair); and Strasbourg-born Ousmane Bâ's works with Japanese pigment on paper from Galerie Atiss Dakar.
If you can't get to Harlem for the fair, for the first time 1:54 has also organized a worthwhile satellite show, comprising an array of contemporary Caribbean artists, in Chelsea's midblock passthrough of temporary art spaces known as High Line Nine. Trinidadian-Brit Zak Ové, a favorite, has a colorful crocheted canvas I covet.
Plus: Other Fairs to Add to Your List
You can also still catch several of the more modest fairs. Two in Chelsea are Volta, which returns with 50 galleries to the Metropolitan Pavilion, and Focus Art Fair, one of the newest, presenting 35 galleries, also at Chelsea Industrial, organized around a theme to do with an "art biosphere."
New this year, and also free, is a fair called cheekily That '70s Show, in which 21 galleries — including some top ones like Anton Kern, P.P.O.W. and Karma, Kasmin and Kaufmann Repetto — are showcasing, in the NoHo loft of art dealer Eric Firestone, artists active in that era .
Also free is Salon Zürcher, a free "mini fair" with a presentation of a posse of women artists exhibiting their work in an intimate salon style. And finally, there's Clio, also in Chelsea, for artists who aren't represented by a gallery in New York, but are eager to strut their stuff in the city; it's quite uneven, but can be a fun way to discover work from outside the bubble of our five boroughs.
Through the weekend, most of the fairs, including NADA and 1:54, offer programming like panel discussions, performances, and cocktail parties that take the art on view as leaping off points. Check each fair's website for more info when you look for ticket and other visitor information.