Gayle Rankin Will Be at Cannes, in Hamlet, on Netflix's GLOW—Basically Everywhere, Very Soon
The 27-year-old actress may be the breakthrough star of the summer. Get to know her now.
Photography by Matthew Kanbergs
---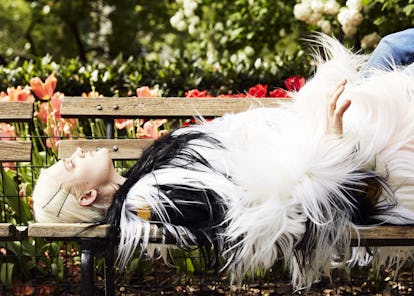 Visual Editor: Biel Parklee.
With her porcelain face, white-blonde hair, and delicate, expressive eyebrows, the 27-year-old Gayle Rankin looked rather like a silent movie star transplanted into a midtown Manhattan Le Pain Quotidien. But on this warm spring day, the Glasgow native was dealing with the very contemporary predicament facing any young actress on the precipice of, well, if not fame then at least a fair amount of attention after time spent in the cocoon of a film set.
"All of my characters I feel have some essence of who I am in them. Which is hard. I don't really have any other choice because it's how my creative brain works and how my soul works, but I feel the backlash of it," Rankin explained between sips of coffee laced with almond milk and stevia. "Even though I'm nobody and nobody probably knows or cares who I am—which is great—but it feels like there's already so much of me out there."
There is about to be a whole lot more of Rankin out there. Beyond her steady theater work—including Cabaret on Broadway and the Public Theater's 2016 production of The Taming of the Shrew—on May 21 The Meyerowitz Stories, the latest from writer-director Noah Baumbach, will premiere at the Cannes Film Festival. A family drama centered around a clan (whose siblings are played by Ben Stiller, Adam Sandler and Elizabeth Marvel) reuniting around their patriarch (Dustin Hoffman), the film has Rankin as Pam, a hospital nurse charged with Hoffman's care. While she couldn't divulge much about the plot, Rankin can say that she found some affinity with Pam.
"She swings from being able to be pulled into the emotion and feeling sympathy for whatever the family is going through and needing and also at the same time taking care of herself," she said. "I think I have that quality, too. I can swing widely in both directions of helpful or not."
Many an actress in Rankin's position would be gearing up for the famed promenade de la croisette at Cannes (and its itinerant high fashion stylings), but when Meyerowitz premieres, she will already be deep into rehearsals for her next project, the Public Theater's upcoming production of Hamlet, which starts performances on June 20. Opposite Oscar Isaac as Hamlet, Rankin will star as Ophelia, the delicate, doomed heroine of this Shakespearean tragedy. Though, as she tells it, she would like to remove Ophelia from the "helpless" and "hysterical" descriptors that follow her character around.
"There's something about her that she gives so much and fights so hard for so many of the people in her life. I'm not saying she's a completely selfless angel, but she fights really, really hard," said Rankin. "She fights to the point where she can't fight anymore. And I don't think she feels like the world is worth living in. I don't see it as weak. I don't see it as fragile. I see it as actually strong."
Born and raised in Glasgow, Scotland as what she describes wryly as "definitely an introvert and also completely an extrovert—you've met me," Rankin was drawn to acting early on, which led her to a performing arts high school. This in turn led to Juilliard, where she began studying when she was 17 (and incidentally, where she performed in a production of Macbeth opposite her classmate Corey Hawkins, currently a Tony nominee for Six Degrees of Separation). Her first job out of Julliard was in the Tony Kushner play The Illusion, at Signature Theater Company.
Rankin's next project—which will overlap with her Hamlet run—is arguably the furthest departure from her classical training. She will appear as one of 14 professional female wrestlers in the highly anticipated Netflix series GLOW, created by Liz Fahive and Carly Mensch and co-produced by Jenji Kohan. The show, which drops June 23, presents a fictionalized portrait of women from the circa 1980s Gorgeous Ladies of Wrestling (GLOW) syndicated circuit. Along with her co-stars, including Alison Brie and Betty Gilpin, Rankin trained for a month with professional wrestler Chavo Guerrero Jr. in order to properly embody her character Sheila the She Wolf, whom she describes as suffering from "species dysmorphia—she believes she is a wolf."
The experience of shooting proved thrilling: "I felt only these women, in particular, could make this show. They care so much about us that they're willing to be like, 'Go forth and do that thing! Go fight! Go kick someone's ass!' Which is inspiring."
Bella Hadid, Jessica Chastain, and Elle Fanning Lead the Charge at the 2017 Cannes Film Festival
Bella Hadid in Alexandre Vauthier and Bulgari at the premiere of Ismael's Ghosts opening the Cannes Film Festival in Cannes, France, May 2017.

George Pimentel/Getty Images
Jessica Chastain in Alexander McQueen at the premiere of Ismael's Ghosts opening the Cannes Film Festival in Cannes, France, May 2017.

George Pimentel/Getty Images
Marion Cotillard at the premiere of Ismael's Ghosts opening the Cannes Film Festival in Cannes, France, May 2017.

Anthony Harvey/Getty Images
Robin Wright in Saint Laurent by Anthony Vaccarello at the premiere of Ismael's Ghosts opening the Cannes Film Festival in Cannes, France, May 2017.

Anthony Harvey/Getty Images
Julianne Moore in Givenchy couture at the premiere of Ismael's Ghosts opening the Cannes Film Festival in Cannes, France, May 2017.

George Pimentel/Getty Images
Lily-Rose Depp in Chanel at the premiere of Ismael's Ghosts opening the Cannes Film Festival in Cannes, France, May 2017.

George Pimentel/Getty Images
Uma Thurman in Atelier Versace and Bulgari at the premiere of Ismael's Ghosts opening the Cannes Film Festival in Cannes, France, May 2017.

Ki Price/Getty Images
Marion Cotillard in Y/Project at the photocall for Ismael's Ghost at the Cannes Film Festival in Cannes, France, May 2017.

Anthony Harvey/Getty Images
Elle Fanning in custom Vivienne Westwood at the premiere of Ismael's Ghosts opening the Cannes Film Festival in Cannes, France, May 2017.

George Pimentel/Getty Images
Aymeline Valade in Pallas at the premiere of Ismael's Ghosts opening the Cannes Film Festival in Cannes, France, May 2017.

ALBERTO PIZZOLI/Getty Images
Susan Sarandon in Alberta Ferretti at the premiere of Ismael's Ghosts opening the Cannes Film Festival in Cannes, France, May 2017.

Gisela Schober/Getty Images
Naomie Harris in Gucci at the premiere of Ismael's Ghosts opening the Cannes Film Festival in Cannes, France, May 2017.

George Pimentel/Getty Images
Jessica Chastain in Roksanda at the jury photocall at the Cannes Film Festival in Cannes, France, May 2017.

Anthony Harvey/Getty Images
Fan Bingbing in Elie Saab couture at the premiere of Ismael's Ghosts opening the Cannes Film Festival in Cannes, France, May 2017.

Pascal Le Segretain/Getty Images
Director Maren Ade at the premiere of Ismael's Ghosts opening the Cannes Film Festival in Cannes, France, May 2017.

Pascal Le Segretain/Getty Images
Charlotte Gainsbourg, center, in Saint Laurent at the premiere of Ismael's Ghosts opening the Cannes Film Festival in Cannes, France, May 2017.

Andreas Rentz/Getty Images
Hailey Baldwin in custom Twinset at the premiere of Ismael's Ghosts opening the Cannes Film Festival in Cannes, France, May 2017.

Venturelli/Getty Images
Daria Strokous in Dior at the premiere of Ismael's Ghosts opening the Cannes Film Festival in Cannes, France, May 2017.

Gisela Schober/Getty Images
Emily Ratajkowski in custom Twinset and Bulgari at the premiere of Ismael's Ghosts opening the Cannes Film Festival in Cannes, France, May 2017.

Ki Price/Getty Images
Sara Sampaio in Zuhair Murad couture at the premiere of Ismael's Ghosts opening the Cannes Film Festival in Cannes, France, May 2017.

Ki Price/Getty Images
Eva Herzigova in custom Roberto Cavalli at the premiere of Ismael's Ghosts opening the Cannes Film Festival in Cannes, France, May 2017.

Epsilon/Getty Images
Uma Thurman in Giuseppe Zanotti ready-to-wear and Tod's at the premiere of Loveless at the Cannes Film Festival in Cannes, France, May 2017.

Venturelli/Getty Images
Julianne Moore in Chanel couture at the premiere of Wonderstruck at the Cannes Film Festival in Cannes, France, May 2017.

Antonio de Moraes Barros Filho/Getty Images
Amber Valletta in Mulberry at the premiere of Wonderstruck at the Cannes Film Festival in Cannes, France, May 2017.

Pascal Le Segretain/Getty Images
Elle Fanning in Temperley London at the Cannes Film Festival in Cannes, France, May 2017.

Jacopo Raule/Getty Images
Adriana Lima in Naeem Khan bridal at the premiere of Loveless at the Cannes Film Festival in Cannes, France, May 2017.

George Pimentel/Getty Images
Emily Ratajkowski in Brock Collection at the Cannes Film Festival in Cannes, France, May 2017.

Jacopo Raule/Getty Images
Michelle Williams in Louis Vuitton at the premiere of Wonderstruck at the Cannes Film Festival in Cannes, France, May 2017.

Epsilon/Getty Images
Thylane Blondeau in Michael Kors Collection at the Cannes Film Festival in Cannes, France, May 2017.

Marc Piasecki/Getty Images
Sara Sampaio at the Cannes Film Festival in Cannes, France, May 2017.

Marc Piasecki/Getty Images
The chameleons of the art world, in the wild: