George Mackay Lived in Ned Kelly's Mind for True History of the Kelly Gang
The 1917 star discusses method acting with Kelly Gang director Justin Kurzel and adjusting to a Zoom-focused life as a technophobe.
---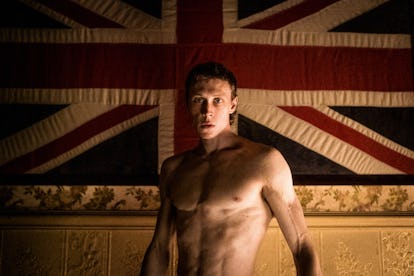 Last Thursday, the actor George Mackay entered the wrong Zoom meeting.
Like most people adjusting to a work-from-home format during the Covid-19 pandemic, Mackay does most of his job online. But unlike those who might have acclimated to it by now, Mackay insists he's a "technophobe," and can't get it right. On that day, he was mired in digital interviews with press to promote his latest film, The True History of the Kelly Gang, and wasn't sure he had the correct log-in for an earlier interview. We were scheduled to chat at 3 p.m. EST for this story, but at around 1:30 p.m., Mackay clicked the wrong line, and appeared suddenly in a W editorial meeting. We were confused and delighted to see him.
"I'm shit with all of this," Mackay said later that day, during our scheduled time to meet. He sat in a secluded room inside his family's place on the Isle of Wight, surrounded by built-in bookshelves. "I felt like I walked into the bathroom when someone else was using it."
The 28-year-old British actor admits he's more of an in-real-life kind of dude—he doesn't have Instagram, nor a Twitter account, and prefers to take walks on the grassy, seaside cliffs of the countryside with his mother, father, and sister during the day than remain glued to a screen.
"Until you turn the news on, you can quite happily go, 'Oh good, well, we're obviously staying in,'" he says, adding that he acknowledges just how privileged he is to be in such a position. This is how Mackay lives his life: He feels something thoroughly, whether chained to its heaviness or relishing its natural beauty, simply being in its moment.
Mackay has quietly worked in the industry since he was 11 years old, starring in TV movies and mini-series before bursting onto the Hollywood scene last year with his performance in Sam Mendes's World War I film, 1917. (It was largely seen as a snub when Mackay was not nominated for an Oscar for his role as Lance Corporal Schofield.) Mackay had just wrapped The True History of the Kelly Gang before he started on 1917, an intense, immersive experience that prepared him for working with Mendes.
Kelly Gang, which will be released by IFC Films on digital and On Demand on April 24th, and at a handful of drive-in theaters including the Mission Tiki 4 Drive-In in Montclair, California, on the same date, concerns the life of Australian bushranger Ned Kelly. With his band of outlaws in the 1870s, Kelly wreaked havoc, murdering, pilfering, and running from the authorities. Directed by Justin Kurzel and based on a 2000 novel by Peter Carey with the same title, the Kelly story is legend for most Australians, Brits, and the Irish. But to the untrained American, the tale is less familiar.
The True History of the Kelly Gang aims to bring Kelly's personal history to the forefront. The movie is, stylistically, brutal and harsh—with arresting visuals of the empty, expansive Bush, extreme gore and violence—and yet, a thread of humanity runs through the film, while Mackay-as-Kelly reads aloud the outlaw's letter to his unborn child, attempting to explain why he is the way he is.
To prepare Mackay and his costars Nicholas Hoult, Charlie Hunnam, and Russel Crowe, for their roles, Kurzel took an unconventional route. He had the actors write punk songs and booked them a gig at a local bar, without telling any of the crowd assembled that this was part of the creative process. He urged Mackay, whose father is Australian, to immerse himself fully in the world of Ned Kelly—to travel to Ireland, where Kelly's ancestors were originally from, and eventually wind his way down to Australia to live with Kurzel and his wife Essie in Tasmania.
"Justin said, 'If you can, if you've got the time and the ability to get yourself a ticket out here, do that,'" Mackay remembers. "I just decided that would be my focus."
He first went to Tipperary, in Ireland, where Kelly's father was born. There, Mackay found a historian named Terry Cunningham after spotting him in a YouTube video about a gathering of people related to the Kelly family. They traveled around the area by car, Cunningham pointing out historic monuments while telling stories about the partition.
"That is where Ned Kelly's 'fuck the system' attitude came from," Mackay says. "Because of the oppression of the Irish people, with a hangover of the same battles being fought in the UK and in Ireland."
Next, Mackay traveled to Australia, where the movie was filmed. It was important for him to throw himself entirely into the experience, taking on his version of method acting. He measured every meal for months, "to the milligram," and barely had a drink to achieve his weight goals and become the slippery, reptilian Kelly. He practiced "not being nice" with Kurzel. He traveled to Victoria, where he could juxtapose the culture that he'd seen on the island of Tasmania. And late at night, after he'd eaten his perfectly-weighed-out meal, worked out, and had nothing left to do, he'd go to a bar and sit there, in character.
"You read stories of Daniel Day Lewis working as a dressmaker for a year [to prepare for Phantom Thread.] Or when he got so good at boxing, people said he could be a professional boxer," Mackay says. "I wanted to see how it felt to try doing things that people say the greats do. I wanted to have a go at that."
Reading and writing were enormous parts of this experience, Mackay says, both to collect information about the history, and to fall deeper into the depraved mind of Kelly. At the behest of his director, Mackay wrote character journals—a typical practice for actors—but also studied Irish and Bush poetry of the late 1800s. Then he tried out poetry of his own, plus some songwriting for that punk show he and his coworkers performed. (Their music is also featured in the film.)
During one key exercise with the cast, Kurzel asked Mackay and his costars to write letters to people in their lives, as though they were saying goodbye and would never see them again. The director told Mackay to sign the letter "Ned." Standing with three other actors, wearing their costumes of frilly dresses, they read their letters aloud. Kurzel instructed Mackay to read the letter to camera, as though he were delivering the gang's statement. He read it twice, and the second time, broke down crying. He didn't know what prompted the emotional outpouring, but it served as representation for just how intensely he lived and remained in his character's universe.
"I don't think there's any right or wrong way of working," he says. "I'm really proud of the fact that you can feel that everyone threw themselves at that film."
Mackay's current landscape couldn't be more different from when he plunged himself emotionally and physically into the dark and brutalist doings of the Kelly gang. It's clear Mackay is theatrical by nature—he's expressive, and his voice rises and falls operatically when he discusses something that resonates with him.
Like Moulin Rouge, for instance. Along with working from home in quarantine, he's engaged in an activity in which many of us have found solace: rewatching old movies. And a film he watched with his entire family recently, at the house in the Isle of Wight, was Moulin Rouge.
"I'd forgotten how brilliant that film was," he says. "We loved that film. We went to see that as a family in the cinema, and that tango scene—that tango scene!" His face contorts as he recalls just how visceral the feeling of watching the movie was. "It's just so raw, and passionate, and sexy." He remembers the days when he could go to the theater. Mackay, scrunching up his pointed nose, and running his hands through his hair, rapt at the memory, practically growls as he describes that emotion: experiencing something so real and exciting, in person.
Related: Never, Rarely, Sometimes, Always Star Talia Ryder on the Best Advice Steven Spielberg Gave Her