The Italian Sisters Sending "Art Mail" From Lockdown
Creative duo Gioia and Chiara Bini have been revisiting their favorite childhood activity to send some cheer to friends and family all over the world.
---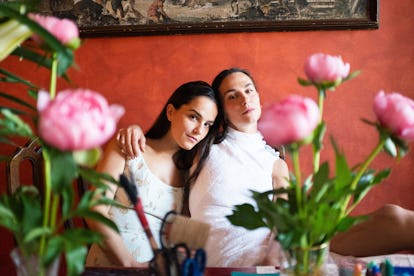 Chiara and Gioia Bini at home in Florence, Italy. Photograph courtesy of Chiara and Gioia Bini.
For W's new series, "One Fun Thing," we're inviting creative people around the world to share an easy, relaxing activity that has brightened up their days spent at home, from Jewel's guided meditations to Simone Rocha's kitchen gardening habit to Jean Prounis's floral approach to baking. Consider it a grab bag of ideas for how to shake up your own quarantine routine.
Quarantine measures in Italy have been much stricter than they have been in the States, where stay-at-home orders have been taken more as a suggestion in some areas. From Venice to Naples and everywhere in between, no one has been allowed to go farther than 200 meters from home, turning piazzas once bustling with activity into vast expanses of stillness.
Two Florentine sisters, filmmaker Chiara Bini and dress designer Gioia Bini, had just returned from a trip to India when lockdown measures were put into place, giving the whole experience an especially surreal feeling. "The energy is as if we have been put in a glass bubble," Gioia said, of her home city, where roses and wisteria are blooming everywhere and there isn't a single car on the roads. "When you walk on the Viale Michelangelo and overlook the Duomo and the rest of the city, you somehow feel like we have stopped time."
To fill their days at home with their parents, the Binis have gotten into making intricate collages with magazine clippings and watercolor paints. Hoping to foster connection in a time of isolation, they started packaging them up and mailing them to friends and family all over the world, a practice they've dubbed "Art Mail." Here, Chiara and Gioia share some insight into their days spent cutting and pasting at the dining room table:
How long have you been making collages?
Gioia: Since I can remember. My grandmother was a painter, and when we were small she would give me painting lessons in the afternoon.
Chiara: It was always our preferred medium when we prepared Christmas presents, because it seemed so personal. Collages are so intimate—you can put them in your diary, stick them on a wall, set them on a bookshelf, tuck them behind a candle.
What sparked the idea to start making these collages during lockdown?
Chiara: One morning after breakfast, my sister and I started to make a birthday collage for our mother (she loves them), and it ended up being a sort of miniature shrine in a box that she could put in her office, as a source of inspiration and creativity. Then we started thinking: Could we make collages for friends who were spending their birthdays alone in quarantine? Would collages make people smile during this difficult time? People don't write letters anymore. I think my mother is the one person I know who still checks her mailbox every morning—I make fun of her, but when I travel I always send her a postcard. The best way to describe it is that the idea exploded. Gioia and I decided that "mail art" would be a wonderful way of communicating with others.
Gioia: I mean, who doesn't like to receive something in the mail? It takes you back in time, no? The tangibility of something made by hand…
How much time do you usually spend making these? Have you come up with a kind of schedule?
Gioia: I like to start the day with putting something down on paper, whether it's a to-do list or making something pretty in my diary.
Chiara: All day long. Every day, we sit at our table and paint, cut, arrange, reflect, glue, judge, reflect, take the plunge, reflect. I personally like to work after lunch, but if we get carried away we might keep going until the early hours when the house is quiet. We play music, light candles, and laugh.
Do you have any preferred materials?
Chiara: I am obsessed with glue, especially the old-school ones like Vinavil and Coccoina that become transparent once they are applied. Watercolor paper that feels like a starched collar works very well as a base board, so does cardboard. At the moment we are working with what we have, so it's a lot of paint and old magazines. The images evolve but there are a lot of flowers and letters thrown out there. FT Weekend has some great quotes. We also like their fonts and the quality of the newspaper sheet. Gioia, ever the great hunter, found old issues of Playboy at a vintage market a couple of moons ago. Those are a diamond mine.
Gioia: Besides being a great source of inspiration, the fonts are amazing—they used to put so much detail into these magazines. I have been doing nudes, which I would like to keep in my bathroom.
What's your advice to someone who is getting into collaging for the first time?
Chiara: Don't be afraid to get your hands dirty. Spend time moving images around. And if you think you've made a mistake, don't worry—it can be hidden with a nice image and some glue. Unexpected mistakes create the best final product.
What other daily rituals have you started doing while in quarantine?
Gioia: Long walks with my dog, cooking and setting up picnics in different areas of the house! I love to set a table—I collect all sorts of bowls and glasses from Venice, I love details, for example, beautiful Loretta Caponi napkins that are hand sewn.
How would you spend an ideal day when life goes back to normal?
Gioia: I really miss my favorite restaurants, especially the tradition of going into Trattoria Da Cammillo, even on my own, and chatting to the women who run the place while one of them serves me a dish she just came up with.
Chiara: Will life go back to normal? I live in Rome, and when we can, Gioia and I will drive from Florence through Tuscany and make stops along the way until we get to Roma!
Related: Italian Designers to Support Now