Glen Luchford Relives 30 Years of Fashion Photography in New Exhibition
The photographer known for shooting Madonna, Björk, and iconic Prada and Gucci campaigns, discusses his early years and contributing to the culture.
---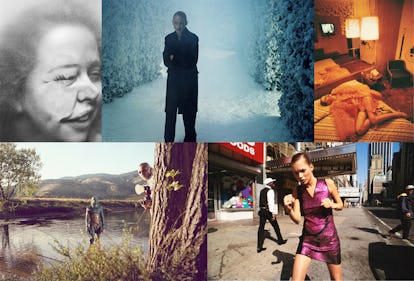 Photographs courtesy of Glen Luchford and Art Partner. Collage by W Magazine.
This online exhibition spans the past three decades of your work. I've always thought of the gallery space as one that primarily celebrates fine artists, so it's exciting to see your work—which stands very much at the intersection of the fine art and commercial worlds—in this setting. I'm curious to hear about your collaborations with Gucci, some of which are present in this show, and also your early collaborations with Prada.
When I started working with Miuccia [Prada], she was still pretty early on in building her company, and was excited about how to create new advertising. I guess the big difference between Prada and Gucci, which has a 20-year interval, is that when I was working for Miuccia in 1996-97, I was trying to get them to be involved in fashion film. The internet was in its early stages. Even though they were fascinated by it and were open to the idea, they didn't know how to run it or where to run it. There were talks for a while about putting it in cinemas. But eventually, the whole project disappeared because the internet really didn't exist. And once the internet came about, it was obviously the perfect platform for fashion films. So I think one of the nice things about working with Alessandro [Michele] has been that he was the first designer I worked with who really, fully embraced fashion film—to build the campaign alongside a film component.
Do you feel as though fashion film is an opportunity to finally bring the narratives you've been creating in your still images to life, considering your work is quite cinematic?
I actually feel more comfortable making films than I do taking stills. On a more personal level, I don't really like holding a black metal object up to my face for eight, ten hours a day. I think some photographers actually really get a lot from that. They like hiding behind the camera. It creates a barrier between them and the subject that they're photographing. So you can almost use it as a tool to hide yourself. But I actually don't enjoy it. I like it when I'm working with film, and there's a camera crew right next to me running the motion camera, and I'm just communicating one-on-one with the people in front of the camera. My pictures have always been narrative-based. Although, actually, I never sit down and pencil out a story ever. I just create these images that look like that.
Are you at a point where you feel like you can go into any situation and create a "Glen Luchford" image without a concrete plan?
After doing it for this long, I can definitely create an image that's me-inspired in any kind of environment, for sure. But it really depends on how elaborate the picture is. When I say that I don't really have a narrative plan, I never sit down and say, "There's a character and they're going to be doing this," and tell a story behind it. What I noticed when I do interviews with people is that people read a lot more into my pictures than I was aware of. As a photographer, though, your greatest nightmare is that people will just flip through a magazine and not notice your work. So if you're ever able to get someone to stop and look at it and conjure up something in their heads that sticks for more than five minutes, then you've succeeded.
How did you start shooting?
I started because I grew up near Brighton, in England, where there's a large fashion college. Through nightclubbing, I met a bunch of fashion students in summer. I started photographing skateboarders when I was 18—my dad gave me a camera for my 18th birthday and I was skateboarding at the time. Then some fashion students and my teachers asked me to photograph their collections. One of them said to me, "I'm going to take those pictures you took to The Face magazine." I was like, "I didn't even know you could do that. How interesting. Maybe I'll do that, too." I did get a job as an assistant for about six months, and I learned a lot in that period of time—just being in the studio, learning about flash lighting and all that. Just as I was about to start as a photographer—I shot a load of pictures and I felt like I had a portfolio ready to go—Acid House, the dance movement, happened in England. It exploded with so much ferocity that I basically abandoned my photography career and took a year off. I didn't take a single picture during the entire thing, which was fucking stupid of me. I don't know what I was thinking. After that, I was like, "Okay, I need to get a job," so I went back to see The Face magazine, and I showed them some pictures. The art director said to me, "Fine, I'll give you a job." I thought he was lying just to get rid of me. Sure enough, a couple weeks later, they called me and asked me to shoot something for them, and I didn't stop after that.
I noticed this exhibition includes a photograph of Madonna you shot for The Face back in 1996. You've also included a portrait you did with Björk. Many photographers say that photographing musicians is the most difficult, because they arrive to set with their own goals and an image to preserve. What has your experience been like working with musicians as opposed to models?
With a fashion model, the client's hiring to give you what you want. In some ways, even though you collaborate a lot with them, they are serving the job—they're supposed to be able to jump through any hoop. But when you're photographing an artist, the artist's now essentially a brand. Madonna really created that, I think, and Michael Jackson. They took that to the next level, of how they could take their music and their style and their videos, and rebrand it as a company. That has now become the norm in music. So when a musical artist comes to the set, they bring their brand with them and you're at their mercy. So it's a very, very different experience. And to be honest, I don't do it that often. I'll only do it if it's someone that I'm really excited about musically.
Is it safe to say if there's a musician in your portfolio, then, you are a big fan of them?
Either a big fan of their music or I'm interested in them as an artist. They've done something that's made me respect them, or I saw that they're really interested in the way they go about their work. Both Madonna and Björk are not just musical, but also very visual. Those sorts of people are a gift that you have to work with because they understand.
When you're looking at this exhibition online, are you seeing it and thinking how you'd want to bring it to life one day in the real world?
For sure. This was never meant to be an online exhibition. I was intending to have an exhibition either the end of 2020 or the beginning of 2021. Then when COVID-19 happened, I was like, "Well, first of all, that's going to throw the deadlines off for everything." Secondly, it would be really nice to actually put something out that people can look at while at home if they can't go to a museum. I just looked into my archive and chose 50 photos that I felt most closely to.
When you're looking at these images, do you see the way in which your vision has evolved and changed over time?
I feel like it really hasn't changed. The fashion, the actual clothes themselves, changed to a degree. But honestly, that's now become so cyclical, and in any one season, you'll have one designer doing something from the '70s and another from the '80s, and another from the '90s. Now we're churning material out so fast that even the clothes don't really change. I'm surprised when I actually put it together, and you go back to my earlier Face pictures until my latest Gucci and self-service pictures, they actually haven't changed that much.
That was actually my biggest takeaway from looking at this. Even the photography, which, like fashion, has different trends and eras, looks very consistent and on brand for today. But you're not trying to stay on trend, are you?
I am in the sense that every season, you're trying to put out something that feels contemporary. As the industry is moving, you have to move with it. You're constantly trying to do something that feels modern or that's going to feel modern even in six months' time. So no, I do try and stay on trend.
Do you use references when you're working on a project, or do you try to come up with unique ideas each time?
I'm very happy to own my references, and I try not to be dumb about it. I wouldn't take the famous [Richard] Avedon picture of the girl between the elephants and try and reproduce it. That would just be obnoxious. A fashion editor in the early '90s said to me, "It's really important that you don't just take from the industry. You've got to try and put something back in. You've got to contribute." She was talking about money predominantly, and I think what she basically was saying is it's not fine to just keep doing advertising work. You've got to do some editorials and throw some ideas back into the mix that inspire other people. I think I've always tried to adhere to that. Even if I've done 20 advertisement jobs and it's the end of the season, and I'm exhausted, I'll still try and pick myself up and do an editorial and try hard to do something good.
Does it feel good to be at a place in your career where you can truly pick and choose which editorial projects you'd like to work on?
No. Everyone's career is on a helix. And when you're up, you're already on your way back down again, and when you think you're at the bottom, you're already on your way back up again. I try to never abuse that. I never sit back and rest on my laurels and go, "Fuck it. I'm just doing advertising this season. I'm not going to do any editorial." I'll always try and contribute something.
I like asking photographers at the end of interviews what they're most proud of in their careers, all accolades aside.
The longevity, really. When I started, I thought, if I get three years out of this, it's going to be amazing.
I don't think you ever feel like you're successful because people who push themselves are always chasing some fantasy that doesn't exist. If I ever sat back and thought, "Oh, I feel like I've done this talent better than other people," it'd be a disaster for me because I would then probably start to relax and give up. I honestly thought I'd be running Paramount Studios by now. So in my mind, I'm a failed filmmaker, rather than a successful photographer, you know what I mean? But at the same time, as you get a little older, you're able to look back and say, "Well, it has been amazing, and I do really appreciate it."
I think if you asked any artist, they would always be able to list very quickly the people that they see are much better than them. You very rarely sit back and think, "This has been great. I'm going to relax on holiday this year and take a break." It doesn't feel like that.
Related: Ronan McKenzie's Film With Gucci, WATA, Comes Full Circle