Gracie Abrams Steps Into Her Own Spotlight
The artist talks her searing debut album Good Riddance and touring with Taylor Swift.
Photographs by Max Farago
Styled by Rebecca Ramsey
---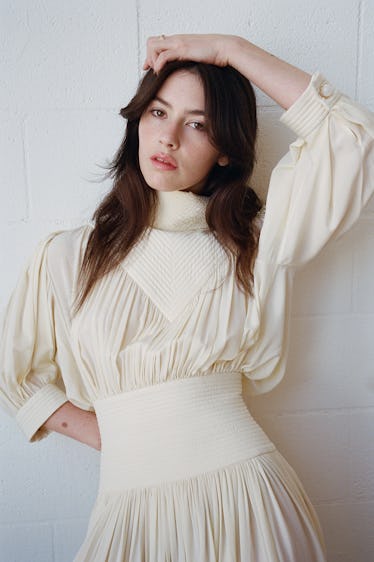 Gracie Abrams wears a Louis Vuitton dress; State Property ring.
Gracie Abrams released the lyric video for her single "I Miss You, I'm Sorry" in April 2020, when she was just 20, during some of the darkest days of the pandemic. Fittingly, it felt like a FaceTime call with your best friend—if that friend happened to channel their innermost anxieties into soothing song. Now Abrams is celebrating the release of her first full-length album, Good Riddance, with a tour of her own and an opening spot on Taylor Swift's the Eras Tour.
Post-quarantine, Abrams had to quickly adjust to performing live for physical crowds, opening for Olivia Rodrigo last year and playing in some of the world's most gargantuan arenas. "That kind of gathering is something that I don't take for granted, because it's not something that I ever chose to do before. I've been an introverted person my whole life, and now, instead of working through everything privately and independently, this is a different outlet," she said. "It really does feel like I'm using the music in a therapeutic way, and I get to share that with other people."
Onstage, Abrams creates the same sense of intimacy that made that first video so successful, with stripped-down sets that bring her flowing, conversational vocals and confessional lyrics to the fore. The 12 tracks on Good Riddance grapple with the delicate, revealing, and at times volatile push and pull of (mostly doomed) romantic relationships. "I was capturing a lot of transformations and transitions in my life," Abrams said of her creative process. "Growing up, if I didn't want to talk to someone about the way that I was feeling, I would go write instead. I think that can easily turn into a place where your experiences become very one-sided, and there's that narrative that isn't the full picture. I attempted to dig deeper this time and look in the mirror a little bit more about the way that I contribute to the relationships in my life."
As she develops into the kind of artist who can motivate crowds of her own, Abrams is excited to experience Swift's alchemy up close. "To study the way that she does what she does, I can only imagine how life altering that will be," Abrams said ahead of her first performance with the star. "I've been her biggest fan forever, and I'm baffled that she's offered me this spot." Other openers on the Eras Tour include Phoebe Bridgers, Haim, and Paramore, all indie darlings turned powerhouses. "I'm really grateful for the genuine sisterhood that exists in this time. These structures and systems that have historically pitted women against each other? There's a complete disregard for all of that bullshit right now," she said. "I can't speak for anyone other than myself, but I feel like there is room for everybody. It's fucking cool to celebrate that."
Hair by Bobby Eliot at The Wall Group for Kérastase; Makeup by Loftjet at The Only Agency; Photo assistant: Essence Moseley; Fashion assistant: Kat Cook.