Grammy Nominations 2019: The Biggest Snubs and Surprises
Women were all over the categories, except Taylor Swift was all but shut out.
---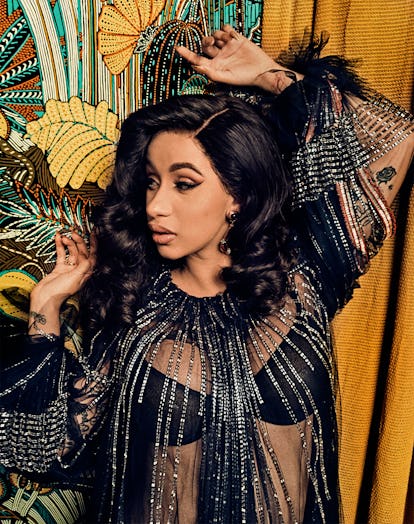 Photograph by Mickalene Thomas.
On Friday morning, the nominees for the 2019 Grammy Awards were announced across both CBS News and Apple Music. This time around, the ceremony will be held at the Staples Center in Los Angeles on February 10, and while the night's celebrity host has yet to be announced, James Corden took on the role in both 2017 and 2018 without causing any major drama, so there's a good chance CBS will tap their silliest late night star for the job once again. In a major contrast to those years, however, the 2019 nominations comprise a much more even playing field: While Kendrick Lamar and Drake received the most nominations, all the major categories were flooded with female artists as well, hopefully signifying some much-needed changes to the gatekeepers of the music industry.
That said, the noms aren't without their fair share of snubs and surprising inclusions. Here are some of the biggest takeaways from the list.
King T'Challa reigns
Just 24 hours after Black Panther received only two of the many Golden Globes nominations it was expected to, the film's soundtrack showed up eight times on the list of Grammy noms, making it and producer Kendrick Lamar—who also performed on several tracks—the most nominated at the 2019 ceremony. Among those are nods for album, record, and song of the year.
Americana the beautiful
The woman with the most nominations, with a total of six, is Brandi Carlile. Her album By the Way, I Forgive You is up for Album of the Year and Best Americana Album, and several of its songs received nods as well. The next most-nominated women are Cardi B, with five noms, and Kacey Musgraves, with four. Unlike the 2018 awards, when Lorde was the only woman in the Album of the Year category, every major category is at least 50 percent female on the 2019 list, with Janelle Monáe, H.E.R., and Ella Mai rounding out the squad.
Fallen pop princesses
The women of pop, however, weren't so lucky. While the Recording Academy honored women of rap, folk, and country, with slews of nominations, those who work in pop were almost entirely left out of the major categories. Taylor Swift and her Reputation, somewhat shockingly, received only one nomination, for Best Pop Vocal Album, while Ariana Grande's Sweetener was nominated in that category and, for "God Is a Woman," in Best Pop Solo Performance.
Single-nomination surprises
Swift has some unexpected company on the list of artists receiving a single Grammy nomination in 2019. The Backstreet Boys's "Don't Go Breaking My Heart" was nominated for Best Pop Duo/Group Performance; Fall Out Boy's album Mania received a Best Rock Album nod; Björk's Utopia is up for Best Alternative Music Album; and Mac Miller received a posthumous Best Rap Album nom for Swimming.
A Grammy is born
It's been a big week for A Star Is Born: On Thursday, the film was nominated for five Golden Globes, and on Friday, it received four from the Grammys. In a twist of fate that would've seemed ludicrous only a year ago, that means that Bradley Cooper is up for Record of the Year, Song of the Year, and two other awards, while Lady Gaga received those four noms, plus one more for Best Pop Solo Performance, for her "Joanne (Where Do You Think You're Goin'?)."
The Beyhive is buzzing
Against all odds, A Star Is Born tops Jay-Z and Beyoncé, the latter of whom was actually originally set to star opposite Cooper in the musical remake, in Grammy noms. The married duo's album Everything Is Love, released under their joint name The Carters, received only three nods, none of which are in the major song, record, album, or artist of the year categories.
Related: The 25 Best Grammy Awards Beauty Moments of All Time, from Aretha Franklin to Selena Gomez
The 25 Best Grammy Awards Beauty Moments of All Time, from Aretha Franklin to Selena Gomez
At the 12th Annual Grammy Awards in 1970, Aretha Franklin celebrated her Grammy win with a shimmery pastel blue eye and a nude lip.

Photo by Getty Images.
With sleek straight hair, bold purple eyeshadow and luminous, sun-kissed skin, Cher glowed at the 16th Annual Grammy Awards in 1974.
Bette Milder showed up to celebrate her Grammy win with voluminous, brushed out curls and a dark smoky eye at the 16th Annual Grammy Awards 1974.
Turning heads at the 24th Annual Grammy Awards in 1981, Tina Turner rocked tousled bangs and a bold lip.
Whitney Houston celebrated her Grammy win with a voluminous blowout, a heavy smoky eye and a coral lip at the 28th Annual Grammy Awards in 1986.
Gloria Estefan radiated elegance with a mauve lip and voluminous brown hair at the 32nd Annual Grammy Awards in 1990.
Mariah Carey wore her hair in wild, tousled curls at the 33rd Annual Grammy Awards in 1991.
Celebrating her first Grammy win, the late Selena arrives to the 1994 Grammy Awards with a teased up do and a matte red lip.
Gwen Stefani epitomized the '90s with a playful, knotted up do and thin eyebrows at the 40th Annual Grammy Awards in 1998.
Celine Dion wore a lavender frosted eye to celebrate her win at the 41st Annual Grammy Awards in 1999.
Britney Spears wore her blonde locks straight with a brown smoky eye at the 42nd Annual Grammy Awards in 2000.
At the 42nd Annual Grammy Awards in 2000, Jennifer Lopez wore her hair in a sleek half up do with a green eye complimenting one her most iconic red carpet looks.

SGranitz
Alicia Keys glowed as at the 46th Annual Grammy Awards in 2004 with dewy skin and her hair in a sleek, "wet" up do.
Madonna channeled the '70s with her blonde locks flipped out at the 48th Annual Grammy Awards in 2006.
British beauty Florence Welch arrived at the 53rd Annual Grammy Awards in 2011 with her fiery red locks in beachy, tousled waves.
Adele rocked her signature sleek cat eye, with soft curls and a bold red lip at the 54th Annual Grammy Awards in 2012.
Looking regal in red, Rihanna celebrated her Grammy win with her long ombre locks softly curled and a matte red lip 55th Annual Grammy Awards in 2013.
Janelle Monae wore her sleek up do with a bright, glossy red lip at the 55th Annual Grammy Awards in 2013.
Miley Cyrus attended the 56th annual Grammy Awards with a matte pink lip and a soft blonde pixie.
Natural beauty Ciara wore her blonde locks in a loose, tousled up do with a nude lip at the 56th Annual Grammy Awards in 2014.
Katy Perry wore her hair in a sleek, braided up do with luminous skin at the 56th Annual Grammy Awards in 2014.
Debuting her short blonde locks in beachy waves, Beyoncé arrived at the 56th Grammy Annual Awards in 2014 with a soft smoky eye and a satin red lip.
Lady Gaga showed how to wear silver hair with a dramatic turquoise eye at the 57th Annual Grammy Awards in 2015.
Selena Gomez went full glam at the 58th Annual Grammy Awards in 2016 with long, voluminous curls and an exaggerated smoky eye.

John Shearer
At the 2017 Grammys, for singer and actress Jennifer Lopez it was all about the dewy skin and sleek straight locks.

Getty.