The Grammys' Best Album Nominations Are Tragic and Embarrassing
Just for Gaga...and Fiona...and Abel...and Bob Dylan...and common sense!
---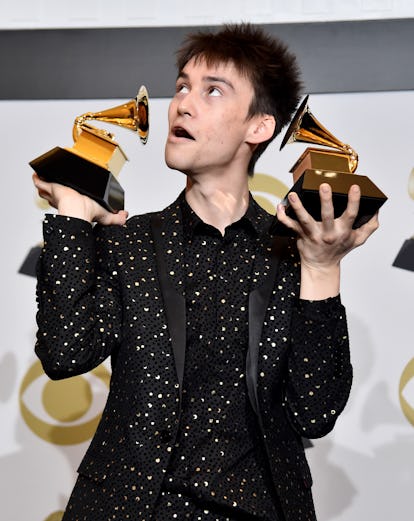 The Grammys always makes nomination choices using some unholy alchemy of popularity, sales, potential ratings, and, occasionally, actual critical acclaim—and yet, regularly, their choices tend to have little relation to any of those criteria. We're used to it. The Grammys are going to do their thing. Notoriously so. This year's freshly released batch of nominations are no different, and there's lots to quibble and critique across the board. It's not a surprise nor particularly unusual for the Recording Academy.
What is astonishing, however, is just how incredibly and quite bizarrely wrong the Grammy nominations are for the ceremony's single biggest award: Album of the Year.
To somehow snub Fiona Apple, Bob Dylan, Lady Gaga, and The Weeknd in one fell swoop? We're not even sure a room full of chimpanzees picking up CDs at random and throwing them into a box labeled "nominations" could manage that. It's truly astonishing, even for the Grammys.
Take a look at the nominees yourself:
"Chilombo," Jhené Aiko"Black Pumas (Deluxe Edition)," Black Pumas"Everyday Life," Coldplay"Djesse Vol. 3," Jacob Collier"Women in Music Pt. III," Haim"Future Nostalgia," Dua Lipa"Hollywood's Bleeding," Post Malone"Folklore," Taylor Swift
The Albums That Actually Deserved Nominations
Lets start with what they got right.
Taylor Swift's "Folklore"
Taylor Swift's "Folklore" was welcomed as a career high by most critics, and spent eight weeks at the apex of the Billboard 200. It was widely considered a lock for a nomination, if not the actual win. No surprises here.
Dua Lipa's "Future Nostalgia"
While Dua Lipa's popularity in America lags behind her profile in her native England, she's still a widely known up-and-coming pop artist whose "Future Nostalgia" was hailed by critics as the best mainstream pop album of the year (sorry, Gaga). Again, this was widely expected and well deserved.
The Albums That Weren't Guarantees, But Not Shocks
Haim's "Women in Music Pt. III"
Haim's "Women in Music Pt. III" was not considered a lock for a nomination, unlike Lipa and Swift, but it was still very much in the discussion. The band has healthy popularity in urban coastal areas, and this album is the best reviewed of their career. The nomination wasn't a guarantee, but not a shock, either.
Post Malone's "Hollywood's Bleeding"
Post Malone originally arrived on the music scene with all the gravitas of Uncle Kracker or Bubba Sparxxx, but he's managed to spawn a string of singles that go down easy on radio stations. Despite critics making sport out of trashing him early in his career, his album "Hollywood's Bleeding" managed to wear them down and glided its ways to respectable (albeit not sterling) reviews. This isn't a choice you make to go down in the history books as a quality album of note, but it does make sense in recognizing work that is undeniably popular.
The "WTF?" Albums
…then things started to get weird. Really weird. Half of the choices here are complete head-scratchers.
Coldplay's "Everyday Life"
Coldplay's "Everyday Life" might be the safest of the "…what?" nominations, if only because the band is well-established and known. The album, however, was released all the way back in November 2019 (making it eligible, though you would have thought voters forgot it). It received a non-embarrassing but not particularly notable average score of 73 from review aggregator Metacritic. Not a single one of the album's singles managed to hit the Billboard 100 either. It feels like the English band's least consequential album cycle so far, and yet here it is, apparently deserving of an AOTY nomination.
Jacob Collier's "Djesse Vol. 3"
Eight years ago, British guy Jacob Collier went viral on YouTube for his Stevie Wonder covers…and somehow, he's wound up here. He's had decent success on Billboard's jazz charts, but has never placed on any of their major charts. "Djesse Vol. 3" attracted some notable guest features by Ty Dolla $ign and Tori Kelly. Though, not a single major American music publication bothered to review it. Not a single one.
Jhené Aiko's "Chilombo"
Jhené Aiko has managed to make a name for herself with singles and features, but her albums have always gotten disappointing reviews. Her third, "Chilombo," was no exception. In fact, critics seemed exhausted, calling it overly long and "very chill, and nothing else." According to Metacritic's calculations, it's the worst-reviewed of any of the albums nominated here. This is a case where we feel bad for the artist, as she's currently getting roasted on Twitter at the moment for the surprise nomination that many feel was unwarranted.
Black Pumas' "Black Pumas (Deluxe)"
Who the hell are Black Pumas? A psychedelic soul duo from Austin who have only been around for three years and are signed to Dave Matthew's vanity label. The band's debut album "Black Pumas" was released back in June 2019, which would have made it ineligible, but the Grammys nominated the "Deluxe" re-release instead. The band isn't some hidden gem beloved by hipsters, either. They've performed on Ellen Degeneres and Jimmy Fallon's show, but got a polite "meh" of a review from Pitchfork. The band has just 80,000 followers on Instagram and the album's peak was 200 on the Billboard 200. The single biggest head scratcher of the year. It reeks of Boomers attempting to be cool.
The Biggest Snubs
What makes these choices even more bizarre is the albums from this year, widely considered to be deserving, which absolutely got snubbed.
Fiona Apple's "Fetch The Bolt Cutters"
Apple's triumphant fifth album is the best reviewed of the year, according to Metacritic, and will likely top more "Best of 2020" lists from publications and critics than any album listed here, or otherwise. It debuted to a respectable fourth place on the Billboard charts, and Apple is an iconic and well-known artist. You'd think the Grammys would go out of their way to recognize a veteran female musician who has only grown as an artist with time, and yet…Shameika said she had potential, but the Grammys said, "Eh, not really, love."
Bob Dylan's "Rough and Rowdy Ways"
The Grammys get roasted for belying Boomer taste, and yet Dylan's first album of original material in eight years was widely regarded by critics as a late-career triumph. No one would have batted an eyelash if it received a nomination.
The Weeknd's "After Hours"
One of the best-selling albums of the year, critics found it a return to form for The Weeknd after the disappointing "Star Boy." Some predictors had this album as the most obvious choice for an AOTY nomination. Yet, not only was it snubbed here, but The Weeknd didn't receive a single nomination anywhere.
Lady Gaga's "Chromatica"
Coming off of her Oscars triumph with A Star is Born, you'd figure the Grammys would want to get back on the Gaga train. Yet, Gaga was relegated to just two nominations in Pop genre categories. Maybe the album snub would have made more sense if "Rain on Me" scored Song or Record nominations, but that didn't even happen.
Related: Fiona Apple's Album Is So Great, We Can Only Respond With Memes