A Sybarite's Guide to Sundance
The Sundance Film Festival started yesterday, fabulous people! Now, Park City may not be Cannes, but it's got plenty of tempting offerings to delight all senses. I recently spent a few days there and had more...
---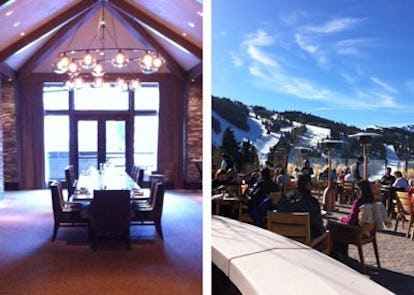 The Sundance Film Festival started yesterday, fabulous people! Now, Park City may not be Cannes, but it's got plenty of tempting offerings to delight all senses. I recently spent a few days there and had more than my share of gastronomic and hedonistic thrills.
Wondering who else is in town? To really take stock of the VIPs, just nab a table at Talisker on Main, the most high-brow restaurant in town with a low-key, relaxed setting. The menu changes frequently, but luck is on your side if the Confit Tomato and Burrata Salad or Pan Roasted Lamb Loin are on it.
Lunch on the Mountain: If any ski resort is going to offer fine dining mid-mountain, it's going to be the crème de la crème, Deer Valley, which presents its guests with the wonderful conundrum of several great options. J & G Grill (whose initials stand for restaurant emperor Jean Georges Vongerichten), nestled slope-side at the St. Regis Deer Crest resort, has many tantalizing offerings, but I strongly recommend his Black Truffle Pizza or Glazed Niman Short Ribs (well, I had both. Don't judge. I ski hard) and save room for the Warm Apple Crumble with Cinnamon ice cream (you're judging…). It's worth a few extra black diamond runs. Over in the Silver Lake section of Deer Valley, Royal Street Café rivals J&G in flavor and choices, but I'll make it easy for you. Two words: turkey chili. And I don't even usually like chili.
Late Dinner: After that last screening, slip into a booth at Silver for a fancy cocktail or an after-hours dinner. The menu's got plenty for the meat and game eater, but my favorite is the Crostini trio, which includes toppings of butternut squash and homemade ricotta, wild mushrooms, and crispy leeks with braised fennel.
Worth the Drive: A few miles outside Park City, at the base of The Canyons Resort, sits locavore darling The Farm. Part of Talisker's little fancy empire, its chef John Murcko sources everything within a 200-300-mile radius, but it's a pretty safe bet that the Grass-fed Beef Oxtail Onion Soup and Colosimo Smoked Sausage Mac & Cheese will be available this season. Even the bread, which tastes as though it's been grilled, is remarkably delicious.
Family Planning: If the kids are with you, and they're itching for something to divert them off the slopes, indulge them at Jupiter Bowl. It's like a game room on steroids, complete with a bowling alley, pool tables, a Wii lounge, and a massive arcade. Sensitive, quiet parents might want to bring earplugs.
Over drinking age? If the kids are legal or you're still into things like happy hour, the town's "in" spot is Sky Blue. It's the roof bar at the very discreet and very chic Sky Lodge, on Main and Heber. Not only are there several fire pits to keep guests warm, there's even an outdoor hot tub, which should make the nearby restrooms quite an interesting scene.
Muscle Soothers: It's wondrous how a good spa can really sequester you from the outside world, even if the outside world is spiffy ski people, but all three mountain-based spas do just that. The vibe at Deer Crest's Remède Spa is a modern, peaceful serenity, while Stein Eriksen Spa emits a cozy, Austrian lodge feel and the spa at Montage Resort has an opulent elegance about it. Montage is the largest of the three (30,000 square feet), with dozens of treatment rooms and an Olympic size lap pool overlooking the mountains. If you're into some introspection (that comes with a massage), try Peace of Mind: Surrender. A therapist assesses your habits and lifestyle, then treats your body accordingly. Quite cathartic. Stein's recent renovation expanded its size (20,000 square feet) and updated its spa menu, including the open-minded-named Aspen Oasis. After a lavender-tangerine scrub and honey and shea-butter body wrap, all gets washed off with a hi-tech Vichy shower. I went straight on with a customized massage at Remède, but it was one of the best I've ever had. Ask for Sutton. She's incredible. No matter which spa you pick, get there early and try to stick around after. They all do the cozy, sleep-inducing, relaxing lounge thing really well.
Photos: Silver: © Frank Oudeman. Others courtesy of the locations