Hayley Barker's Visions of Nature
The painter's debut exhibition with L.A.'s Night Gallery, titled Laguna Castle, explores the natural and human environment of a unique residency.
Photographs by Stephanie Noritz
Styled by Kat Typaldos
---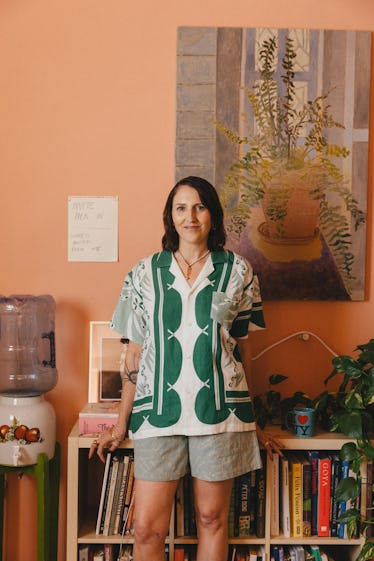 Hayley Barker wears BODE button down and shorts, Monboquette necklace, Lady Grey bracelet, Pamela Love ring, and Joanna Laura Constantine earrings.
Last summer, as the Oregon-born, Los Angeles-based painter Hayley Barker began preparing for her solo debut with Night Gallery, which opens February 18 during Los Angeles Art Week, the artist and photographer Martin Cox asked her to stop by Laguna Castle, a century-old apartment complex that sits atop a hillside in L.A.'s Echo Park neighborhood.
"We have a great garden. I think you might like to look at it,'" said Cox, who had run an artist's program in Iceland, and was starting Latitude for Art, a residency in this L.A. building he had managed for nearly three decades. Cox thought Laguna Castle might offer a wellspring for Barker's earthy landscapes and still-life paintings, which document shifts in light, moments of transition, and the sacredness of objects—from energetic stones to exotic flowers—found in and around L.A., where the artist has lived with her husband for the past seven years.
"It's kind of an intentional community and it was run by this woman named Isa-Kae Meksin, who bought it in the Sixties," says Barker of Laguna Castle, which is also the title of her exhibition. Barker, the first participant in Cox's residency, was charmed not only by the building's lush grounds, but also by the history of its artist and activist landlord, who passed away last spring at the age of 94. "Isa herself did all sorts of interesting work," Barker says of the Ukrainian-born Meksin, who was known for her tireless activism, working with students with disabilities, protecting LGBTQ rights, and helping unhoused young people attend college. "Martin was going to use Isa's room as the place where the residency would take place. But I got to stay there prior to him clearing it out."
What emerged from that micro residency—two nights last September, and two nights this past January—is a psychic journey into the personal effects of Meksin and the vistas and vignettes she (and Barker) encountered in the quieter nooks of this esoteric apartment building, which former California Governor Jerry Brown called home during the 1970's. "I was particularly captivated by the garden. It had a lot of layers to it," says Barker, whose work blends the palette of Edouard Vuillard with the emotional impact of New Mexico's Transcendental Painting Group and the German-American landscape painter Albert Bierstadt. "You could tell that people had been tending it in different kinds of ways over the years."
Those layers are apparent in three 8x7 foot paintings—By Martin's Porch, The Garden Path, and The Shade Path—which depict succulents, eucalyptus and citrus trees, grasses, a bright red hummingbird feeder, and wonky fences. While the focus is wide on those gem-like gardenscapes, the perspective tightens on Isa's Necklaces, a small, crisp still-life that captures Meksin's collection of beaded baubles hanging in front of a two-toned wall. Isa's Wall of Photos is a landscape-oriented, scrapbook-style portrait of Meksin through the notes, sketches, Polaroids, and clippings she had tacked to a corkboard.
Barker, 49, likes to create a mind map on massive sketch pads to chart the direction and inspirations for her works. A show last year at SHRINE, in New York, was dedicated to a hawk the artist found injured after it had crashed into a building. This led to a meditation on life and death, with paintings depicting a death tarot card and an altar filled with crystals, candles, and potted plants. "I have altars everywhere," says Barker, who is an avid collector of minerals and gemstones, and believes that objects can act as vessels or conduits of memory and energy. "I feel like I've always been a witch. As a kid, my favorite thing to play with besides art materials was dirt and bugs and plants. I was an earth child."
It was Late Bloomer, her 2019 show at the upstart L.A. gallery Bozo Mag, that officially signaled Barker's shift into the urban landscapes that she's becoming known for. "Whether she's painting her backyard or front yard, whether it's these different rivers in Oregon that she grew up next to, or my house, I think her deciding to make paintings about the things that she really loves and cares about has added a lot of soul and emotion to the work," says Danny Bowman, founder of Bozo Mag.
Barker was born in Dallas, Oregon, and raised in a progressive, intellectual household in Salem, Oregon. Her father wrote poetry and horror stories, and also worked for the Department of Energy, while her mother worked in bookstores and raised her and her four sisters. They had books on Dada and Duchamp lying around the house. As an 18-year-old, Barker worked at a new age bookstore in Salem. She later did tarot readings for friends at parties, studied goddess religions, and learned about feminist mysticism and ancient matrilineal and matriarchal cultures. "Witches, we deal in energy, right?" says Barker. "I believe in love and kindness and anti-racism. I believe in the herbs I can plant in my garden, and my cats, and the moon I see above me. I don't want to take anybody else's gods."
BODE pants and blouse, Joanna Laura Constantine earrings and Lady Grey bracelet, artist's own necklace.
Barker did, however, want to be surrounded by powerful forces, particularly when she was in art school at the University Oregon and was the victim of an assault that left her with PTSD. She found healing and a new group of friends at punk shows, which led her into the world of performance and video art. She eventually earned an MFA at the University of Iowa because that's where the art world's high priestess of performance and feminist energy, Ana Mendieta, had studied. As Barker struggled to meld her punk and performance art into a body of video works, a battle with ovarian cancer led to a shift in priorities.
"I'm a bit of a cat with nine lives, so I definitely felt an urgency to make the work I needed to make," Barker says. Davida Nemeroff, who owns Night Gallery, believes Barker is just getting started. "Her paintings have matured, and her language has become much more confident over the last few years," she says. "The perspective is broadening and that's giving her more to work with and be more playful. She's put herself in the same conversation with folks like Jonas Wood and Hilary Pecis within this backyard landscape painting genre that California is very known for and that is emulated all over the world. But her background is unique. She's just so confident as a painter right now and not worrying about what other people are doing."