The Year Horror Went Highbrow
The genre has evolved, expanded and exploded in popularity. What's behind our collective fascination with fear?
Artwork by Eddie Guy
---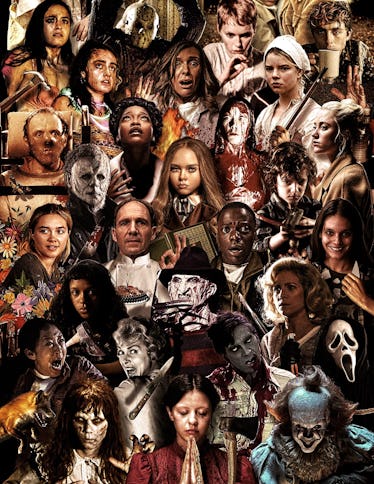 Art by Eddie Guy, images courtesy of Everett Collection
Horror films had a tough few decades. From the 1980s until recently, movies featuring a murderous doll, a ghostly presence, or a creepy neighbor with a taste for revenge had been mostly relegated to the realm of C-list actors, ham-fisted dialogue, and predictable plots. Now the genre is a cultural force to be reckoned with. Thanks to a mix of box-office hits with crossover appeal, prestige projects with top-tier directors and major stars, and creatively ambitious indies, horror movies have become essential communal experiences that spark important conversations while delivering a whole lot of fun.
"The idea of what horror is is expanding," says Meg Hafdahl, an author who has written 11 books on the genre. "As a community, we're learning, 'Oh, horror isn't just a girl falling and she's topless and there's a knife.' You can talk about the human experience on multiple levels." In 2022 alone, films like The Menu, Bones and All, Pearl, X, Bodies Bodies Bodies, M3GAN, Smile, Barbarian, and Nope took on hot-button topics like mental health, social class, and racism and turned them into hits, blowing past Oscar-bait films at the box office. (Women Talking, which centers on sexual assault in a Mennonite community, made $40,530 in its opening weekend; The Menu, a gory satire about the exploitative side of haute cuisine, made $9 million.) "Horror is a wonderful way of speaking to current issues without lecturing people," explains Chloe Okuno, who wrote and directed the wildly popular 2022 film Watcher. "Because of the nature of the genre, you never feel the theme is overshadowing the form."
In cinema history, the horror films that have become classics have reflected society's anxieties and traumas. Rosemary's Baby and The Shining turned the picture-perfect American family on itself; The Exorcist tapped into a primal fear that innocence could turn diabolical; A Nightmare on Elm Street made us afraid of sleep, the very thing that's supposed to soothe us; the eerie villain of The Babadook embodies the darkness of grief, anxiety, and depression. Seedy flicks featuring sorority sisters who ignore the getaway car with the key in the ignition in favor of the shed full of chain saws get forgotten; stories that hold a mirror to our times tend to stick around. And this moment in history is particularly loaded: What's scarier than mass shootings, a killer virus spreading across the world, war, out-of-control artificial intelligence, and a climate disaster threatening to end us all?
"It's a little unprecedented, how many traumatic things we're experiencing in America right now," says Erik Piepenburg, who writes about horror for The New York Times. "There's always been an interest in horror movies, but with the uncertainties of the world we live in, which are all coming together at the same time, people want to engage with those horrors in a safe way: It's happening on-screen, and when the two hours are over, you can go home."
The pandemic and its aftermath have significantly affected the ways in which we process fear. "People were so afraid of dying [during lockdown] that they had to turn off their emotions," says David Tolchinsky, a Northwestern University professor and the founder and director of the Pritzker Pucker Studio Lab for the Promotion of Mental Health via Cinematic Arts. "Horror works on the body—it's not an intellectual thing. It goes right to that fight-or-flight impulse, and there's nothing your brain can do to stop it. It's exciting." Now that theaters are filling up again, there's an undeniable appeal to screaming out loud with other moviegoers in a dark room. "People are really wanting to make that connection," Hafdahl adds. "We're craving social time."
What's especially interesting about these new films is that they are not only speaking to fundamental human emotions, but also pushing creative boundaries. Ti West, whose films Pearl and X will soon be followed up with MaXXXine, a third installment in the trilogy, is playing with the limits of the form by weaving in camerawork and visual techniques more commonly found in art-house films. The aesthetic of Pearl, which tells the origin story of a heinous villain, played by Mia Goth, harks back to old-fashioned picture shows. In Barbarian, writer and director Zach Cregger tells a story of toxic masculinity inspired by The Gift of Fear, a self-help book that includes a section about trusting your gut when it comes to interactions with men. And Luca Guadagnino's Bones and All, a coming-of-age romance with undertones of Homer's The Odyssey, features sprawling shots of the rural United States—the kind of thing you might see in a Western, not a blood-soaked tale of cannibalism. "A challenge for the horror genre is that people aren't entirely taking it seriously," says Robin R. Means Coleman, a Northwestern University professor and the co-author, with Mark Harris, of The Black Guy Dies First. "But what's cool about that is it makes horror really daring, free, and boundary-pushing. You can be innovative, because nobody's checking the way they might be for a film like She Said. But then you get a horror film that wins an Academy Award, and that's a game changer."
She's referring, of course, to Get Out, Jordan Peele's 2017 film that, in many ways, laid the groundwork for the creative explosion that's happening today. A gripping American gothic, the film tapped into matters of the day: white privilege, racism, economic status. While auteur filmmakers like Ari Aster and Robert Eggers—along with the producer Jason Blum, whose Blumhouse production company has bankrolled some of the most famous horror films of this century—share credit for ushering in this new era of horror with smart films like Midsommar and The Purge, "the Jordan Peele effect," as Coleman calls it, has expanded what's possible for the genre. "Get Out established the benchmark where people realize you can make a horror movie that's entertaining, but also has this underlying message," says Harris. "Peele does that subconsciously, and his movies are hugely popular. It's the perfect storm, because you can make great movies, but if no one cares about them and nobody goes to see them, those movies probably won't get made anymore, and no one will fund them."
So far, that doesn't seem to be a problem. There are now entire streaming platforms dedicated to horror, thrillers, and suspense, including Shudder, which is home to nearly 700 titles. After launching in 2015, Shudder grew in popularity so quickly that the AMC-backed streaming service began creating its own original content, à la Netflix. IFC Films has IFC Midnight. And the highbrow horror accolades keep coming in too: Nanny, director Nikyatu Jusu's story of an undocumented Senegalese immigrant caring for the daughter of a wealthy New York City couple, became the first horror film ever to win the U.S. Grand Jury Prize: Dramatic award at Sundance in 2022. Last year, M. Night Shyamalan, the director best known for The Sixth Sense, was named president of the International Jury at the 72nd Berlin International Film Festival.
Most important, audiences continue to eat up horror movies. "One of the reasons I love horror as an audience member, but also as a filmmaker, is that you can reference so many different genres within one movie," says Okuno, who, in addition to Watcher, has directed several short horror films. "Even looking at my limited work, they're all tonally really different. It just feels like there are truly endless possibilities."