India's Immeasurable Influence on Fashion
A new book edited by Hamish Bowles explores how the country's artisanal history has inspired designers across the globe.
---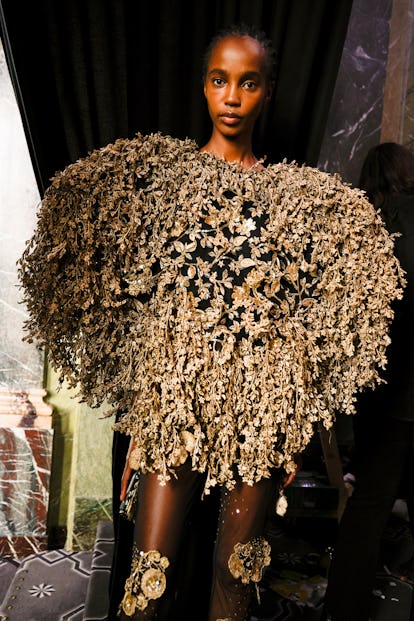 An embroidered "Gold Foliage" cape from Rahul Mishra's Fall 2022 Couture 'Tree of Life' collection. Photographed by Valerio Mezzanotti. Courtesy of Rahul Mishra
When you think of India's influence on the world of fashion, what comes to mind? Perhaps it's the designs of contemporary talents like Naeem Khan or Ritu Kumar, or the legacy of Yves Saint Laurent's imagined subcontinent, brought to life in the long tunics, turbans, and Kashmir-inspired palm motifs that appeared in many of his collections. For many, the nation's long held status as a global textile supplier is the primary association. For others, India may call to mind traditions of dress in their own families — the saris of their mothers and grandmothers.
A new book, India in Fashion (Rizzoli), edited by Vogue Global Editor at Large and World of Interiors Editor in Chief Hamish Bowles, explores the nation's sartorial legacy in vivid, expansive and captivating form. It illustrates a deep impact often unnoticed or distorted by the lens of colonialism while bringing to life a wealth of gorgeous design stories from the seventeenth century to today. As Bowles puts it: "India's impact on Western fashion has been a complicated and layered history of admiration, appropriation, exploitation, and celebration."
A sari-inspired ikat wrap dress from Dries van Noten's Spring 2010 collection.

Courtesy of Dries van Noten
Alexander McQueen's Fall 2008 collection, titled The Girl Who Lived in the Tree, featured a cream tulle evening dress with peacock lace appliqué.

Photograph by Robert Fairer
Essays by the likes of legendary fashion journalist Suzy Menkes, V&A curator Avalon Fotheringham and writer Priyanka R. Khanna delve into textile histories, dramatic moments of influence (see: Indian fashion in the Court of Versailles), and offer colorful profiles of key voices. Bowles' own writing and vision cocoons these contributions, which are divided into two sections: the first is a survey of India's textiles, costume traditions and craftsmanship, the second a series of profiles of Indian designers and those who have incorporated Indian influences into their work. Illustration, fashion photography, oil paintings and intricate typography enhance the narrative. And if you are lucky enough to be in Mumbai this spring, there is an accompanying exhibition at the just-opened Nita Mukesh Ambani Cultural Centre from April 3rd through June 4th.
Readers will be transported and delighted by explorations of the ancient origins of cotton and indigo, the birth and spread of the fabled Kashmir shawl, and the way traditional saris influenced Elsa Schiaparelli's couture draping in the 1930s. Designer profiles tell the story of creative development, homecoming and fascination: Bowles speaks with Dries Van Noten about his passion for Indian design and material, Jean Paul Gautlier about his first impressions of the nation (through Hollywood movies as a child), and details John Galliano's transformational 2002 voyage to New Delhi. Shefalee Vasudev spotlights the Kolkata-based designer Anamika Khanna, who subverts classical Indian silhouettes with new shapes and punk references. Throughout the book, each author examines India's global fashion influence through a critical lens, acknowledging complexity and agency often denied.
"For me, the hoped-for takeaway is to reframe the way we think about India's position in the global history of fashion from a place that supplied fabrics to a place that supplied taste, a place that actually changed the way we think about dressing, the kinds of things we prefer to wear, the things that we seek out to decorate ourselves with," Fotheringham tells me. "India supplied new desires in global taste and clothing consumption. Not just the fabrics that fulfilled those desires but the desires themselves."
Reading the book, it becomes increasingly clear that India's impact on fashion is immeasurable. (We wouldn't even have colored cotton if it weren't for India!) "As I looked into it further, it was interesting how it spread to virtually every aspect of how people dress in this country," notes Caroline Rennolds Milbank, who wrote a chapter on the sari in Western twentieth century fashion. "A two piece bathing suit is as influenced by the sari as a ballgown — I loved that range."