Why Jane Fonda's Oscars Dress Was a Repeat From Cannes
She also paired it with a red coat.
---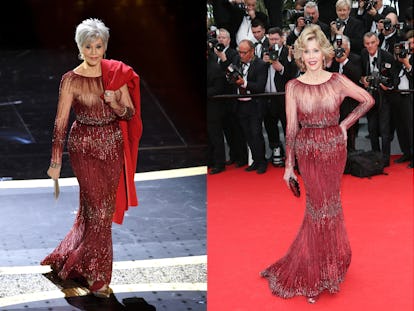 Jane Fonda has promised to never buy a new piece of clothing again, and apparently not even the Oscars can get her to change her mind. When Fonda showed up to present the Best Picture award, she did so in a dress she'd previously worn to another major film event.
Fonda had worn the same beaded red Elie Saab Couture number six year prior for the opening night of the 2014 Cannes Film Festival.
There was one major update to the ensemble, though: This time around, Fonda paired it with a red coat slung over her shoulder.
That wasn't accidental. Fonda has stated that the red coat will be the last piece of clothing she ever buys.
"You see this coat? I needed something red and I went out and found this coat on sale. This is the last article of clothing that I will ever buy," she told a crowd last year during her Fire Drill Fridays, during which the actress is regularly arrested for protesting against inaction on climate change on the steps of the U.S. Capitol.
"When I talk to people about, 'We don't really need to keep shopping. We shouldn't look to shopping for our identity. We don't need more stuff,' then I have to walk the walk too," she continued. "So I'm not buying any more clothes."
Even though borrowing a dress technically wouldn't break her promise, clearly Fonda isn't looking to take any short cuts around her pledge.
But the dress may have another meaning, or at least have served as a bit of movie history kismet.
Fonda went on to present the award to Parasite, which is not only the third movie ever to win both the Academy Award for Best Picture and Cannes's Palme d'Or, it's the first film in 65 years to do so (the last was Marty in 1955). So it's fitting that Fonda wore what may be the only dress we know of that was on the red carpets of both the Oscars and Cannes.
Oscars 2020 Best Dressed: Timothée's Tracksuit and an Elegant Political Gesture
Timothée Chalamet attends the 92nd Annual Academy Awards at Hollywood and Highland on February 09, 2020 in Hollywood, California. Photo courtesy of Getty Images.

Getty Images
Natalie Portman attends the 92nd Annual Academy Awards at Hollywood and Highland on February 09, 2020 in Hollywood, California. Photo courtesy of Getty Images.

Getty Images
Mahershala Ali and Amatus Sami-Karim attend the 92nd Annual Academy Awards at Hollywood and Highland on February 09, 2020 in Hollywood, California. Photo courtesy of Getty Images.

Getty Images
Beanie Feldstein attends the 92nd Annual Academy Awards at Hollywood and Highland on February 09, 2020 in Hollywood, California. Photo courtesy of Getty Images.

Getty Images
Brad Pitt attends the 92nd Annual Academy Awards at Hollywood and Highland on February 09, 2020 in Hollywood, California. Photo courtesy of Getty Images.

Getty Images
Rooney Mara attends the 92nd Annual Academy Awards at Hollywood and Highland on February 09, 2020 in Hollywood, California. Photo courtesy of Getty Images.

Getty Images
Zazie Beetz attends the 92nd Annual Academy Awards at Hollywood and Highland on February 09, 2020 in Hollywood, California. Photo courtesy of Getty Images.

Getty Images
Penelope Cruz arrives for the 92nd Oscars at the Dolby Theatre in Hollywood, California on February 9, 2020. Photo courtesy of Getty Images.

Getty Images
Brie Larson arrives for the 92nd Oscars at the Dolby Theatre in Hollywood, California on February 9, 2020. Photo courtesy of Getty Images.

Getty Images
Margaret Qualley attends the 92nd Annual Academy Awards at Hollywood and Highland on February 09, 2020 in Hollywood, California. Photo courtesy of Getty Images.

Getty Images
Antonio Banderas attends the 92nd Annual Academy Awards at Hollywood and Highland on February 09, 2020 in Hollywood, California. Photo courtesy of Getty Images.

Getty Images